Driving Miss Daisy (United States, 1989)
February 07, 2020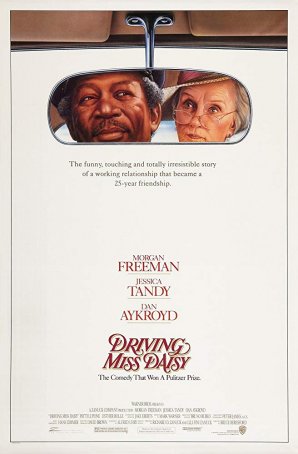 Driving Miss Daisy, the first movie to win the Best Picture Oscar during the decade of the 1990s, is, at its heart, a buddy film. Although some may see that as degrading something that addresses serious issues (like racism and anti-Semitism in the South during the middle of the 20th century), it's an accurate representation of what works best about Bruce Beresford's dramatization of Alfred Uhry's screenplay (which, in turn, is based on his off-Broadway play). The chemistry evident between Morgan Freeman's Hoke Colburn and Jessica Tandy's Daisy Werthan isn't merely important to the film; it is the film. The believable manner in which these two relate to one another – bound by 25 years together yet divided by skin color, class, and an institutional racism that one sees and the other doesn't – makes Driving Miss Daisy emotionally rich without going down the road of overt manipulation.

The film opens in 1948. Daisy Werthan is an elderly, upper middle-class Jewish woman living a comfortable life in a Georgia neighborhood. One day, when taking her car out, she confuses the accelerator with the brakes and ends up crashing into her neighbor's yard. After that incident, she becomes uninsurable and her son, industrialist Boolie (Dan Aykroyd), decides to hire a chauffeur. For that job, he chooses Hoke Colburn, a genial black man about a decade younger than his mother. Although Daisy is initially hostile to the idea, stubbornly insisting on taking public transportation and walking, she eventually gives in. At first, she treats Hoke with disdain but, over the years, the barriers between them gradually erode and, by the end of the film, with Daisy into her 90s and Hoke approaching the end of his driving days, she admits that he is her closest friend.

Daisy and Hoke are divided not only by race but by religion, class, and personality. Their dynamic isn't all the different from the one we see in British dramas like Upstairs, Downstairs and Downton Abbey, where relationships between property owners and servants can be warm but are neutered by convention and propriety. Although Daisy and Hoke genuinely care for one another, it's not until the end, when she's in a nursing home with a failing memory, that the last walls crumble.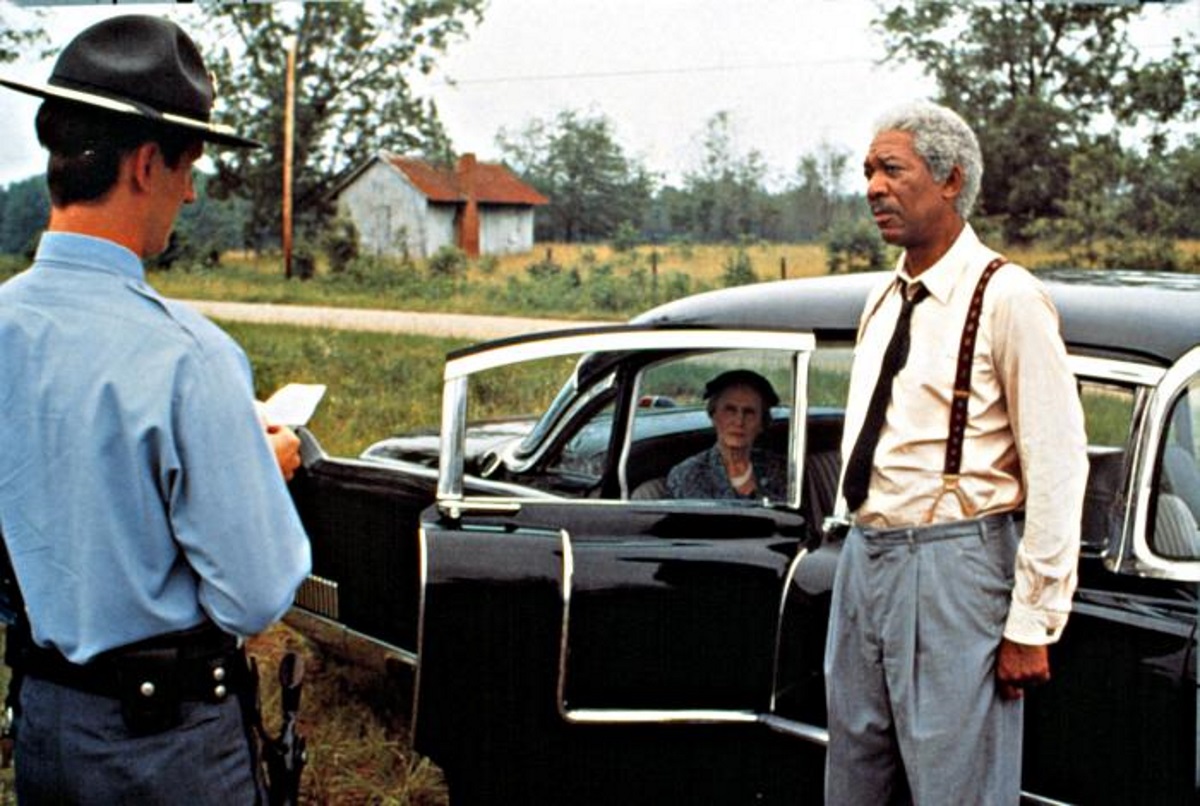 Sheltered by her son and her own sense of self-righteousness, Daisy is blind to some of her own failings. She's a perfect example of the kind of "good" person singled out by Martin Luther King in an archived speech used late in the film: someone who believes in the equality of people but neither acts nor speaks out to affect change. She repeatedly utters the refrain that she doesn't have a prejudiced bone in her body and, although it's true that she treats black people with dignity and respect, she's ignorant of how her lifestyle and the structure of society are built on a foundation of racism. Hoke never calls her out on this, although he points out something she misses – when her synagogue is bombed, he makes a connection to a lynching he observed as a boy.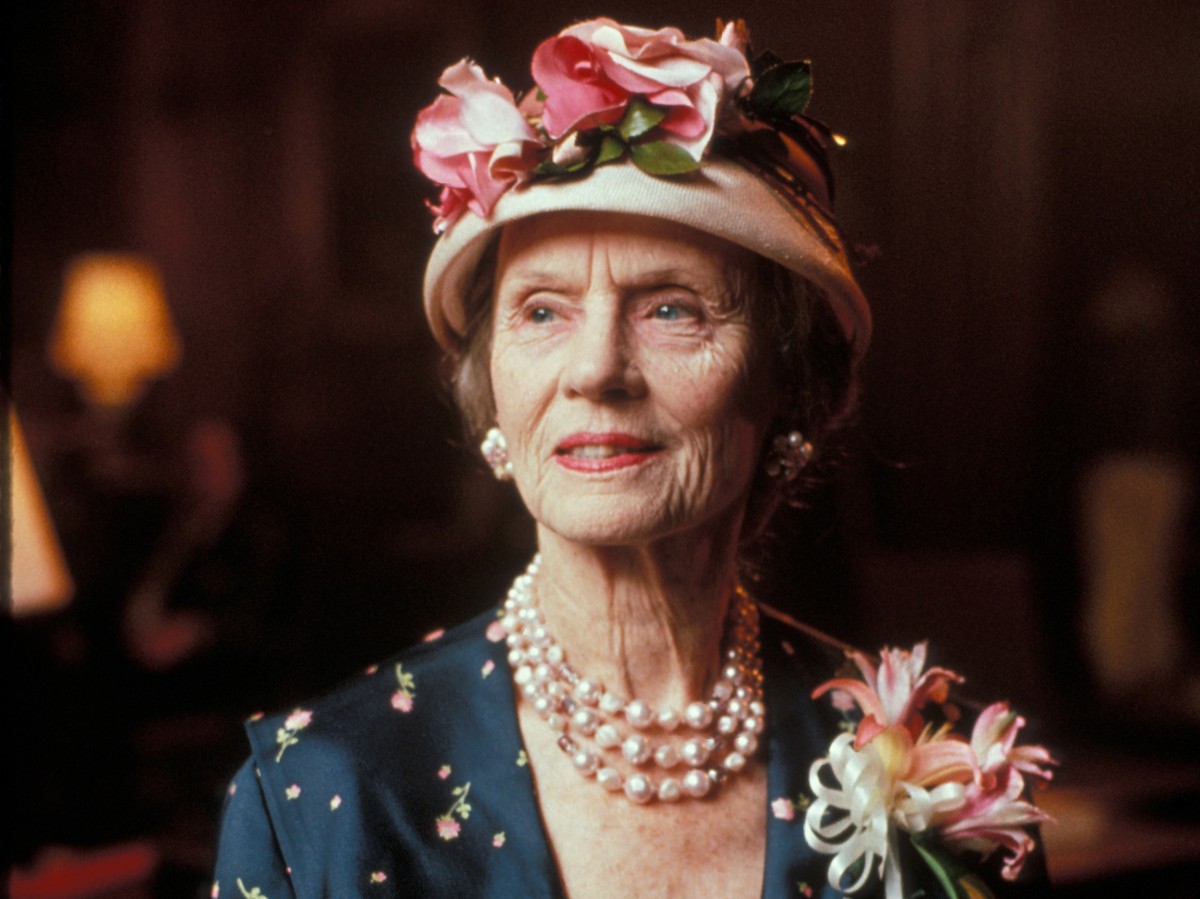 Acting is unquestionably a strength of Driving Miss Daisy with three nominations and one win. For Jessica Tandy, who took home the Best Lead Actress award, it represented the cap to a long and fruitful career. (She would receive one more nomination – in 1992, for Fried Green Tomatoes.) Her portrayal of Daisy is note-perfect with an effective blend of tartness and starch. Most importantly, she provides glimpses of the lonely soul beneath the seemingly impervious armor. Morgan Freeman lost in the Lead Actor category to Daniel Day-Lewis in an incredibly strong field that also included Tom Cruise, Kenneth Branagh, and Robin Williams. Freeman, who effortlessly inhabited the character (in part due to his having played it on stage), would win his first (and thus far only) Oscar 15 years later for Million Dollar Baby. Finally, Driving Miss Daisy represented Dan Aykroyd's first and only Oscar nomination and proved that the actor, previously known primarily as a comedian (and a Ghostbuster), could command the screen in a straight role.

Oddly, Australian-born director Bruce Beresford did not receive a nomination for Driving Miss Daisy, causing Billy Crystal to quip that the film "directed itself." (The BAFTAs acknowledged him but he didn't win.) Beresford had previously received a nomination for Tender Mercies. His career, which had been on the rise during the 1980s, went on a slide following Driving Miss Daisy. Most of his efforts during the 1990s and beyond were forgettable, although he got to work with Sean Connery in 1994's A Good Man in Africa and achieved some commercial success with 1999's cheesy Hitchcock pastiche, Double Jeopardy.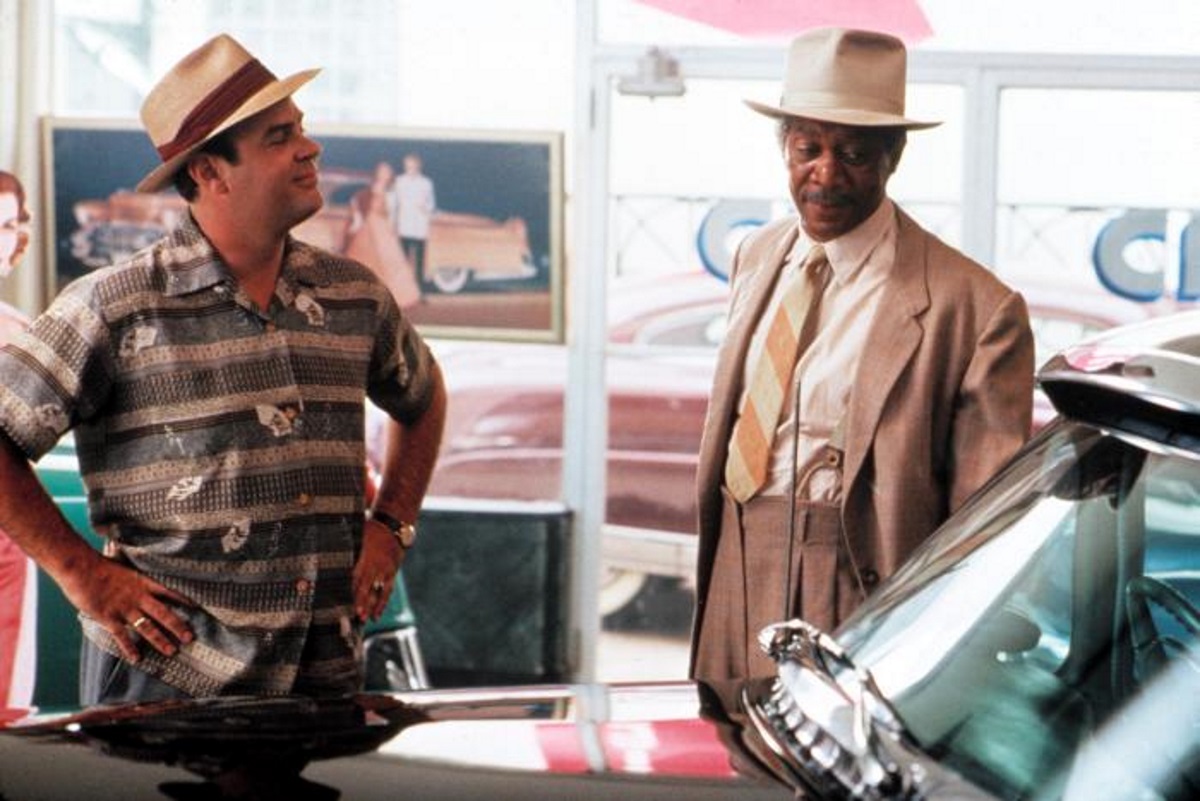 When Green Book won the Best Picture Oscar in 2019, comparisons were made to Driving Miss Daisy – after all, both are period pieces set in the South with a chauffeur and client of different races who develop an unlikely friendship. Key differences, however, can be found in intent and presentation. Green Book is overtly (and sometimes clumsily) about race; in Driving Miss Daisy, although it is by no means ignored, it's not the focal point. Secondly, there's more nuance in the relationship between Daisy and Hoke than between the leads in Green Book.

Driving Miss Daisy was successful at the box office prior to its Best Picture win and it received an "Oscar bump" the week after its big night. During its first two weeks of wide release, it stood at #1 and, after losing the top spot in weekend #3, it regained it, making it the undisputed financial champion for the month of February 1990. Its total domestic haul of $107M put it at #8 for the year. Aside from its box office prowess, Driving Miss Daisy was credited with presenting the issue of institutional racism in a fashion that wasn't too "in your face" for mainstream viewers to resist hearing the message. With a quarter-century-long friendship in the cross-hairs, Driving Miss Daisy tracks the evolution of race and class relations during a tumultuous era.
---
Driving Miss Daisy (United States, 1989)
---

Three...better movies of this genre
worse movies of this genre
Three...better movies of Morgan Freeman
worse movies of Morgan Freeman
Three...better movies of Jessica Tandy
(There are no more better movies of Jessica Tandy)
worse movies of Jessica Tandy
(There are no more worst movies of Jessica Tandy)
Three...better movies of Dan Aykroyd
worse movies of Dan Aykroyd