Green Book (United States, 2018)
November 21, 2018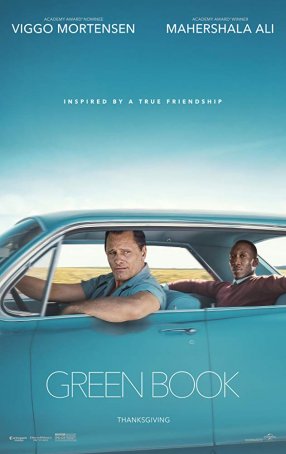 A serious Oscar contender at a time when issues of racial interaction hold a prominent spot in the daily news cycle, Green Book is an Odd Couple­-structured motion picture with a strong overlay of social conscience. Although limited in how graphic it can be by the family-friendly PG-13 rating, the film sprinkles comedic moments into an otherwise tense observation of prejudice and injustice in the Deep South of the early 1960s. Based on actual events (albeit tweaked to make them more "cinematic"), Green Book avoids sanctimoniousness in presenting this heartfelt, if sometimes familiar, story of mismatched strangers who learn to overlook boundaries of race, sexual orientation, and class as circumstances force them to rely on one another.
There's no shortage of top-notch acting talent in Green Book's leading roles. Viggo Mortensen, using a credible New Yawk accent and having consumed enough carbs to develop an impressive paunch, looks nothing like Aragorn son of Arathorn. His character, Tony Vallelonga, possesses two characteristics that alternatively serve him well and poorly: a violent, hair-trigger temper and an amazing capacity to bullshit. His opposite – in seemingly every way – is the suave, cultured Dr. Don Shirley, who keeps his demons as carefully bottled up as the vodka he pours down his gullet every evening. Oscar-winning (for Moonlight) Mahershala Ali crafts a character whose cool exterior hides deep wounds and internal divisions. These emerge in one explosive rain-soaked scene when he expresses his isolation by claiming he's too black for white people and too white for black people. His apartment above Carnegie Hall is like a trophy room where he's just another display.
Director/co-writer Peter Farrelly developed the screenplay with the help of Tony's son, Nick (and Brian Hayes Currie), so it's no surprise that the majority is slanted toward the Italian-American's perspective. That doesn't mean Dr. Shirley is short-changed – just that the movie "knows" Tony better. By his own admission, he's a simple man with a straightforward life. Dr. Shirley, a closeted gay virtuoso piano player who tours hostile cities in the South to experience the front lines of the civil rights war, is more complex. By the end of Green Book, parts of his character remain shrouded in mystery but others have been peeled back.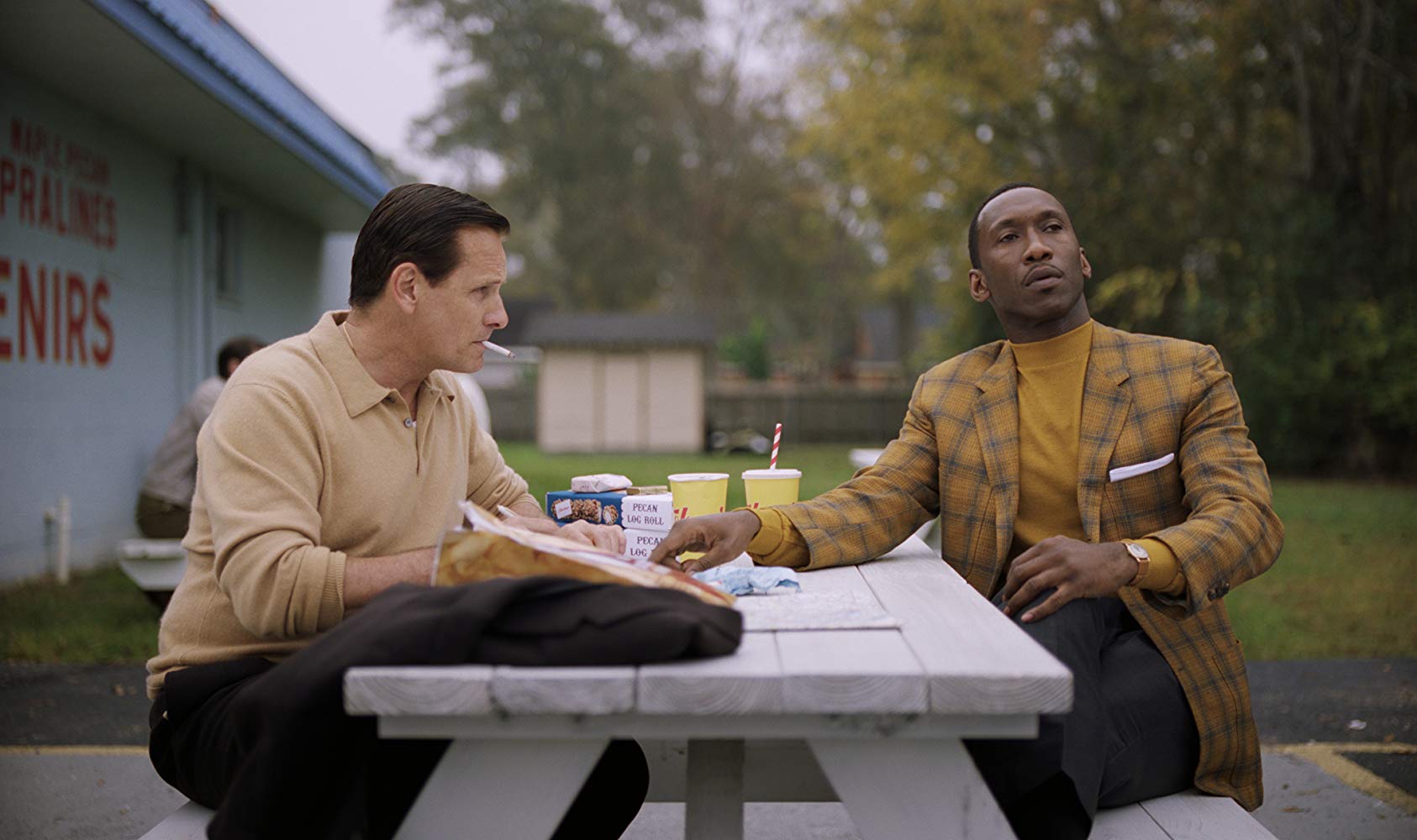 When we first meet Tony during the waning months of 1962, he is working as a bouncer at the Copacabana. With the nightclub closing for two months and his family needing a regular paycheck, Tony is forced to find alternate accommodations. Despite being prejudiced against black men, he agrees to act as Dr. Shirley's driver during his two-month concert tour because the price is right: $125 per week. The downside of the job, however, is that it will keep Tony away from his family for almost two months and, because he can't afford regular long-distance phone calls, he will have to rely on writing letters (not his forte) to keep in touch with his wife, Dolores (Linda Cardellini), and his two children.
Tony and Dr. Shirley flip traditional roles. The former is thuggish and street smart, lacking in patience and diction. The latter is genteel and urbane, a lover of classical music and refinement. He frequently defies Tony's expectations, having never heard the music of Chubby Checker or eaten fried chicken and preferring silence and solitude to comfortable chatting. When others observe them – the white man chauffeuring the black man – it sets tongues wagging, especially in Dixie. (Yes, there's a little reverse Driving Miss Daisy vibe here.)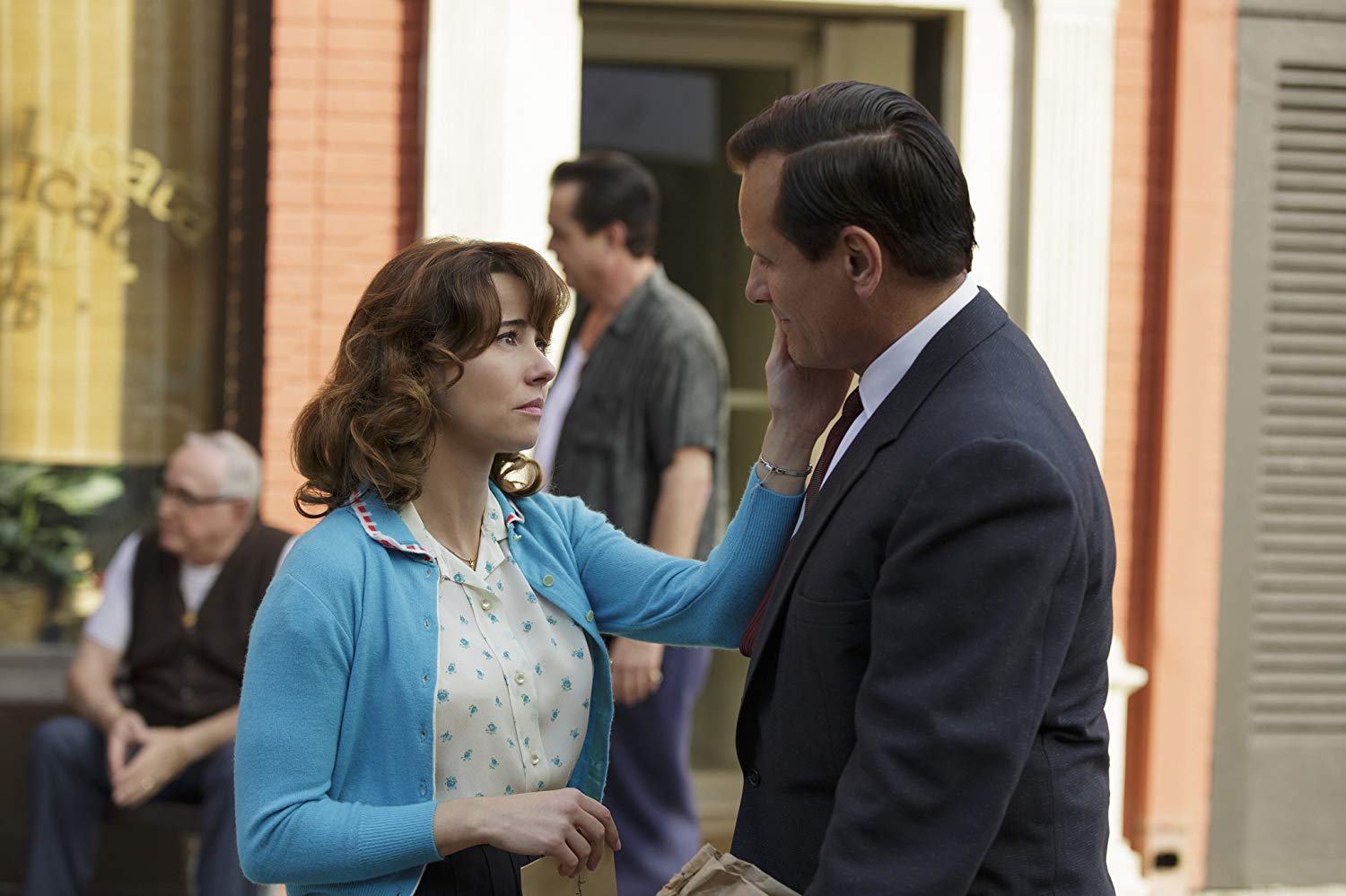 While character development and interaction are among Green Book's strengths, subtlety is not. The movie is replete with instances of overt racism in many southern locales, from white bullies thumping Dr. Shirley to bigoted cops demeaning him and "liberal" benefactors insisting that he use an outhouse (instead of the "whites only" indoor restroom). These scenes often echo similar ones from other movies – a repetition that speaks to how pervasive and common such instances were during the 1960s. Green Book is, however, guilty of demonizing white southerners. Although there's no debating that racism was frequent and sometimes brutal in that area of the country during the 1960s, the movie falls into the trap of stereotyping both northerners (as more liberal and open-minded) and southerners.
The title Green Book refers to a pamphlet published at the time that listed motels, restaurants, and other establishments in the South that were "friendly" to "colored people." In other words – places where blacks wouldn't be turned away or made to feel uncomfortable. The reality of what this means hits home the first time Tony and Dr. Shirley use a Green Book locale, which is dirty, unkempt and not at all like the accommodations Dr. Shirley is accustomed to.
Green Book uses limited humor to lessen the sense of discomfort that viewers might feel from a study of Dr. Shirley's experiences and observations. The movie, intended for a mainstream audience, avoids the kinds of sharp, stark events and instances that leant power to films like Detroit. It also bypasses the "white savior" aspect – although there are instances when Tony comes to Dr. Shirley's rescue, two of the film's biggest moments cast the seemingly mild-mannered piano player as the hero. Green Book is effective and affecting while being careful to avoid overdosing its audience on material that some might deem too shocking or upsetting.
---
Green Book (United States, 2018)
---

Three...better movies of this genre
worse movies of this genre
Three...better movies of Viggo Mortensen
worse movies of Viggo Mortensen
Three...better movies of Mahershala Ali
worse movies of Mahershala Ali
(There are no more worst movies of Mahershala Ali)
Three...better movies of Linda Cardellini
worse movies of Linda Cardellini