Girl on the Train, The (France, 2009)
April 22, 2010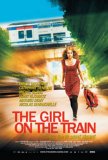 Director Andre Téchiné (
My Favorite Season, Wild Reeds, Thieves, Alice and Martin
) has never been shy about confronting difficult subjects in his films, as one glance at his loaded résumé will reveal. Téchiné enjoys exploring dark, complex ideas and themes and often seeks to create a sense of moral ambiguity. With
The Girl on the Train
, Téchiné succeeds in establishing a fascinating dynamic that italicizes how unchecked media hype can explode a careless lie into a major news gaffe, although he accomplishes this without the same level of psychological character development he has shown in his best work. Still, although the main character's motivations remain largely a matter of conjecture,
The Girl on the Train
is a compelling piece of cinema.
The film's protagonist is Jeanne (Emilie Dequenne), a carefree young woman who uses earphones to isolate herself from the world around her and makes her way through the streets of Paris by rollerblading. She lives with her mother, Louise (Catherine Deneuve), in a suburb and goes to the city via a train that stops close to her house. Her life is staid and stable until she meets Franck (Nicolas Duvauchelle), a "bad boy" who falls hard for her. Jeanne willingly leaves her comfort zone to move in with Franck, never asking some seemingly obvious questions until the inevitable occurs. Jeanne's next action, which no one is prepared for, is to pretend to be the victim of an anti-Semitic attack while on the train. She inflicts superficial cuts on her arms, neck, and face, and draws Swastikas on her torso. She claims that, even though she is not a Jew, she was identified as one when her harassers found the card of a prominent Parisian lawyer, Samuel Bleistein (Michel Blanc), in her purse. Bleistein, an old friend of Louise's, becomes involved at the mother's request. He, like Louise, is certain from the beginning that Jeanne's tale is fabricated, but the difficulty is in getting her to admit that. Meanwhile, the media learns of the incident and turns it into a front-page headline. Jeanne receives a phone call from the President pledging his support.
Although The Girl on the Train does its job of developing Jeanne into a well-rounded if somewhat shallow (at one point, Franck refers to her as an "airhead") character, the reason for her perpetrating the hoax remains obtuse. It's up to each viewer to divine her motivation. Is it because, after watching a TV program about the Holocaust, she feels empathy for the Jews and believes that by pretending to be the victim of a hate crime, she can be more than an observer? Is it because, following the resolution of her relationship with Franck, she has become self-destructive? Is it because she craves sympathy from Bleistein, who turned her away when she applied for a job? Whatever the case, it's clear that Jeanne has not considered the consequences of her actions, which are vast. One lie - which she expects to vanish like a stone thrown into a pond after a brief "plop" - generates a tsunami of ripples.
Téchiné's filmmaking is at times intentionally oblique; he briefly hides things from us, perhaps as a means of heightening our attention. After Franck is attacked, we are left in limbo for the length of a scene without knowing whether he has died or is merely hospitalized with injuries. Later, there is an intimate interlude in a cabin between the 22-year old Jeanne and Bleistein's 13-year old grandson, Nathan (Jérémie Quaegebeur). They spend the night in close quarters but we don't learn the extent of their relationship until the denouement.
The almost constant presence of trains recalls the vital transportation artery that connects Paris's suburbs to the city and how, in the modern world, the lines of communication are always open. Perhaps Jeanne enjoys the illusion that, by reporting the "incident" to the local authorities rather than those in Paris, she may be able to contain how far the story spreads. If so, she fails to recognize that information - even the unsubstantiated story of a young woman - travels more swiftly than anything on rails. Rather than being merely the fodder for local gossip-mongers, it leads the evening news.
Téchiné's approach to the material is even-handed and non-judgmental. He recognizes that incidents like this, which happen in real life (fabricated crimes of this sort are a regular occurrence), can arouse the ire of tax-payers and law enforcement officials. Without condoning or explaining Jeanne's actions, he allows us to observe them through the eyes of her mother and the lawyer Bleistein. If we're sympathetic to Jeanne, it may be because we understand, through the fragments of her perspective we are privy to, that she may not comprehend why she did what she did, at least not on a rational level.
The Girl on the Train boasts top-notch acting, as is always the case with Téchiné's productions. His leading lady, Emilie Dequenne, a frequent award recipient on the film festival circuit (particularly for 1999's Rosetta, which was her debut), provides a powerful and unaffected portrayal of a difficult character. The familiar faces of Catherine Deneuve and Michel Blanc remind us that the director is capable of attracting the best talent of French cinema, and both are at home filling supporting (not leading) roles. This is Deneuve's sixth collaboration with Téchiné; it is Blanc's second.
Although The Girl on the Train at times feels a little like a mystery, it's more of a straightforward drama. The compelling quality arises not from dissecting plot details but from attempting to puzzle out the central character. In the end, our inability to state with certainty why she fabricates the crime is the movie's most fascinating aspect, illustrating as it does that not all human impulses are easily or rationally explained.
---
Girl on the Train, The (France, 2009)
---
Three...better movies of this genre
worse movies of this genre
Three...better movies of Emilie Dequenne
(There are no more better movies of Emilie Dequenne)
worse movies of Emilie Dequenne
(There are no more worst movies of Emilie Dequenne)
Three...better movies of Nicolas Duvauchelle
(There are no more better movies of Nicolas Duvauchelle)
worse movies of Nicolas Duvauchelle
(There are no more worst movies of Nicolas Duvauchelle)
Three...better movies of Catherine Deneuve
worse movies of Catherine Deneuve
(There are no more worst movies of Catherine Deneuve)