Movies starring Emilie Dequenne Brotherhood of the Wolf
In this country, French movies are mostly known for being artistic and airy (or, to put it less kindly, serious and stodgy). And, while many French directors would probably agree that this is their aim (being artistic and airy, not serious and sto...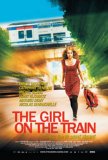 Girl on the Train, The
Director Andre Téchiné (My Favorite Season, Wild Reeds, Thieves, Alice and Martin) has never been shy about confronting difficult subjects in his films, as one glance at his loaded résumé will reveal. Téchiné enjoys exploring dark, complex ide...