Good Luck to You, Leo Grande (United Kingdom, 2022)
June 16, 2022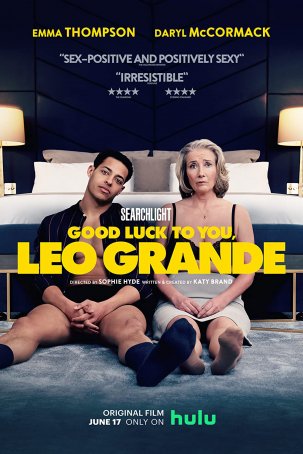 Good Luck to You, Leo Grande is all about sex. There are no two ways around it – from start to finish, this is about what happens (and doesn't happen) between the sheets (or on them, or on the carpet, or…). It's about blowjobs and orgasms. It's about one woman's quest for knowledge and experiences. But, despite the nudity and frank talk, it's rarely erotic and never exploitative. The film is at its best when it's contemplative and director Sophie Hyde provides an unobtrusive, fly-on-the-wall perspective of the discussions that transpire within the confines of an anonymous hotel room. It falters when absurd and artificial plot points interfere with the carefully crafted dynamic that exists between sexagenarian everywoman Nancy Stokes (Emma Thompson) and her paid companion-for-a-few-hours, Leo Grande (Daryl McCormack).
Over the course of about 90 minutes, Good Luck to You, Leo Grande explores the four sessions Nancy has with Leo. The much younger sex worker is apparently in-demand and earns top dollar (or, since this is the U.K., that would be "pound") for his services. In answer to her question of how he skirts anti-prostitution laws, Leo notes that he sells companionship not sex. Sometimes sex happens but it's not mandated and his "package" is more about intimacy than physicality. He has one client who wants him to get in and out (pun intended) as quickly as possible with no chit-chat. Another isn't interested in sex; she simply wants to talk.
There's something disarmingly familiar about Nancy. In her, we see fragments of our mothers and grandmothers. In her earlier years, Nancy was a dutiful wife, a dour religious education teacher, and a mother of two children with whom she feels little connection. Now, with her kids on their own and her husband six feet under, she has decided to explore. Those explorations lead her to Leo. She comes with a shopping list of things she wants to try. When Leo coaches that she might be going about things in the wrong way, she shuts him down. She's never had an orgasm and never given a blowjob. While she's dubious about achieving the former, she sure as hell is going to do the latter.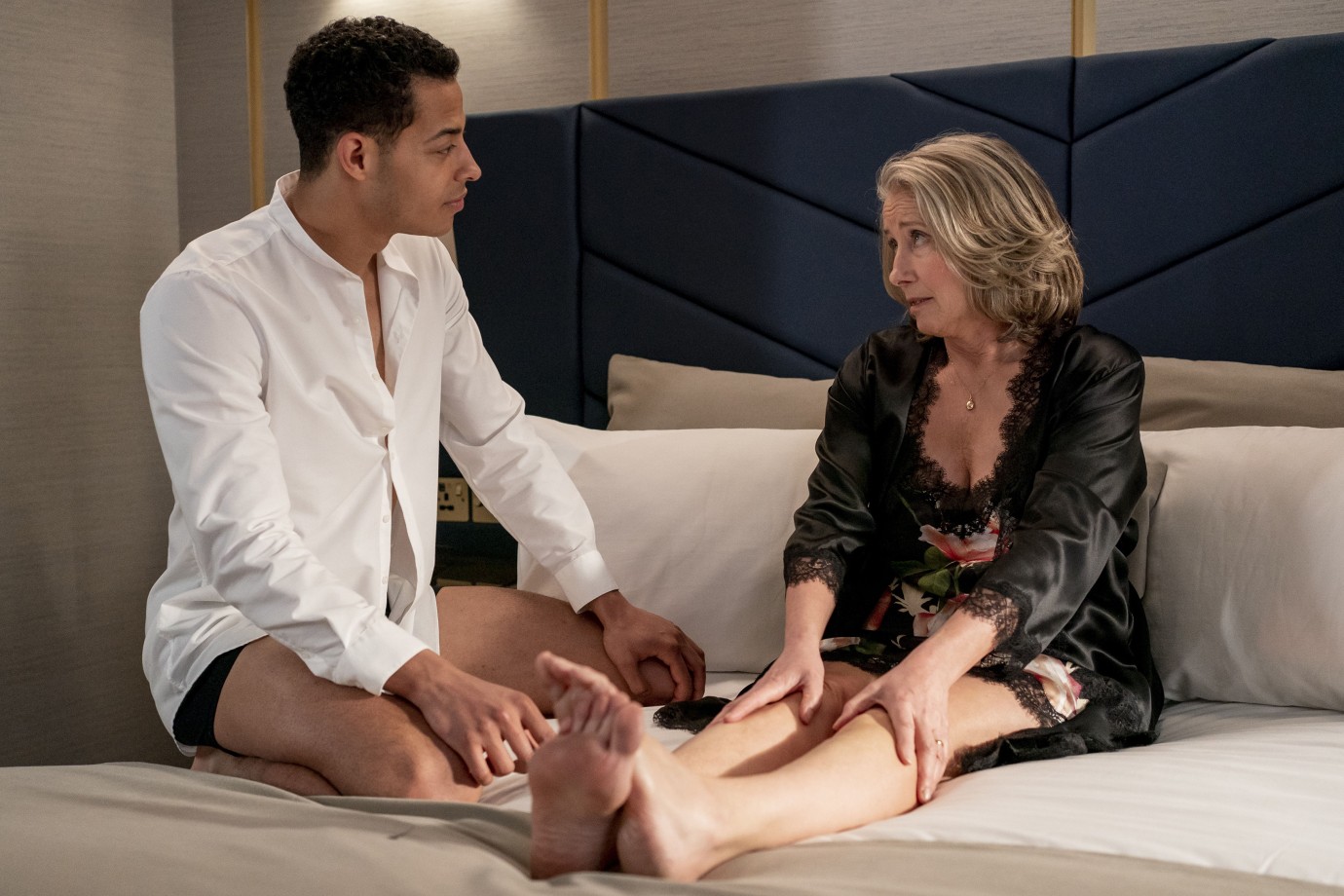 The first two encounters, which are much more talk than action (so to speak), comprise two-thirds of the running time and represent by far the most interesting material that Good Luck to You, Leo Grande has to offer. The conversation is pithy but not without substance, focusing as it does on female sexuality and how society's conventions have robbed generations of women of the ability to explore sex with the same freedom that men have enjoyed. The movie isn't militant in presenting its message; it comes through organically because Nancy is so grounded and familiar. Attempts are made to flesh out Leo but it's no surprise that the film, which features a female screenwriter and director, does a better job building up Nancy than her for-pay partner.
When it comes time for the third encounter, the production stumbles. Although it's not unreasonable to assume Nancy might be sufficiently curious about Leo to do some sleuthing into his real identity, the way she acts on what she discovers feels contrived. And Leo's reaction isn't what one would expect from a veteran operator who has surely encountered this sort of thing before. There's a sense that this plot device was introduced primarily as a means of creating conflict. The fourth encounter ends things on an upbeat note. It's an oddity, beginning as it does outside of the hotel room and featuring an extraneous supporting performer (Isabella Laughland as a coffee shop waitress) whose identity adds another element of artifice.
The dialogue, a collaboration between actress Thompson, director Hyde, and screenwriter Katy Brand, sparkles and, especially during the first hour, effectively balances comedic moments (including a few memorable one-liners) with dramatic ones. Veteran thespian Thompson, who has appeared in everything from Shakespeare (she made two such movies with then-husband Kenneth Branagh toward the beginning of her career) to Jane Austen to Harry Potter, sheds her pretentions along with her inhibitions. Her chemistry with the lesser-known Peaky Blinders actor Daryl McCormack is unforced. The movie is much more about building a character than issuing a feminist manifesto.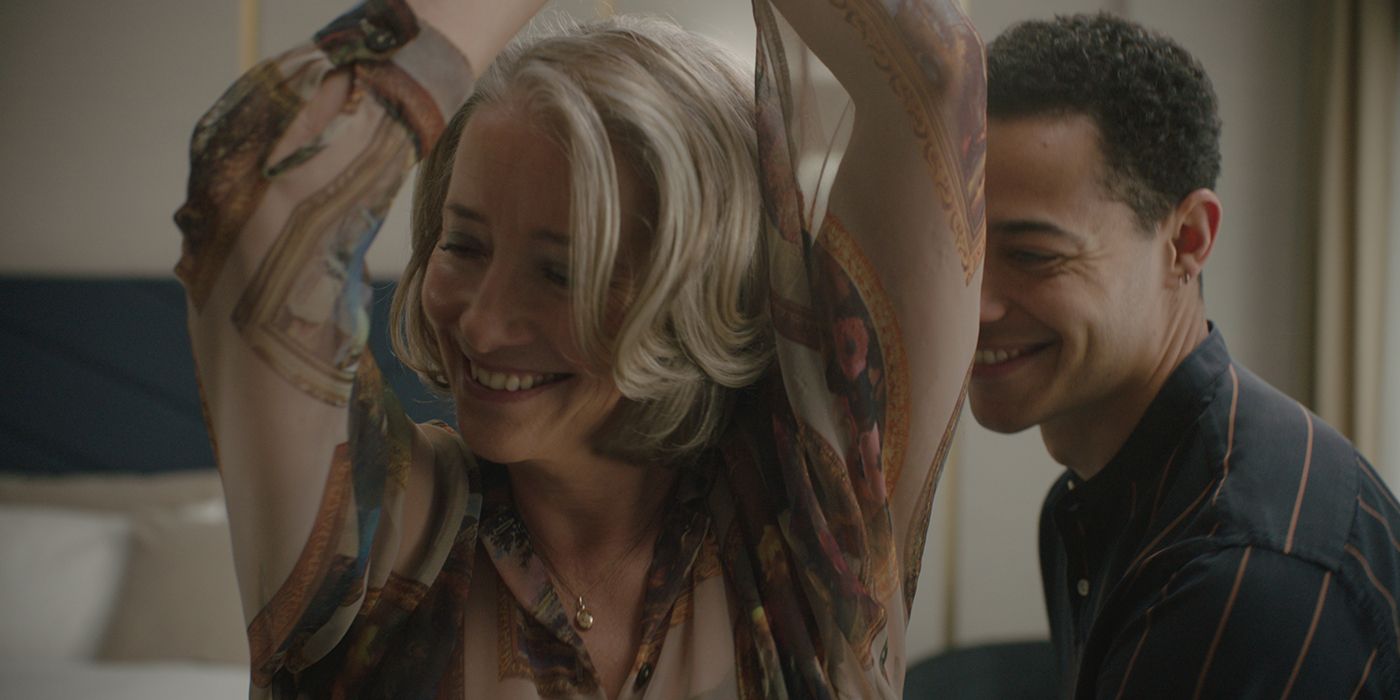 Thompson's nudity has gotten plenty of attention. Not since her theatrical feature debut, The Tall Guy, has the actress shown anything close to this much flesh. (That movie, by the way, features my candidate for the most hilarious, over-the-top sex scene of all-time.) The decision to bare all was Thompson's – she could have done the scenes clothed or with more of a peek-a-boo approach – and, although she admits to having been nervous and uncomfortable, it never shows. Calling her performance "brave" feels condescending, but this is an example of an actress showing a willingness to do what she believes is necessary for the role (rather than something contractually mandated).
Those who don't appreciate films built on the simple foundation of two characters (mostly) talking for the entire running length aren't going to enjoy what Good Luck to You, Leo Grande is selling, even if sex underlies nearly every passage of dialogue. The movie is funny at times and touching at others but it's never especially erotic (nor is it intended to be). There's no so-called "male gaze." The screenplay has its share of uneven moments, especially during the second half, but Thompson's performance never wavers.
Note: Without question, this is Oscar-worthy work, but there's an issue. Good Luck to You, Leo Grande is headed directly to Hulu in the United States with no theatrical pre-release stopover. Since the Academy, with its usual idiotic lack of vision, has gone back to the "old rules" requiring a theatrical opening prior to TV/streaming availability, Thompson won't be eligible for Oscar consideration. So it's entirely possible that one of the year's best performances will be disqualified on a technicality.
---
Good Luck to You, Leo Grande (United Kingdom, 2022)
---
Three...better movies of this genre
worse movies of this genre
Three...better movies of Emma Thompson
worse movies of Emma Thompson
Three...better movies of Daryl McCormack
(There are no more better movies of Daryl McCormack)
worse movies of Daryl McCormack
(There are no more worst movies of Daryl McCormack)