Great Ziegfeld, The (United States, 1936)
February 20, 2010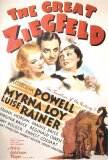 The name of "Ziegfeld" is known to many who have never heard of Florenz Ziegfeld Jr. Even 80 years after the final show was produced, "The Ziegfeld Follies" remain among the best-known high class song-and-dance stage spectacles to grace Broadway. And one of New York City's last surviving movie palaces is the (second) Ziegfeld Theater (built in 1969). The Great Ziegfeld, which won the Best Picture Oscar at the 1937 awards ceremony, provides a sanitized chronicle of Ziegefeld's life from his 1893 World's Fair show to his 1932 death. The movie, which won raves in the 1930s upon its initial release, represents one of a number of highly respected motion pictures that has not aged well. Although some of the production's technical aspects remain impressive, the dramatic elements come across as trite and many of the musical numbers are dated. Clocking in at more than three hours, The Great Ziegfeld at times tries the modern viewer's patience.
The movie opens during the Chicago World's Exposition of 1893, where a 26-year old Ziegfeld (William Powell) is running a carnival-style sideshow featuring noted strongman Eugen Sandow (Nat Pendleton). Attendance is poor, however, because a rival promoter, Jack Billings (Frank Morgan), is luring the crowds into his venue with the promise of an all-girl revue headlined by the popular bellydancer Little Egypt. Ziegfeld turns the tide through a simple act of marketing - letting women feel Sandow's muscles. Suddenly, the masses that were flocking to see Little Egypt are lining up to watch Sandow.
Several years later, Ziegfeld and Billings again find themselves rivals. This time they're in Europe trying to sign popular sensation Anna Held (Luise Rainer) to a contract. Ziegfeld wins her trust but her New York debut is anything but successful. Savvy promotion, however, saves the enterprise from disaster and Ziegfeld from bankruptcy. Anna becomes a star and Ziegfeld marries her. They remain together for many years and she is one of the motivating forces behind the creation of "The Ziegfeld Follies" stage show, which debuts in 1907. By 1913, however, she has grown tired of his infidelity and files for divorce. Their separation is harder on her than on him. After a few mournful months, he moves on to another relationship - with actress Billie Burke (Myrna Loy), who would remain with him until his death and bear him a daughter - while she continues to carry a torch for her lost love.
The most memorable aspect of The Great Ziegfeld is its recreation of striking moments from the Follies. One in particular, the massive single-take production number "A Pretty Girl Is Like a Melody," may no longer inspire the awe it once did, but it's still impressive to watch. This sequence cries out for Technicolor - one suspects that had Ziegfeld been in charge of this biography, he would have demanded it. The Great Ziegfeld is one of the rare movies of its era that is not best served by the black and white in which it was filmed. Ironically, three of Ziegfeld's stage shows were made into movies during his lifetime - Sally in 1929, Rio Rita in 1929, and Whoopee! in 1930 - and all were in Technicolor. Although there was a 1929 film of Showboat, that was based on the Edna Farber novel not Ziegfeld's production. The first motion picture adaptation of Ziegfeld's musical was released in 1936 (and directed by James Whale).
As lively as the 30-minute Follies excerpts are, however, other portions of the uneven production are not as impressive. This is especially true for the movie's first hour, which drags as Ziegfeld works to get his career underway and woo Anna. Dramatically, the final hour offers some heft. The relationship between Ziegfeld and Billie Burke provides a spark and there's a dose of pathos as the producer's finances go down in flames with the stock market in 1929. His death, which has been manipulated by screenwriters for maximum impact, is overly sentimental.
One strength of The Great Ziegfeld is the chemistry between William Powell and Myra Loy. Between 1934 and 1947, Powell and Loy co-starred in 14 films. Although best known for The Thin Man series, their collaborations were not confined to those half-dozen mysteries. The Great Ziegfeld benefits from their on-screen interaction. They bring out the best in each other, as was the case in all their joint endeavors. Unfortunately, because Loy's character doesn't enter Ziegfeld's life until relatively late, the production is more than two-thirds over before she makes her first appearance. Some viewers may have fallen asleep or turned off the DVD before then.
When he made The Great Ziegfeld, Powell was at the top of his game. He was a legitimate A-list actor with an Oscar nomination (for The Thin Man) on his resume. The perfect choice for Ziegfeld, he was as convincing playing the character at age 26 as at age 65. Although Powell did not receive any official citations for his portrayal of Ziegfeld, that didn't prevent him from returning to the role, which he did in 1945 when he once again essayed Florenz Ziegfeld Jr. in Ziegfeld Follies. After appearing in The Great Ziegfeld, he was nominated twice more for acting Oscars - in 1936's My Man Godfrey and 1947's Life with Father. He never won.
Unlike Powell, Loy was never nominated for an Oscar, although she was awarded an honorary one in 1991, two years before her death. Like Powell, she was an established star by the time she appeared in The Great Ziegfeld. In fact, it could be argued that she was better-known than Powell. Her career outlasted his. Powell, who was hampered by alcoholism, retired from the industry in 1955 (although he would live for another 29 years). Loy, however, continued working through the '50s and into the '60s, '70s, and '80s, appearing on television when movie roles were at a premium. The high point of her career was either The Thin Man or The Best Years of Our Lives. The low point was unquestionably Airport 1975.
Although Powell and Loy received top billing for The Great Ziegfeld, the only acting Oscar went to Luise Rainer for her touching portrayal of Anna Held. The actress' tear-inducing farewell phone call procured for her not only a Best Actress nomination but the victory. At the time, Rainer was a relative newcomer to Hollywood - this was her second American film. Her debut, 1935's Escapade, also featured Powell and was directed by Robert Z. Leonard. She worked steadily into the 1950s when she semi-retired (coming out of retirement for occasional projects, including an episode of The Love Boat). The year after winning the Oscar for The Great Ziegfeld, she won in the same category for The Good Earth.
The Great Ziegfeld features a number of nice turns by character actors. Chief among these is Frank Morgan, whose Jack Billings is always enjoyable and at times genuinely funny. Morgan has been immortalized for his work as the title character in The Wizard of Oz, but his part in this movie shows more of his versatility. Fanny Brice, who was a frequent participant in the real Follies, appears as an exaggerated caricature of herself. Ernest Cossart is the faithful Sidney, the manservant Ziegfeld pilfers from Billings.
Robert Z. Leonard, who directed the film, was one of the early Hollywood's assembly-line filmmakers. He started in 1909 in front of the camera and his acting flourished for nearly a decade. He began directing in 1913 and helmed more than 100 silent titles in just over 15 years. The high point of his career was The Great Ziegfeld, which earned him his second Best Director nomination (the first having been for 1930's The Divorcee). Other notable movies on his filmography include 1940's Pride and Prejudice, 1941's The Ziegfeld Girl (which he co-directed with Busby Berkeley), and 1945's Weekend at the Waldorf, a remake of Grand Hotel.
As biographies go, The Great Ziegfeld provides a reasonably competent - albeit "airbrushed" - presentation of the main character's life. With Burke overseeing the screenplay, incidents that would present her late husband in an unflattering light were elided. This is one reason why the film is dramatically inert - the main character is too appealing to be credible or compelling. Although it is true that the musical sequences are unquestionably worth seeing, they don't lose much out-of-context and can be viewed as stand-alone excerpts that don't demand a 185-minute investment of time. They are islands of inspired spectacle in a movie that is, at least when seen today, mediocre. 75 years after its initial release, The Great Ziegfeld is no longer great.
---
Great Ziegfeld, The (United States, 1936)
Run Time: 3:06
U.S. Release Date: -
MPAA Rating:
"NR"
Genre:
DRAMA/MUSICAL
Subtitles: none
Theatrical Aspect Ratio: 1.33:1
---
Three...better movies of this genre
worse movies of this genre
Three...better movies of William Powell
(There are no more better movies of William Powell)
worse movies of William Powell
(There are no more worst movies of William Powell)
Three...better movies of Myrna Loy
(There are no more better movies of Myrna Loy)
worse movies of Myrna Loy
(There are no more worst movies of Myrna Loy)
Three...better movies of Luise Rainer
(There are no more better movies of Luise Rainer)
worse movies of Luise Rainer
(There are no more worst movies of Luise Rainer)