Hunter, The (Australia, 2011)
April 13, 2013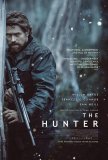 In recent years, as cloning has become more readily accepted in popular and scientific circles, proposals (some more fantastical than others) have been suggested about how to return extinct species to the planet. Some, like using the DNA of a preserved woolly mammoth carcass, may be viable. Others, like the Jurassic Park approach of reaching back millions of years for dinosaur genetic material, remains in the realm of fiction. What is not disputed, however, is that if the resurrection of extinct animals crossed the line between potential and reality, it would be big business. That recognition lies at the heart of The Hunter, an uneven but sometimes compelling tale of a big game hunter sent to Tasmania to find the last member of the so-called "Tasmanian tiger" species, kill it, and bring back its DNA. That would give a corporation sole rights to the species when they reconstitute it in their facilities.
The Tasmanian tiger is not actually a tiger; it is a carnivorous marsupial with a striped back. By the beginning of the 20th century, it was extinct on the Australian mainland but still existed in small numbers on the island of Tasmania. The last confirmed sighting in the wild was in the early 1930s; the last captive Tasmanian tiger died in 1936. (Surviving black-and-white footage of this tiger in a zoo is used in the movie.) Although the species has been officially declared to be extinct, there have been numerous sightings over the years, although none confirmed. The Hunter postulates that there is a single surviving specimen in the wild and corporations will pay big money and go to extraordinary lengths to gain possession of its DNA.
Willem Dafoe is Martin David, a professional hunter working for a biotech company who comes to Australia pretending to be a "university scientist." He stays with a local family in between making trips into the wilderness searching for the elusive tiger. He is aided, and sometimes hindered, by local Jack Mindy (Sam Neill), and runs afoul of loggers, who mistakenly believe him to be an environmentalist endangering their livelihood. His footsteps are also dogged by a rival hunter who is on the same quest, although it's unclear whether the other man is a backup sent by David's company or someone working freelance or for another corporation.
The most interesting aspect of The Hunter relates to David's tracking of the tiger. He uses a variety of mostly lethal traps and snares as well as surveillance equipment. His most valuable tool turns out to be the eyewitness account of a young boy whose father encountered the tiger. The scenes with Dafoe navigating Tasmania's wilds (it was filmed on location) are among The Hunter's most interesting and picturesque moments. Less successful is the interaction between David and the family renting him a room. These sequences lack the emotional resonance and depth needed to "earn" the ending. They are frequently artificial and feel more like filler than genuine character-building drama. Frances O'Connor is wasted in a dead-end role. If anything, Sam Neill's part is even more pointless, but it's always welcome to see Neill, regardless of the context.
Dafoe is his usual gruff self, providing us with an effective aloof and socially inept David but failing to transition the hunter believably to involved and attached. The character arc is strong on paper but not well-realized on film, and therein lies The Hunter's greatest failing. From a technical standpoint, director David Nettheim (who has a strong TV resume) does an excellent job, but he is less apt when handling conventional dramatic elements. The plot points are all there. We understand what's going on. But it often fails to engage on a meaningful level. The Hunter's most forceful moment of tragedy happens so quickly that it feels like a sucker punch.
There's a sense that complex subplots have been truncated to satisfy the need for a reasonable running length. I haven't read the source material, but that is a frequent occurrence with adapted screenplays. The novel upon which The Hunter is based was written by Julia Leigh, who made her screenwriting/directorial debut in 2011 with Sleeping Beauty. She was not directly involved in the reworking of her book into a film. Wherever in the process things went awry, there are problems with the writing. The Hunter has too many dangling secondary stories and a final scene that simply doesn't work. And, although there is something poetic about how the Tasmanian tiger element is resolved, I'm not sure I accept those actions from this character. Being told a character has changed is not the same thing as believing it to be true. There's too much of the former and too little of the latter.
The Hunter works best as a travelogue and a thought-piece about the ugly, shadowy side of resurrecting dead species. The premise - that a company would be willing to extinguish a very rare animal to profit from sole possession of its DNA - is credible, and not something I had considered before seeing The Hunter. On the other hand, those hoping to see a man-versus-nature adventure like The Grey will be sorely disappointed. There's value in the film, but mainly for those who enjoy being taken by film to unusual locales for off-road explorations.
---
Hunter, The (Australia, 2011)
---
Three...better movies of this genre
worse movies of this genre
Three...better movies of Willem Dafoe
worse movies of Willem Dafoe
Three...better movies of Frances O'Connor
(There are no more better movies of Frances O'Connor)
worse movies of Frances O'Connor
(There are no more worst movies of Frances O'Connor)
Three...better movies of Sam Neill
worse movies of Sam Neill