Last Flag Flying (United States, 2017)
November 09, 2017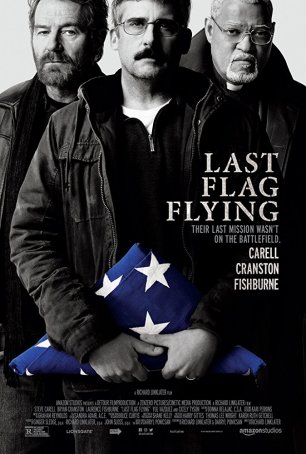 Despite being adapted from a novel by co-screenwriter Darryl Ponicsan, Last Flag Flying feels like a Richard Linklater film. The director's sympathy and affection for the characters is evident. He doesn't judge them although they may have done terrible things. The tone is thoughtful, shying away from the harsh, jaded approach of many productions that deal with war and its aftermath. Structurally (although not narratively), the movie bears a resemblance to Before Sunrise – it's about characters taking a road trip, talking, interacting, and eventually coming to a deeper understanding of one another. Along the way, there are moments of pathos and light humor but Last Flag Flying only occasionally ventures into melodrama or silliness, and those instances are easily forgiven.
The premise is brutal. Larry "Doc" Shepherd (Steve Carell) arrives in the Virginia bar owned by Sal Nealon (Bryan Cranston). At first, there's no recognition then the light goes on as Sal realizes this is his old Vietnam buddy. The next morning, Doc takes Sal on a short trip to a nearby church. The preacher there is Reverend Richard Mueller (Laurence Fishburne), who they once knew as "Mueller the Mauler." Doc has a reason for reuniting with his old comrades. He has had a bad year (it's 2003). His wife died of breast cancer. Now, his only son has been killed in action in Baghdad. The body is being flown home for burial at Arlington. Doc would like Sal and Richard to be by his side at the funeral.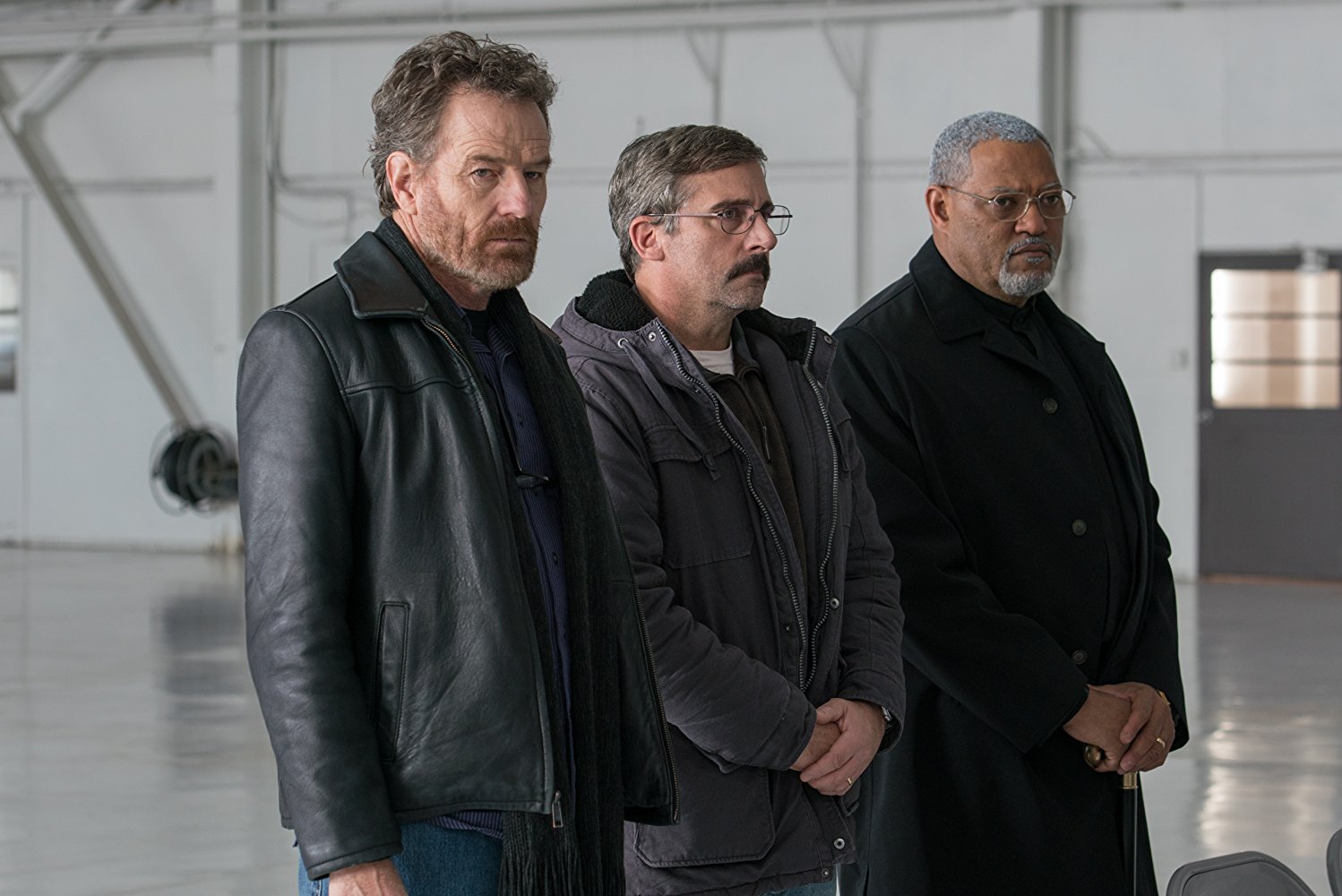 Sal readily agrees but Richard takes some convincing. Eventually, the three of them get in a station wagon and head for Dover Air Force Base, where the flag-draped coffins arrive. Standing watch in the hanger is Washington (J. Quinton Johnson), a friend of the deceased. When he tells Doc the details about his son's death, Doc decides that he doesn't want the Arlington burial. Instead, he wants to take his son's body home to be buried next to his mother in Portsmouth. Thus begins a trip that features stops in New York City and Boston, a train ride, and reminiscences about Vietnam and the reason why all three men carry a weight of guilt.
Last Flag Flying is based on Poniscan's novel, which is a sequel to an earlier work, The Last Detail. That book was adapted into a movie in 1973 by Hal Ashby (it starred Jack Nicholson, Randy Quaid, and Otis Young). It was nominated for three Oscars, although it won none. Linklater has tinkered with the storyline to make Last Flag Flying a stand-alone story. Among other things, the characters' names have been changed as have the details of their past interaction. But enough connections remain for this to be considered a sequel of sorts.
Calling Last Flag Flying an "anti-war movie" would be too facile a description. The movie features many discussions by the men about the nature and purpose of wars (including the quote "Men make wars and wars make men"). There is much bitterness and cynicism about the military, the government, and the purpose of war. When Washington notes that he and his comrades are "fighting them over there so we don't have to fight them here", Sal remarks that the opponent may have changed but the excuse hasn't. Nevertheless, the men retain a love of country and the corps. They have a strong sense of patriotism. (The flag, for example, has great meaning for them.) And their love for each other and the bond they formed while serving their country remains unbreakable. In short, they are conflicted – something that's true of many soldiers who bled for their nation but later had doubts about what they were fighting for. Linklater captures this ambiguity perfectly – right up to the tearjerker of a final scene.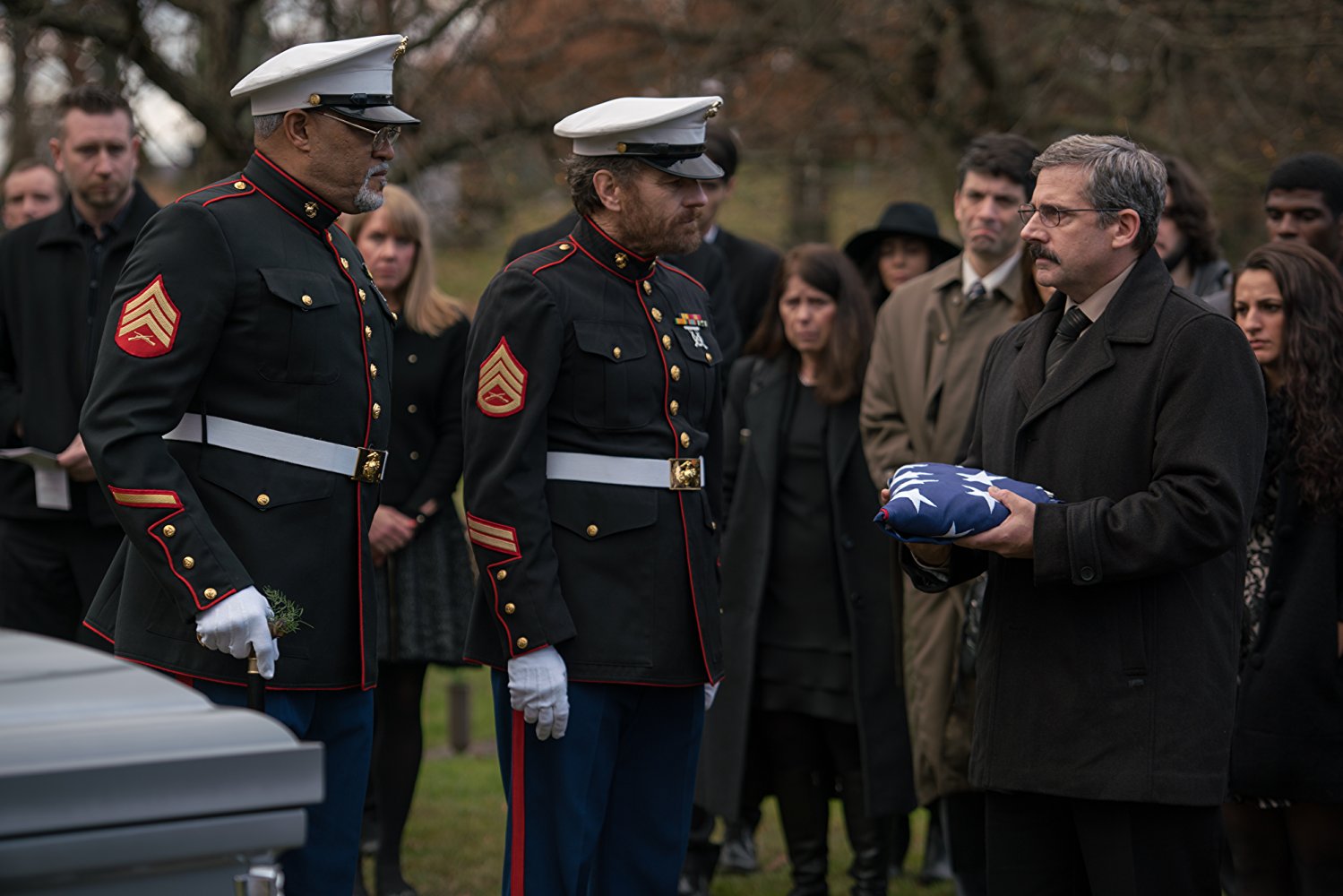 Last Flag Flying features a trio of strong performances. Steve Carell plays Doc with meekness and quiet sadness. We feel most deeply for this character who has lost so much and is groping to find meaning for a loss that has left him alone and devastated. Carell's decision to underplay the role emphasizes the pain and despair. Counterbalancing him is Bryan Cranston, who takes on Sal with the restraint of a dog gnawing on a bone. A loud-mouthed alcoholic with no self-restraint, Sal is frequently a source of friction and Cranston commits fully to the man's audacity. Fishburne avoids an easy stereotype as Richard. Once a hard-swearing, hard-drinking, violent man, he found God and turned his life around. Now, reunited with men who remind him of his past, Richard can feel Mueller the Mauler stirring. But whatever "bad" impulses percolate to the surface neither shake his faith nor tempt him to the dark side. He remains a changed man. Fishburne's performance is suitably restrained with occasional fiery moments.
There are some missteps. The bit about the men being mistaken as Islamic terrorists, although intended as comedic, is unworthy of the rest of the screenplay. The movie also falls prey to the occasionally somnambulant rhythms of the road trip. By their nature, road trip movies are episodic and some of the episodes are more compelling than others. That's the case with Last Flag Flying. This isn't about reaching a destination – it's about what happens along the way as the three men re-connect with one another, try to find meaning in what they're doing, and discover the addictive power of cell phones. A thoughtful meditation about war and surviving in its aftermath, Last Flag Flying avoids descending into the hell where many such movies take us and, as a result, is more hopeful and life-affirming.
---
Last Flag Flying (United States, 2017)
---

Three...better movies of this genre
worse movies of this genre
Three...better movies of Steve Carell
worse movies of Steve Carell
Three...better movies of Bryan Cranston
worse movies of Bryan Cranston
Three...better movies of Laurence Fishburne
worse movies of Laurence Fishburne