Battle of the Sexes (United Kingdom/United States, 2017)
September 29, 2017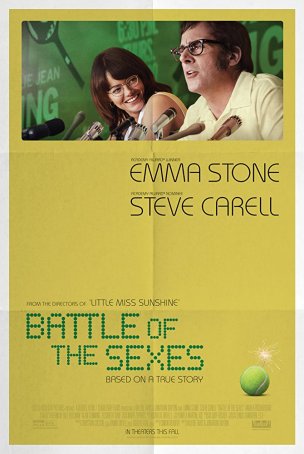 About halfway through Battle of the Sexes, I found myself wishing I was watching a documentary rather than a feature film. Some of the issues raised by the movie – mainly related to a culture that marginalizes women and the struggles of those in the "Women's Liberation Movement" to fight against the status quo – are interesting but the way in which directors Jonathan Dayton & Valerie Faris (Little Miss Sunshine) and writer Simon Beaufoy (The Full Monty) frame them are not. Battle of the Sexes isn't really about the so-called "Battle of the Sexes" – a 1973 made-for-TV exhibition tennis match between Bobby Riggs (Steve Carell) and Billie Jean King (Emma Stone). Instead, it's a surprisingly flat bio-pic of King's life between 1972-73 with little attempt to make Riggs into anything more than a two-dimensional caricature/foil.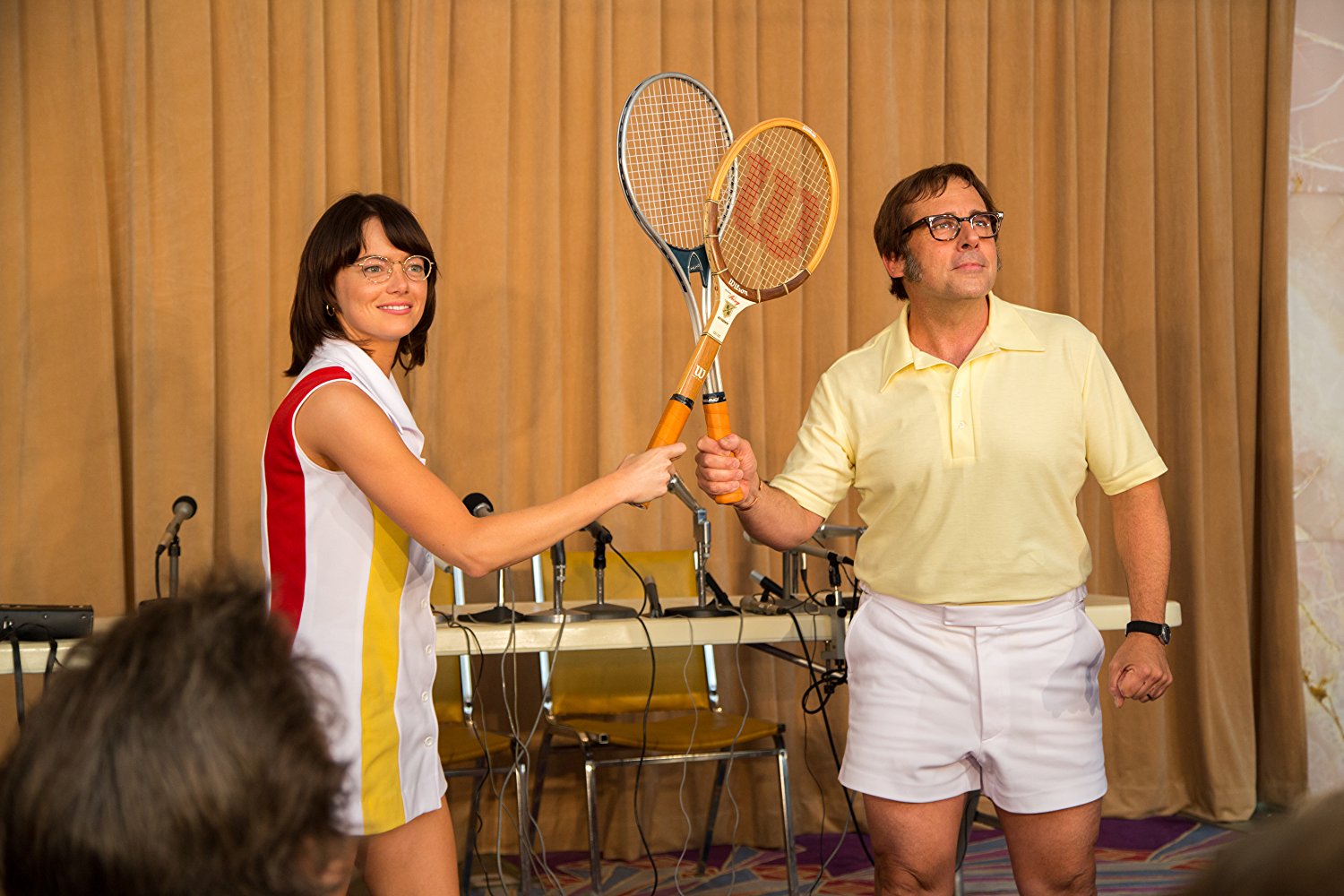 One can make a case that Billie Jean King's life is sufficiently interesting to warrant a biography. She was, after all, one of the foremost athletes fighting the gender equality wars during the '70s and one of the first gay tennis players to come out of the closet. Large swaths of Battle of the Sexes are devoted to King's struggles with her sexuality but those scenes are flat and obligatory. Her first lesbian relationship, with a hair stylist named Marilyn Barnett (Andrea Riseborough), lacks anything resembling heat, romance, or sensuality. It's plot point.
As portrayed by Emma Stone in a bit of questionable casting (Stone's physical resemblance to King is poor under the best of conditions), King more of an icon than a person. The movie's treatment of Riggs is even worse. The filmmakers are largely uninterested in him. Riggs is depicted as a caricature, as if his true personality was reflected by the clown he showed to the public. The perfunctory glimpses we are afforded into his life do little to flesh him out. Steve Carell's performance, however, is an excellent example of mimicry. Not only does he look eerily like Riggs but everything about the way he moves, talks, and acts is evocative of how the champion-turned-hustler presented himself in public.
Two supporting characters are given odd (and historically inaccurate) portrayals. The first, Jack Kramer (Bill Pullman), is rendered as a living representation of male chauvinism – the kind of man who likes women "in the bedroom and the kitchen" but doesn't have much use for them elsewhere. For Riggs, sexism is a marketing tool; for Kramer, it's a sacred birthright. The over-the-top portrayal feels more like a parody than a genuine portrait of a '70s caveman. Then there's tennis star Margaret Court (Jessie McNamee) who, despite having an impressive record, is treated as something of a second-rate player.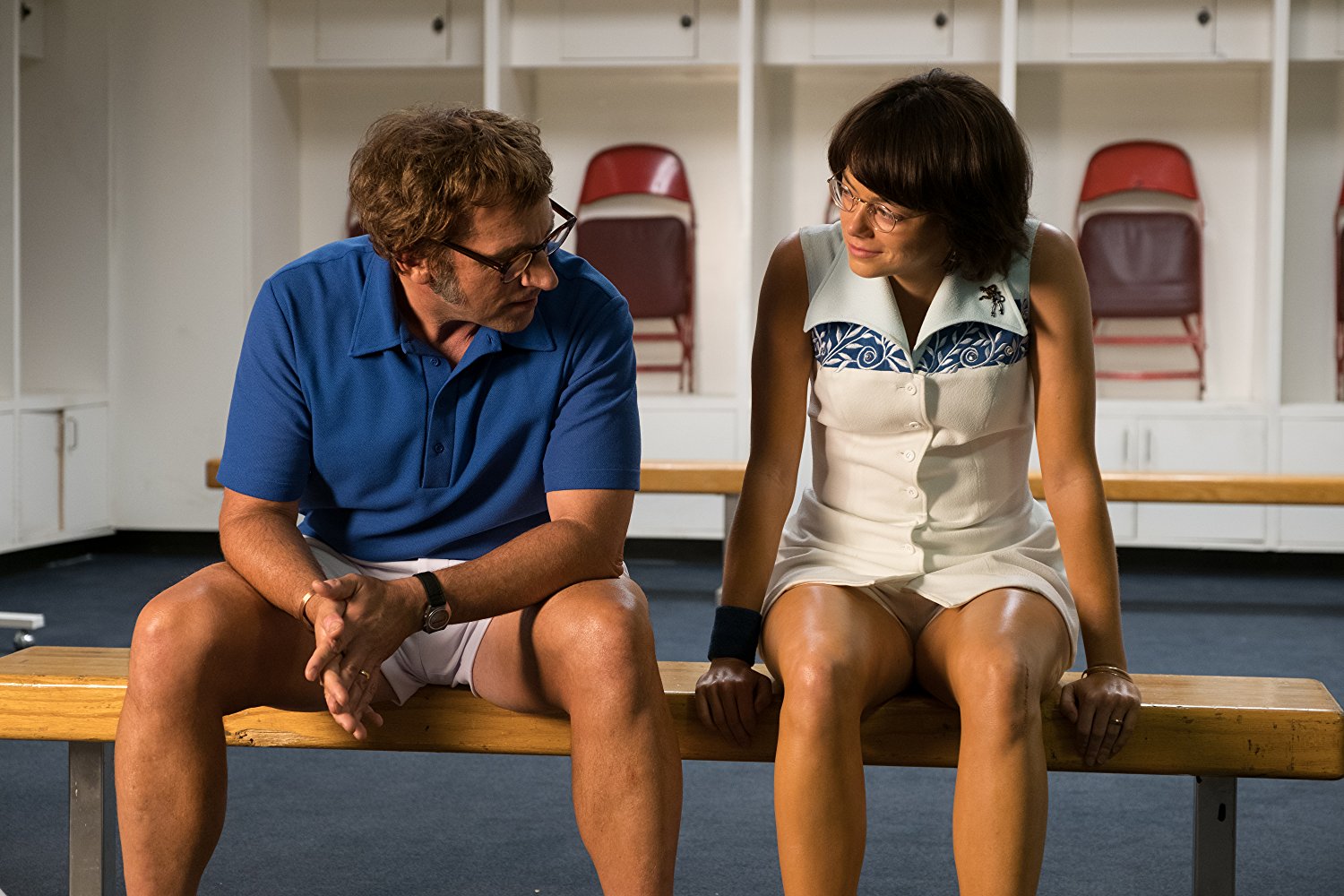 The central match is poorly staged with no sense of how to draw on the natural momentum and drama of even the hokiest sporting event. This one seems slapped together, with random points being shown before the action jumps forward to another stage in the match. Howard Cosell's original commentary has been retained, once again emphasizing that this material might have been served as a documentary.
Battle of the Sexes overemphasizes the cultural impact of the Riggs/King match. The filmmakers would have us believe this was an important touchstone and turning point in the war for women's equality. It was nothing of the kind. Yes, King's victory gave a boost to women's tennis (especially in the wake of Court's unceremonious defeat at Riggs' hands months earlier), but the match was never viewed as more than a publicity stunt by the millions who watched it on TV. Riggs' hucksterism stirred the pot and made it must-see TV, but that's all it was. It wasn't a referendum on equal rights or a manifesto for Women's Lib. It was a carnival and a sideshow – things the movie acknowledges in passing but doesn't fully accept because it would weaken the thesis. Battle of the Sexes is disappointingly shallow and superficial, recreating people and events from an earlier era as the Hollywood of today would like them to be remembered not as they necessarily were.
---
Battle of the Sexes (United Kingdom/United States, 2017)
---

Three...better movies of this genre
worse movies of this genre
Three...better movies of Emma Stone
worse movies of Emma Stone
Three...better movies of Steve Carell
worse movies of Steve Carell
Three...better movies of Andrea Riseborough
worse movies of Andrea Riseborough