Man Called Otto, A (United States, 2022)
December 28, 2022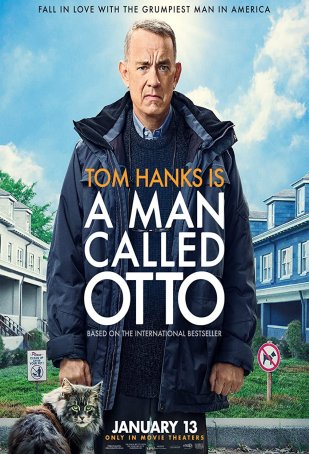 I've long since given up asking the question "Why?" when it comes to filmmakers turning to foreign language films for the storylines of new English-language films. Sometimes, in fact, the results can be quite satisfactory – take the 2022 reworking of Ikiru into Living – but most are simply mediocre or subpar retreads. In the case of A Man Called Otto, which owes its existence to Hannes Holm's 2015 feature, A Man Called Ove (which, in turn, was based on the 2012 novel by Fredrik Backman), the results are admirable enough to justify the movie's existence. Although the level of manipulation is several notches higher than in the Swedish original, A Man Called Otto boasts fine performances from Tom Hanks and Mariana Trevino and offers the kind of crowd-pleasing arc that runs counter to the prevalent mood of worldwide cynicism.
For Otto, the location has been shifted to the Pittsburgh suburbs. That's where the title character (played by Tom Hanks) lives. A recent widower, Otto has turned into the town curmudgeon, fulfilling the "get off my lawn" stereotype to a "T." At first, Otto seems to be just a generic disgruntled old man but, as we learn his backstory through flashbacks (in which Otto is played by Hanks' son, Truman), he has been crushed by grief following the death of his beloved wife, Sonya (Rachel Keller). He's in the process of getting his life in order so he can commit suicide when his preparations are interrupted by the arrival of new neighbors: a mother, father, and two girls. Although Otto would prefer to be left on his own, the pregnant woman, Marisol (Mariana Trevino), ignores his unfriendly attitude and refuses to allow him his isolation. After several failed attempt to kill himself, Otto begins to acknowledge that he might still have a purpose, even if it's just to care for the stray cat who has adopted him as its human.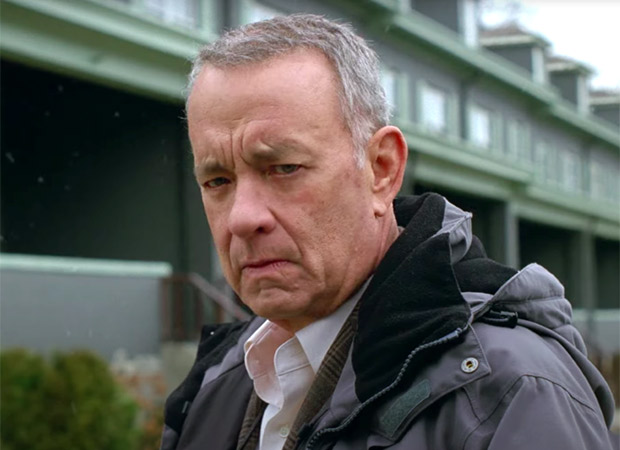 Borrowing elements (possibly unconsciously) from Ikiru and A Christmas Carol, A Man Called Otto shows how a late-in-life awakening allows a man to make a difference in his final days. For the most part, the movie avoids becoming too saccharine by leavening the expected transformation with bittersweet snippets of the past. These scenes, which illustrate how much Otto lost when his wife died, flesh out his character beyond the bare bones caricature. While some of the "present" scenes are played for comedy, there's a deep wellspring of sadness that emerges through the flashbacks. That aspect is what elevates this movie above a generic tale about a grumpy old man whose rough edges are softened by circumstances.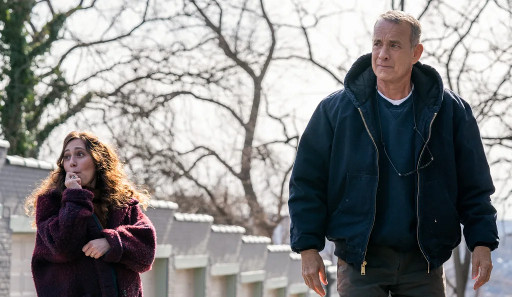 It's easy – too easy, in fact – to dismiss Tom Hanks' acting in something like this as being unworthy of awards discussion. Sure, this is in Hanks' wheelhouse but that doesn't mean he can't bring depth and dimension to the portrayal. Although part of the job requires him to channel the likes of Walter Matthau and Robert DeNiro, expressing exasperation for Marisol and the cat in equal measures, there's another facet to this performance – a poorly buried pain that is most evident in Otto's eyes and facial expressions. Those are the fleeting moments when the audience feels an empathy for this outwardly unpleasant individual. Of the supporting performers, Mariana Trevino deserves to be singled out for her interpretation of the fiery, feisty woman who forces Otto to confront past, present, and future.
Parts of the screenplay are too facile and there's a subplot involving a greedy real estate development corporation that is underwritten and not remotely believable. (The stuff about the "Social Media Investigation," newly added to the remake, isn't one of the better additions.) But the things that work in A Man Called Otto outweigh those that don't and Hanks' performance – probably his best since News of the World (which featured a not-dissimilar character) – is the glue that holds everything together. As 2022 remakes go, this one falls considerably short of the surprisingly high bar set by Living but it's a heartwarming tale for the coldest part of the year.
---
Man Called Otto, A (United States, 2022)
---
Three...better movies of this genre
worse movies of this genre
Three...better movies of Tom Hanks
worse movies of Tom Hanks
Three...better movies of Mariana Trevino
(There are no more better movies of Mariana Trevino)
worse movies of Mariana Trevino
(There are no more worst movies of Mariana Trevino)
Three...better movies of Rachel Keller
(There are no more better movies of Rachel Keller)
worse movies of Rachel Keller
(There are no more worst movies of Rachel Keller)