Monsters University (United States, 2013)
June 21, 2013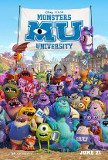 For Pixar, Monsters University stops the bleeding. In the wake of two disappointing films, 2012's lackluster Brave and 2011's misfire Cars 2, the animation company has returned to solid footing with a prequel to their 2001 entry, Monsters Inc. Although there is undoubtedly a financial foundation for mining past successes, Monsters University is nevertheless a charming, family friendly endeavor and, although it falls short of the best Pixar has brought to the screen over its long association with Disney, it's nevertheless worth a trip to the theater, especially for kids.
As was true of Monsters Inc., Monsters University gets most of its mileage out of the atypical friendship between the big, furry Sullivan (voice of John Goodman) and the little green Cyclops Mike (Billy Crystal). Since Monsters Inc. effectively wrapped up going-forward story possibilities, the creative team elected to go the prequel route, so this is the tale of how Mike and Sullivan met, overcame an initial rivalry, and became friends. Although pitched at a level that won't bore adults, the film's content is kid-centered, complete with life lessons about the values of friendship, cooperation, and believing in oneself and others.
Mike and Sullivan meet on the campus of Monsters University, where both are enrolled in the "Scarers" program. Sullivan, who comes from a revered family, has a frightening roar and an imposing presence but lacks technique. Mike, on the other hand, has a scholar's knowledge of what it means to be scary but isn't inherently frightening. The two get into an argument that results in their expulsion from the program. The only way back in is for them to team up with four other oddballs and win the annual "Scare Games," thereby proving their worth to Dean Hardscabble (Helen Mirren).
Monsters University's plot thrives on predictability although there is a moderately surprising twist toward the end that allows the proceedings to extend by about fifteen minutes and provides an opportunity for a little more depth. For adults, the movie is less about narrative than enjoying the back-and-forth repartee of Mike and Sullivan, who have all the chemistry of, say, Felix and Oscar. These two are mismatched buddies in the classic sense and Billy Crystal and John Goodman have no difficulty sliding back into the roles they originated a dozen years ago. And, although Monsters University will appeal strongly to young viewers, it's not juvenile in its approach or content. As a result, those who enjoyed Monsters Inc. as children need not be ashamed of being "uncool" by watching Monsters University in their teens. (G-rated movies are generally shunned by anyone over age 12 who isn't a parent.)
Computer generated animation has long since reached a plateau level where the artwork results in the kinds of "oohs" and "aahs" that it once did. We rarely notice the richness of detail evident especially in the background the way we once did because every animated film boasts this - it's expected. Monsters University maintains the standard of quality expected from Pixar although, as is too often the case, the incorporation of 3-D is of dubious value. Seen in 2-D, this is a bright, cheerful motion picture. The tradeoff for getting things to pop off the screen is that the colors aren't as vibrant. I feel like a broken record making this comment: some animated films benefit from 3-D but it's hard to argue that Monsters University is one of them.
Pixar's decision to develop some of their most popular movies into franchises hit a rough patch when Cars 2 failed to perform up to expectations. Monsters University, however, makes the argument that this may have been an unfortunate exception. Although the second Monsters movie won't challenge Toy Story 2 or Toy Story 3 as the best sequel to emerge from the studio, it's a strong enough animated film to rise to the top of summer family-friendly fare. The energy and comedy are strong and the only thing off-color is the palette when seen through 3-D lenses. This isn't a home run for Disney/Pixar but it's a solid double.
---
Monsters University (United States, 2013)
Director:
Dan Scanlon
Cast:
(voices) Billy Crystal
,
John Goodman
,
Steve Buscemi
,
Helen Mirren
,
Peter Sohn
,
Joel Murray
,
Sean Hayes
,
Dave Foley
,
Charlie Day
Screenplay:
Robert L. Baird, Daniel Gerson, Dan Scanlon
Cinematography:
Music:
Randy Newman
U.S. Distributor: Walt Disney Pictures
---
Three...better movies of this genre
worse movies of this genre
Three...better movies of (voices) Billy Crystal
(There are no more better movies of (voices) Billy Crystal)
worse movies of (voices) Billy Crystal
(There are no more worst movies of (voices) Billy Crystal)
Three...better movies of John Goodman
worse movies of John Goodman
Three...better movies of Steve Buscemi
worse movies of Steve Buscemi