My Life in Ruins (United States/Spain, 2009)
June 04, 2009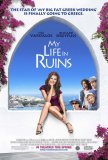 Words cannot express how weary I am of watching lifeless, hollow movies like My Life in Ruins - generic romantic comedies that have no clue when it comes to either "romance" or "comedy." The films aren't quite poorly enough made to label them "bad," but they wallow in such unrelieved mediocrity that sitting through them is almost more challenging than making it through something that is unapologetically unwatchable. Every time I see an enjoyable movie or two, it seems there's always something like My Life in Ruins lurking around the corner, waiting to pounce and remind me that filmmakers are still churning out dispiriting material on a regular basis.
Once upon a time ago (actually 2002), Tom Hanks, Gary Goetzman, Rita Wilson, and Nia Vardalos teamed for what proved to be the surprise hit of the year, My Big Fat Greek Wedding. The disarmingly appealing film had enough of an edge to keep it from turning to mush and enough chemistry between the leads to get us rooting for the happy ending. Now, seven years later, this quartet has re-teamed, presumably with the goal of defying the proverb that lightning doesn't strike twice. Well, the proverb is right and Tom Hanks has let his second dog of the summer out of the pound (although, since he doesn't appear on-screen, it's easy enough for him to hide his participation in this one). My Life in Ruins is nowhere near as funny or entertaining as its predecessor. The humor is strained and based almost entirely on stereotyping cultures and nationalities, the story is trite, and the main coupling is devoid of that hard-to-pin-down romantic necessity: chemistry.
Vardalos plays Georgia, an ex history professor-turned-tourist guide. She loves Greece too much to return to the United States, so she accepts the long hours and poor pay in return for being able to remain abroad. Unfortunately, Georgia may be the worst tour guide in the history of the industry. She bores her clients by droning on in a monotone about historical trivia when they would rather shop for souvenirs, get an ice cream cone, or spend a day at the beach. Georgia's boss is eager to be rid of her, so she offers her top tour guide, Nico (Alistair McGowan), a raise if he can force Georgia to quit.
The essence of My Life in Ruins is about how Georgia's life view is changed when she falls in love with her tour's bus driver, Poupi (Alexis Georgoulis), and when she learns a thing or two about taking chances from Irv (Richard Dreyfus), the most flamboyant of her clients. Needless to say, by the time the end credits begin to roll, Georgia has been transformed from a boring, inept tour guide into the best Greece has to offer. She is beloved by everyone in her group. Her arch-nemesis Nico has been humiliated. Stop me if any of this sounds familiar… Perhaps people will see this movie because they don't relish anything new. The problem is that My Life in Ruins isn't a lively rerun; it's a dreary re-telling of a story that wouldn't be all that interesting if it was being told for the first time.
Vardalos is acting's version of a one-hit wonder. She didn't show much in the way of range in My Big Fat Greek Wedding, but she was perfect for that role at that time. In My Life in Ruins, she's part of the problem. There's nothing human about Georgia. She's a walking cliché and Vardalos is unable to elevate her above this unenviable level. There's no evidence of sexual attraction between Georgia and her hunky Greek beau. In fact, the only one with whom Vardalos shows anything resembling a connection is Richard Dreyfuss.
Speaking of Dreyfuss, it's probably unsurprising to learn that he's the best thing in the movie, but the film is so shabbily constructed that the conclusion of his character's arc, which initially seems to be elegant (if a little oversentimental), turns into a muddled mess. It's unclear whether this was the result of late-minute script changes, re-shoots, or some other unholy influence, but it's hard to believe this was how Irv's part in My Life in Ruins was supposed to end. His last couple of ill-fitting scenes have been shoehorned into a plot that has moved on.
To direct this film, Hanks and Company have turned to veteran Donald Petrie, whose recent resume is so badly tarnished that it's surprising any producer would allow him near a project with any potential value (his most recent two directorial efforts: Just My Luck and Welcome to Mooseport). In addition to proving unable to conjure the ghost of a spark between Vardalos and Georgoulis, Petrie can't even accomplish what should be an automatic for this movie: gorgeous scenery. There are few places on Earth more photogenic than Greece, yet Petrie imbues My Life in Ruins with a depressingly commonplace look. One need go no further than Mamma Mia! and The Sisterhood of the Traveling Pants to understand how good Greece can look on film. "Ruins" is indeed an apt descriptor for this picture.
---
My Life in Ruins (United States/Spain, 2009)
---
Three...better movies of this genre
worse movies of this genre
Three...better movies of Nia Vardalos
(There are no more better movies of Nia Vardalos)
worse movies of Nia Vardalos
(There are no more worst movies of Nia Vardalos)
Three...better movies of Richard Dreyfuss
worse movies of Richard Dreyfuss
Three...better movies of Alexis Georgoulis
(There are no more better movies of Alexis Georgoulis)
worse movies of Alexis Georgoulis
(There are no more worst movies of Alexis Georgoulis)