Movies with music written by David Newman Anastasia
Finally, there's a legitimate challenge to Disney. And, while it's unlikely that Twentieth Century Fox's Anastasia will break the Mouse's stranglehold on animated films, it's a good place to start. Anastasia is easily the best non-Disney anim... Cat in the Hat, The
There is an almost overpowering desire to write this review in the style of Dr. Seuss, but I will resist it - primarily because the end product is more Mike Myers and overblown production design than it is the clever text of one of the most beloved... Dr. Dolittle 2
About the most positive comment I can offer about Dr. Dolittle 2 is that it's not as painful to endure as its 1998 predecessor, Dr. Dolittle. Unlike the earlier Eddie Murphy effort about the M.D. who can talk with animals, the second installment m... Galaxy Quest
Back in the years when Star Trek was still a cult phenomenon (instead of a mainstream cash cow for Paramount Pictures), fan fiction was about the only way Trekkies could experience the latest exploits of their favorite characters. One of the more ...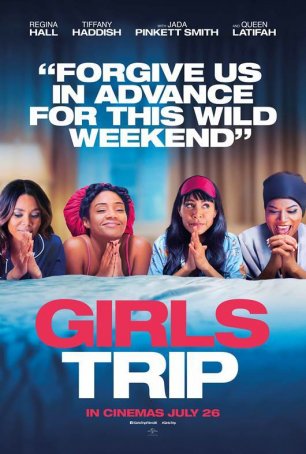 Girls Trip
Girls Trip is the fusion of a raunchy vacation comedy and a female-bonding melodrama. Unfortunately, the jokes stop being funny about 30 minutes before the end credits roll and the character-based elements are never better than overly familia... How to Lose a Guy in 10 Days
One could easily make the argument that How to Lose a Guy in 10 Days is a perfectly acceptable diversion. Kate Hudson's Andie Anderson and Matthew McConaughey's Ben Barry are both affable individuals and, when the script allows it, there are fitfu... Ice Age
Hats off to 20th Century Fox. Through a marketing campaign which can be considered nothing less than astonishing, the studio has managed to convert Ice Age from an adequate (but hardly superlative) example of family entertainment into one of 2002'... Jingle All the Way
Jingle All the Way represents Arnold Schwarzenegger's fourth attempt at a "straight" comedy (I'm not counting Last Action Hero or True Lies, which were highly action-oriented), and, like the others that came before it, this movie isn't all that fun... Man of the House
The men in black at Columbia Pictures made the right decision when they elected not to screen Man of the House for critics. The film fails in so many ways that it's impossible to imagine it getting more than a handful of positive reviews; all but ... Matilda
Arriving in the latter half of the summer, Danny DeVito's Matilda beats out such worthy contenders as The Hunchback of Notre Dame and Harriet the Spy for best family fare of the season. In fact, I haven't enjoyed a so-called "children's film" this...