Movies directed by Danny Devito Matilda
Arriving in the latter half of the summer, Danny DeVito's Matilda beats out such worthy contenders as The Hunchback of Notre Dame and Harriet the Spy for best family fare of the season. In fact, I haven't enjoyed a so-called "children's film" this...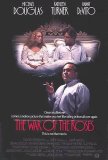 War of the Roses, The
When it comes to dark satires of the romantic comedy genre, few films are more vicious than Danny DeVito's 1989 offering, The War of the Roses. The film revels in its blackness in a way that few films during the last several decades have; even th...