Movies starring John Cusack 1408
If elements of 1408 seem a little familiar, it shouldn't be a surprise. Here's John Cusack, once again having lodging problems (see also Identity). Here's a supernatural debunker faced with something that refuses to be debunked (see also The Reap...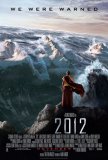 2012
If, as is believed in certain fringe circles, the world will come to an end in 2012, at least there will be no more movies like this one made. Perhaps the strangest thing about 2012 is that the bad parts of the film are among the most enjoyable, b... Anastasia
Finally, there's a legitimate challenge to Disney. And, while it's unlikely that Twentieth Century Fox's Anastasia will break the Mouse's stranglehold on animated films, it's a good place to start. Anastasia is easily the best non-Disney anim...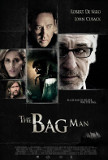 Bag Man, The
The title may make it sound like a horror film but The Bag Man is actually a neo-noir thriller. The movie is relentlessly dark with the majority of it transpiring in and around a seedy motel at night. Despite the participation of a couple of well-kno... Being John Malkovich
These days, critics (and non-critics, for that matter) are fond of complaining about how multiplexes are populated by cookie-cutter motion pictures that follow safe, formula-derived patterns designed to please audiences who want a different version...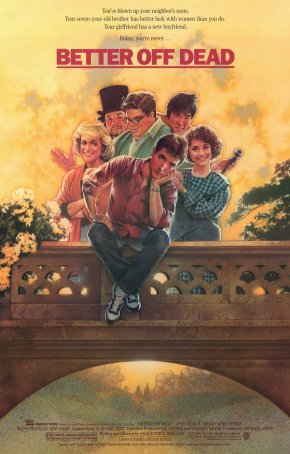 Better Off Dead
About the kindest thing that can be said about Better Off Dead is that it's a product of its time. Seen today, the movie is painfully dated and littered with unfunny material and broad "acting" that was somehow thought to be amusing. Yet,...
Blood Money
A mysterious, gun-toting stranger wanders the woods. Three twenty-somethings head out for some time away from society, looking forward to a vacation of camping and riding the rapids. Of course, their paths are going to cross. Of course, there ... Bullets over Broadway
Sure as the turning of the leaves, this time of the year, fresh with the scent of Oscars to come, brings the release of a new Woody Allen motion picture. Two years ago, his Fall contribution was Husbands and Wives. Last year, it was Manhattan Mur... Con Air
Con Air, producer Jerry Bruckheimer's generic follow-up to 1996's blockbuster, The Rock, is the kind of motion picture that critics refer to when they moan about the "dumbing down" of American cinema. This movie is a perfect example of what's wron... Grace Is Gone
If Martian Child is the price film goers must pay in order to get Grace Is Gone, then it's a worthwhile trade. This low-key drama, the directorial debut of James C. Strouse, is the kind of opportunity that real actors relish. With a minimalist plo...