Movies starring Harland Williams Freddy Got Fingered
Before I embark upon an extended streak of name-calling and Tom Green-bashing, let me say a few words about the subjective nature of comedy. Everyone has a different opinion of exactly what constitutes good humor. For some people, it's Victor Bor... Meet the Robinsons
It's tempting to label Meet the Robinsons as just another in a long line of recent computer animated kid-traps, but it deserves a more upbeat description. Thankfully, we're not subjected to the new staple of the big-screen cartoon - anthropomorphi...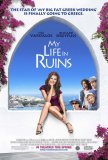 My Life in Ruins
Words cannot express how weary I am of watching lifeless, hollow movies like My Life in Ruins - generic romantic comedies that have no clue when it comes to either "romance" or "comedy." The films aren't quite poorly enough made to label them "bad...