Nice Guys, The (U.K./U.S., 2016)
May 19, 2016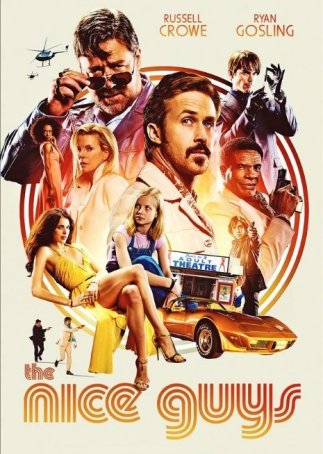 For those familiar with director Shane Black's oeuvre, The Nice Guys is closer to Kiss Kiss Bang Bang than Iron Man 3. Featuring the same blend of high octane action and Tarantino-esque humor as Black's 2005 debut, The Nice Guys doubles as a comedy and a thriller. With anchoring performances from a deliciously deadpan Russell Crowe and a slightly unhinged Ryan Gosling, the film overflows with quips, irony, and physical gags while at the same time relating a noir-tinged story of seedy corruption set in the neon-saturated underbelly of the 1977 Los Angeles porn industry.
No L.A.-based crime thriller featuring Russell Crowe and Kim Basinger could avoid comparisons to L.A. Confidential. Although Curtis Hanson's celebrated 1997 film was set in the 1950s and The Nice Guys transpires two decades later, both productions get mileage out of period detail and the setting's inherent conflict between bright lights and the dark shadows they cast. Although the comedic aspects of The Nice Guys obscure its neo-noir elements, they are evident for anyone who cares to look. The plot veers toward the nonsensical but, like The Big Sleep, other strengths overwhelm narrative holes and inconsistencies.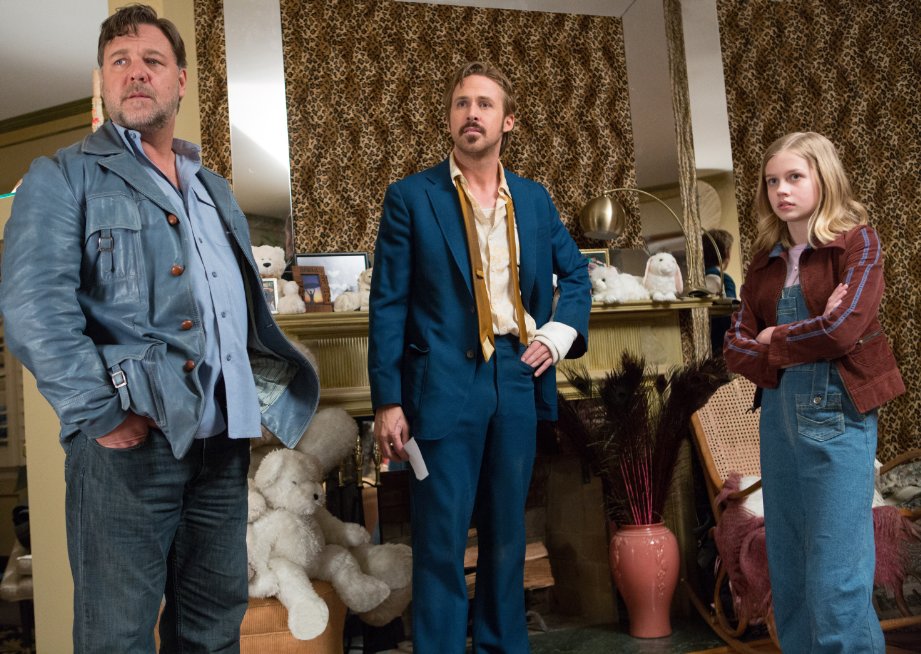 Jackson Healy's (Russell Crowe) job description is a "messenger." He delivers his messages with fists, guns, bats…pretty much anything available and he leaves behind bruises, broken bones, split lips, and concussions. His latest client is a pretty young girl named Amelia (Margaret Qualley) who wants him to discourage the attempts of P.I. Holland March (Ryan Gosling) to follow her. He does what he's paid to do, leaving Holland the worse for wear after their encounter, only to find out that there's more to Amelia than meets the eye. So he returns to Holland, makes amends, and the two become a reluctant team whose investigation takes them to disco parties, burnt-down houses, and the office of a high ranking government official (Kim Basinger) who happens to be Amelia's mother. Meanwhile, the hitman with a folksy name, John Boy (Matt Bomer), pursues the mismatched duo while Holland's precocious daughter, Holly (Angourie Rice), tags along with the investigators despite their best efforts to leave her at home.
As good as Crowe and Gosling are as the odd couple detectives, the scene-stealer is 15-year old newcomer Angourie Rice, who comes out of nowhere to become the most memorable thing in The Nice Guys. Her confident, unforced portrayal radiates charm and charisma and puts her on the shortlist for 2016's breakout performance. Her (non-romantic) chemistry with Crowe and Gosling is noteworthy. Teenage daughters in peril often become annoyances; that's never the case here.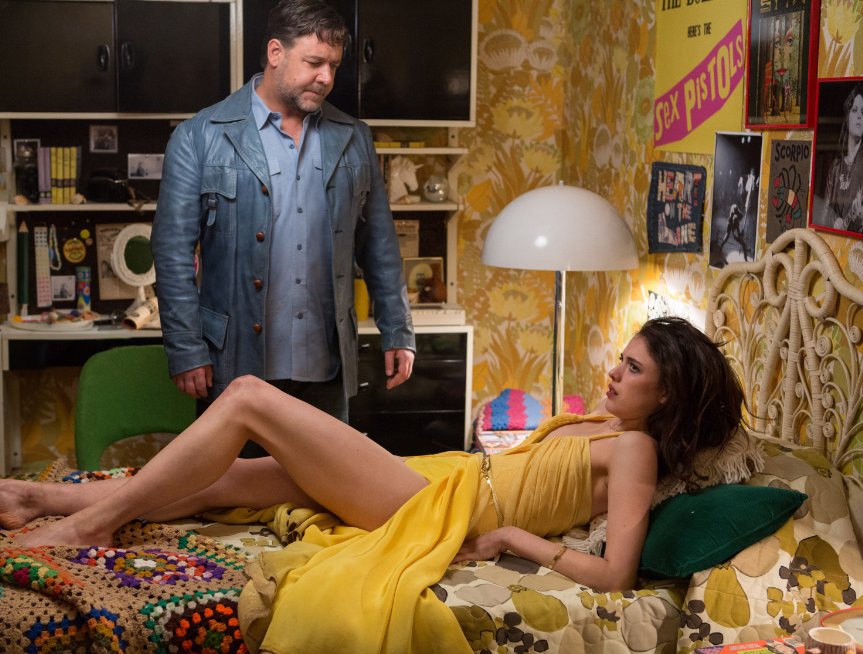 The 1970s of The Nice Guys are the 1970s of Boogie Nights - an echo of a vanished decade amped up by nostalgia and Hollywood's propensity to exaggerate the most lurid aspects of everything. It's neon, Earth Wind & Fire, strippers and porn stars, bad hair, and Ryan Gosling swimming with topless mermaids. Black's willingness to get weird and wild leads to some of the movie's best and biggest laughs. And, although our heroes aren't always likable and frequently display signs of shocking ineptitude, we find ourselves rooting for them in the end.
The Nice Guys is a refreshingly adult movie entering a marketplace saturated by teen-friendly superhero flicks and animated family fare. It's edgy (although not so edgy that it will turn off a mass market audience), funny, and fast-paced. Black, along with co-screenwriter Anthony Bagarozzi, takes a few chances but, for the most part, this doesn't push any envelope. This is an example, however, of how it's possible to blend comedy and action and come up with something that works as both. A confident director, a polished screenplay, and a trio of glowing performances make The Nice Guys the first satisfying motion picture entertainment of 2016's summer season.
---
Nice Guys, The (U.K./U.S., 2016)
---

Three...better movies of this genre
worse movies of this genre
Three...better movies of Russell Crowe
worse movies of Russell Crowe
Three...better movies of Ryan Gosling
worse movies of Ryan Gosling
Three...better movies of Angourie Rice
(There are no more better movies of Angourie Rice)
worse movies of Angourie Rice
(There are no more worst movies of Angourie Rice)