Beguiled, The (United States, 2017)
June 29, 2017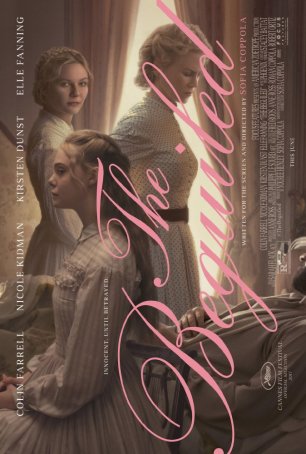 When word emerged from Cannes that Sofia Coppola had won the Best Director prize for her adaptation of Thomas Cullinan's The Beguiled, a shiver of excitement coursed through the film-going community. Perhaps, after trying and missing three times badly, Coppola had regained the magic and quiet majesty of her first two directorial features, The Virgin Suicides and (especially) Lost in Translation. Alas, the accolades have exceeded the reality. While there are pleasures to be derived from The Beguiled, it isn't a "return to form" (whatever that might mean in this case). It's a near-miss that offers a captivating atmosphere and strong performances to go along with an uneven tone and a climax that's so overcooked that it bursts at the seams with unintentional humor.
The source material is a difficult nut to crack. When Don Siegel and Clint Eastwood attacked it in 1971, they went off the deep end, crafting something that was as weirdly compelling as it was downright weird – not a great film by any means but also something not easily forgotten. Coppola has taken a much different route. She strips down the storyline to its bare minimum, making the first hour more about nuance and atmosphere than narrative. Then, following a jarring tone shift, the movie embraces its potboiler roots and turns into Southern Gothic horror. But there's a problem here. Coppola is an expert in the more restrained aspects of storytelling (something she proved in Lost in Translation) but she's out of her depth when it comes to overwrought emotion, mangled body parts, and mayhem. Maybe all the snickers in the last 30 minutes were because of subtle, intentional black humor but they seemed more the result of directorial choices that missed the mark. Regardless, there's something off about The Beguiled's final half-hour.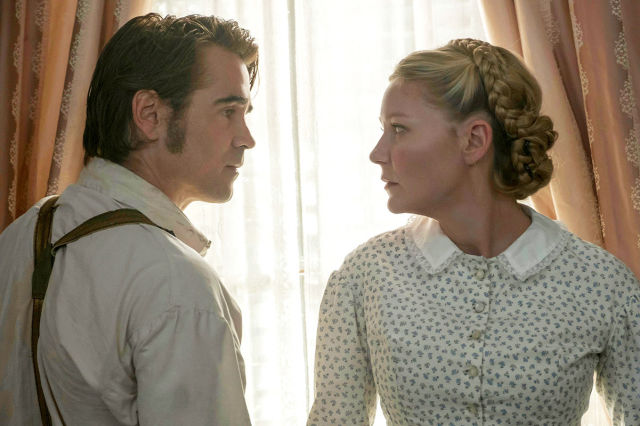 The story transpires in Civil War Virginia. It opens with an evocative series of shots that recall Little Red Riding Hood - a young girl, Amy (Oona Laurence), while on a mushroom collecting expedition, encounters The Big Bad Wolf. Actually, he's not so big, but time will tell whether he's bad or a wolf. He's an injured union soldier, Corporal John McBurney (Colin Farrell) and he puts Amy sufficiently at ease that she's willing to help him to the sanctuary of the girls' school where she's staying. Because of the war, the cavernous place is nearly abandoned. In addition to Amy, there are four other students – Alicia (Elle Fanning), Jane (Angourie Rice), Marie (Addison Riecke), and Emily (Emma Howard); a teacher, Edwina Dabney (Kirsten Dunst); and the headmistress, Martha Farnsworth (Nicole Kidman). Martha is unhappy that Amy brings the injured man to the school but realizes that Christian charity demands them to nurse him back to health before turning him over to the Confederate army. Once the healing has begun, John realizes that his future hinges on his ability to fashion friendships, so he embarks on a campaign of seduction, using different techniques to become the perfect man for each of the women and girls under the roof.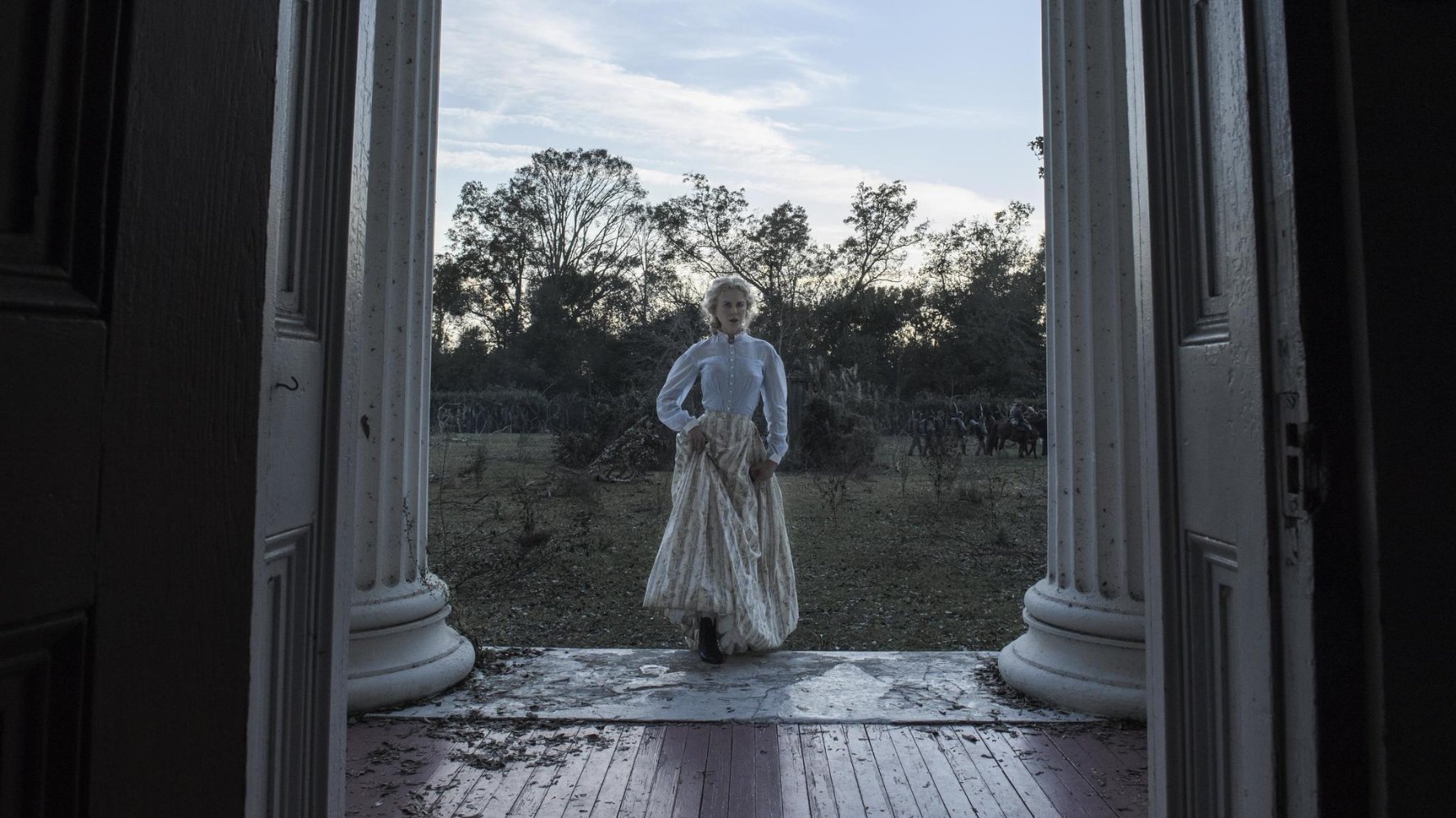 During The Beguiled's first two-thirds, it's easy to be pulled into the dreamlike state that Coppola develops. With lush images and a gentle, unhurried tone, she seduces us even as John woos the seven denizens of the house. Even the most playful of scenes are underscored by a subtle eroticism. Farrell's performance never emphasizes his character's predatory nature – at least not until the final half-hour. John isn't just trying to make sexual conquests – this is a matter of survival for him. Convalescing in an isolated old house with seven female companions is a more appealing option than being taken prisoner of war by the Confederate army. Of the women, Kirsten Dunst is the standout; her portrayal of sad, lonely Edwina is heartbreaking.
The film's climax, with its shades of Misery and a slow spiral toward its conclusion, is problematic for the director. She fails to make a clean pivot from stately to over-the-top and the carefully constructed characters turn into lurid caricatures. This kind of material isn't Coppola's forte and it shows. There's also a sense that the final act is rushed. It's as if, having gotten to the crucial turning point, Coppola wants to race to the finish line. In an era when too movies overstay their welcome, this might have benefitted from a little extra time.
As a midsummer alternative to the tsunami of loud, big budget colossi, The Beguiled has a place. It's an antidote to all that's unwelcome about mindless blockbusters. Unfortunately, it's not wholly successful in its own right and, despite having been feted at Cannes, Coppola isn't working at the level where she once toiled.
---
Beguiled, The (United States, 2017)
---

Three...better movies of this genre
worse movies of this genre
Three...better movies of Colin Farrell
worse movies of Colin Farrell
Three...better movies of Nicole Kidman
worse movies of Nicole Kidman
Three...better movies of Kirsten Dunst
worse movies of Kirsten Dunst