Saving Mr. Banks (United States/United Kingdom, 2013)
December 19, 2013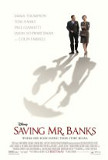 For an author of long-form fiction, the writing process isn't merely technical. As absurd as it might seem, the writer bonds with his or her characters to the point where they can become as "real" as any flesh-and-blood person. This is especially true when a character incorporates key aspects of someone from the author's past. Such was the case with P.L. Travers, the writer of the popular Mary Poppins books, which are arguably best known to children (and adults) around the world as a result of the 1964 movie adaptation. Saving Mr. Banks is an account of how that movie came into being despite a Travers' 20-year resistance to the overtures of Walt Disney. Travers loved her characters so much that the thought of them being changed or degraded for the big screen was anathema.
As an exploration of the "making of" process associated with Mary Poppins, Saving Mr. Banks offers engaging material, but the film gains emotional heft through a series of flashbacks that unveil why the characters in Mary Poppins possessed great meaning for Travers. Moving back and forth between 1906 Australia and 1961 Los Angeles, the film provides a full portrait of the author, who is played as a child by Annie Rose Buckley and as a sixty-something woman by Emma Thompson. The movie's other standout performance is Tom Hanks, whose interpretation of Walt Disney is said by those who knew the late Hollywood heavyweight to be spot-on, even down to his little mannerisms.
Disney is opening Saving Mr. Banks to mark the occasion of Mary Poppins' 50th anniversary. As good a piece of drama as this is, it also represents canny marketing since the film it references is being released in a restored Blu-ray version with a buffet of special features. Saving Mr. Banks serves as the appetizer; it's almost impossible to watch this movie and not feel the urge to seek out a copy of the Julie Andrews/Dick Van Dyke musical. It has also been suggested that Saving Mr. Banks is the Walt Disney Corporation's posthumous apology to Travers since her bitterness toward Disney deepened after the release of Mary Poppins (something not shown in the film).
Saving Mr. Banks offers two separate stories that are interleaved to emphasize connections not initially evident. The first follows the exploits of eight-year old Ginty as she and her family settle in a ramshackle home and try to forge a life in territory that could best be described as "isolated." Her father, Travers Goff (Colin Farrell), views this as a great adventure and his passion fires Ginty's excitement. Her mother, Margaret (Ruth Wilson), is unenthused. As loving as Goff can be, however, he also adores the bottle too much and his alcoholism represents his downfall.
The bulk of the narrative transpires in the early 1960s. Disney has flown Travers to Los Angeles in a last-ditch attempt to convince her to sell him the rights to Mary Poppins. He allows her to meet the would-be screenwriter, Don DaGradi (Bradley Whitford), and the Brothers Sherman, Robert (B.J. Novak) and Richard (Jason Schwartzman), who have been hired to write the songs. He gives her a chatty driver (Paul Giamatti), who talks up the beauty of Los Angeles, and provides her with a personal tour of Disneyland. He allows her to critique the script and expresses to her what Mary Poppins means to him. History tells us that Travers relented but Saving Mr. Banks shows how difficult the process was.
Those familiar with the behind-the-scenes negotiations that transpired more than a half-century ago laud the movie's truthfulness. Richard Sherman, the surviving member of the songwriting duo, acted as a consultant. (Saving Mr. Banks is dedicated to Robert, who died in early 2013.) Screenwriters Kelly Marcel and Sue Smith and director John Lee Hancock (The Blind Side) should be commended for keeping the tone light while still achieving a significant emotional impact. The movie avoids commonplace traps; it never becomes maudlin and it doesn't transform Travers into a likeable elderly lady whose heart of gold is camouflaged by crotchetiness.
Solid acting is one reason why Saving Mr. Banks works as effectively as it does. The cast is top-heavy with past Oscar nominees and winners. Hanks and Thompson's credentials are obvious, but supporting players Paul Giamatti and Rachel Griffiths also have nominations on their records. As good as Hanks and Thompson are (and they're both excellent), the strength of the secondary performers is a quality that elevates Saving Mr. Banks above the level of a by-the-numbers "based on a true story" tale.
Thomas Newman's score is notable for liberally sampling familiar Disney themes, especially those from Mary Poppins. No fewer than ten of the Sherman Brothers' tunes are used in one form or another and a highlight occurs when Travers hears "Let's Go Fly a Kite" for the first time - the song that "saves" Mr. Banks. The musical connection and the use of clips near the end form an umbilical cord between Saving Mr. Banks and Mary Poppins and allow nostalgia to boost the film's effectiveness. Taken on its own, Saving Mr. Banks is a pleasant, crowd-pleasing endeavor. For those with a soft spot for Mary Poppins, however, it's a treasure.
---
Saving Mr. Banks (United States/United Kingdom, 2013)
---
Three...better movies of this genre
worse movies of this genre
Three...better movies of Emma Thompson
worse movies of Emma Thompson
Three...better movies of Tom Hanks
worse movies of Tom Hanks
Three...better movies of Annie Rose Buckley
(There are no more better movies of Annie Rose Buckley)
worse movies of Annie Rose Buckley
(There are no more worst movies of Annie Rose Buckley)