Prophet, A (France/Italy, 2009)
March 03, 2010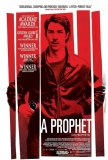 A Prophet (Un prophète in its home tongue) is director Jacques Audiard's gangster-themed twist on the rags-to-riches story. Although it's a genre staple to present the story of an innocent corrupted by the criminal world and rising to a position of power, Audiard adds a unique spin to the tale: his anti-hero, Malik El Djebena (Tahar Rahim), does all this while behind bars. A Prophet is as gripping as any recent film about crime and criminals, although its ill-focused attempts to incorporate elements of the supernatural (prophetic visions and ghostly apparitions) are bizarre and ineffective. The movie was a huge success in its native France, where it dominated the César Awards, and it was one of the five finalists for the 2010 Best Foreign Language Film Oscar.
As A Prophet opens, Malik is entering prison to begin serving a six-year sentence for attacking a law enforcement officer. Few details about his crime are presented; his past remains a blank slate - he has no friends or relatives. As a loner, he becomes easy prey for those who are members of gangs. His Arab background positions him as an ideal candidate to seek protection from the prison's Muslim population, but he is first approached by the Corsicans. Their leader, Cesar Luciani (Niels Arestrup), makes an offer he can't refuse. If Malik will kill another newcomer, Reyeb (Hichem Yacoubi), he will have the gratitude of the Corsicans. If he won't or can't do it, he'll be dead. With little choice in the matter, Mailk begins preparation for the action that will catapult him into the thick of a power struggle that stretches beyond the walls of the prison - something he discovers firsthand during the movie's second half, when he has an opportunity to take single-day leaves for good behavior.
A Prophet is long and operatic in scope. In fact, if there's a complaint to be made about the 155-minute motion picture, it's that the deliberate pace makes it seem as long as it is. Time does not "fly by." Scenes of intense action and/or emotion are bookended by extended periods of minimal activity. When one considers the demands of plot advancement and character development, it's fair to note that there's not much fat on A Prophet's bones (Audiard even resorts to montages on two occasions to condense matters), but those with short attention spans may find themselves fidgeting.
Audiard's style is uncompromising. In this prison, which is bleaker and less hospitable than any other recent behind-bars representations, the inmates run the asylum. It's a scary place for those who don't have protection, and nothing like the cartoonish environs often seen in American movies or TV shows (like Prison Break). Malik's rise to power is chronicled in a logical, believable manner. Although violence is not alien to him, his ascension through the ranks comes primarily from careful observation and taking advantage of opportunities as they arise. He also manipulates; when he learns that Cesar thinks all Arabs are stupid, he uses the revelation to his advantage.
When one thinks of gangster films, regardless of the setting, The Godfather inevitably comes to mind - that's how forceful and pervasive the influence of the Francis Ford Coppola film is. It's not unreasonable to note a resemblance between Malik and Michael Corleone, at least in terms of the moral tightrope they both walk. In A Prophet, we are presented with the tragedy of a man who initially wants to be left alone to serve his time in isolation but who becomes a victim of circumstances. Toward the end, however, there's a moment in which Malik, through a display of lunacy, recalls another Al Pacino character: Scarface. That's not to say there's a hint of Pacino in Tahar Rahim's performance, which is more internalized and low-key. Pacino has always been recognized for grandstanding; Rahim's approach is one of slow-burn intensity. He is well-matched by Niels Arestrup, whose Cesar is a monstrous figure except in one scene when he appears as a beaten, lonely old man. Another significant player is Adel Bencherif, whose Ryad becomes Malik's lone friend outside the prison walls.
Although well-established in France, Audiard is better known internationally as a writer than a director, although his 2001 thriller, Read My Lips, received limited North American distribution. A Prophet's in-your-face, gritty realism - which is emphasized by the employment of hand-held cameras, frequent close-ups, and occasional extended takes - is counterbalanced to an extent by Audiard's decision to imbue his main character with supernatural abilities. They don't come into play often but when they do (such as a scene in which a vision informs him of a deer in the road ahead), they feel out-of-place in a tale whose prevailing tone is so stark and realistic. This reservation aside, it's hard to argue against A Prophet presenting one of the best developed and most compelling crime figures in recent world cinema.
---
Prophet, A (France/Italy, 2009)
---
Three...better movies of this genre
worse movies of this genre
Three...better movies of Tahar Rahim
(There are no more better movies of Tahar Rahim)
worse movies of Tahar Rahim
(There are no more worst movies of Tahar Rahim)
Three...better movies of Niels Arestrup
(There are no more better movies of Niels Arestrup)
worse movies of Niels Arestrup
(There are no more worst movies of Niels Arestrup)
Three...better movies of Adel Bencherif
(There are no more better movies of Adel Bencherif)
worse movies of Adel Bencherif
(There are no more worst movies of Adel Bencherif)