Soul Kitchen (Germany, 2009)
August 19, 2010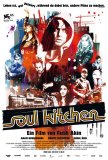 The only reason Soul Kitchen is being marketed as an "art film" in the United States is because it is subtitled. On merit, this is as mainstream as one can imagine - a generic, feel-good plot that's fit for a sit-com. Call it My Big Fat Greek Restaurant. Soul Kitchen attempts to compensate for its familiarity and predictability with energy and humor, but a lifeless performance from co-star Moritz Bleibtreu and mixed comedic timing from the entire cast leaves the movie wallowing in a no-man's-land between a weak recommendation and a suggestion to give it a pass.
Soul Kitchen is the story of Zinos Kazantakis (Adam Bousdoukos), the owner and "chef" for a diner called "Soul Kitchen" set in the German city of Hamburg. Zinos' clientele is not picky about the food - deep-fried fish fingers and hamburgers are the most eclectic their tastes run. Zinos' life is at a cross-roads - he must decide whether to continue in his current treadmill existence or find someone to run the diner so he can escape to the Orient to be with his girlfriend, Nadine (Pheline Roggan). His brother, Illias (Moritz Bleibtreu), out of prison on a work release, complicates matters. Illias wants to be "employed" at Soul Kitchen, but on paper only (so he can claim to have a job); he doesn't intend to do any work. Meanwhile, an old school chum, Neumann (Wotan Wilke), is willing to pay good money for the Soul Kitchen property - an offer that looks attractive after Zinos is visited by both tax collectors and health inspectors. But when a serendipitous accident lands a top-level chef, the temperamental Shayn (Birol Unel), in Zinos' establishment, he sees a chance to change his fortunes - if he can find anyone willing to eat the gourmet dishes devised by this culinary genius.
Soul Kitchen is pregnant with sit-com staples: the bad boy (Illias) making good, but only after screwing everything up; the confused guy (Zinos) finding love and a purpose in life; and a seemingly hopeless situation that finishes up all right. The movie is positive and well-meaning, but it's not sufficiently interesting to parlay the good will into something rousing than disposable entertainment. Soul Kitchen is the cinematic equivalent of the meals being served by Zinos at the beginning, but the subtitles might fool some into thinking they're getting one of Shayn's elite concoctions.
Lead actor Adam Bousdoukos, who also co-wrote the screenplay, is adequate for the role, believably essaying a Greek-born German. The same cannot be said of Moritz Bleibtreu (the boyfriend in Run Lola Run), whose surly demeanor is not well-suited to this sort of comedy. Most of the other performances are fine, although there are no true standouts. Dorka Gryllus, who plays back specialist Anna, deserves more than the token screen time accorded to her, if only because it would build more sensibly to the ending.
Director Fatih Akin's previous feature, The Edge of Heaven, was a potent and compelling motion picture with a thematic depth entirely missing from Soul Kitchen, which has been designed as a lightweight diversion. The film is tiresome not merely because of the familiarity of the material, but because there's little verve surrounding the proceedings. Perhaps the intention was to mimic the success of another German motion picture about food, life, and restaurants, Mostly Martha. But, while the earlier film provided a full multi-course meal, this one never gets beyond the appetizer.
---
Soul Kitchen (Germany, 2009)
---
Three...better movies of this genre
worse movies of this genre
Three...better movies of Adam Bousdoukos
(There are no more better movies of Adam Bousdoukos)
worse movies of Adam Bousdoukos
(There are no more worst movies of Adam Bousdoukos)
Three...better movies of Moritz Bleibtreu
(There are no more better movies of Moritz Bleibtreu)
worse movies of Moritz Bleibtreu
(There are no more worst movies of Moritz Bleibtreu)
Three...better movies of Birol Unel
(There are no more better movies of Birol Unel)
worse movies of Birol Unel
(There are no more worst movies of Birol Unel)