Spirit Untamed (United States, 2021)
June 03, 2021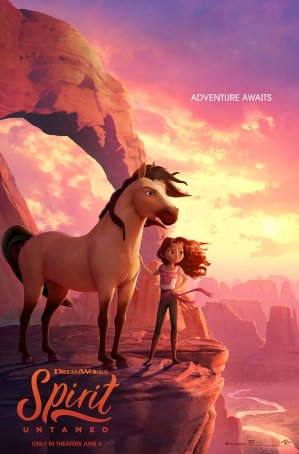 Does anyone remember the 2002 animated film Spirit: Stallion of the Cimarron? I didn't either until I looked it up. That nearly-two decades old hand-drawn movie provided the basis for the apparently popular Netflix series Spirit Riding Free (with 78 episodes available, it's still going strong). This new movie, in an example of brand cross-promotion, is essentially a remake of the series (or at least a re-telling of its origins). As generic, made-for-quick-consumption animated productions go, there's nothing especially bad about Spirit Untamed. Unfortunately, there's nothing especially good, either. This is a perfect example of complete and utter mediocrity.
The narrative has minimal connection to the earlier movie, so having seen (or remembered) the 2002 feature isn't a necessity. The only common thread is that both feature a wild horse named Spirit. In neither case is he anthropomorphized (possibly out of a fear of "Mr. Ed" comparisons), although his "internal" voice was provided by Matt Damon in Stallion of the Cimarron. That aspect has been lost this time around.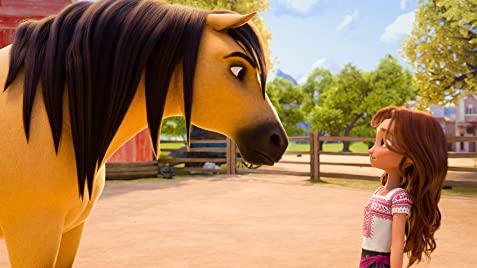 The central character is Lucky Prescott (Isabela Merced), a young girl with manga eyes who has left the Big City to return to the place of her birth – the frontier town of Miradero. It was there that her father, Jim (Jake Gyllenhaal), settled with his family and there that her mother, Milagro Navarro (Eiza Gonzalez), a stunt performer, met her end. Accompanied by her ever-watchful Aunt Cora (Julianne Moore), Lucky tries to reconnect with her father while adapting to a much different lifestyle than the one to which she has become accustomed. She makes two friends – Abagail Stone (Mckenna Grace) and Pru Granger (Marsai Martin) – and develops a bond with the wild horse Spirit, who resides in a stable owned by Pru's father. When a horse thief (Walton Goggins) attempts to abduct Spirit, it's Lucky to the rescue (accompanied, of course, by Abagail and Pru).
Although the movie doesn't specify a date, it would seem to be transpiring in the post-Civil War era. One can't tell that by the dialogue, however, which is as contemporary as one could imagine, creating a weirdly anachronistic whiplash. The characters act and talk as if they're from the early 21st century but the setting is decidedly late 19th century. I doubt this will bother many kids, making it obvious that the filmmakers aren't concerned about how the movie is perceived by adults. The focus on a narrow target demographic makes the film of minimal interest to anyone outside of that group (which, as best I can tell, is girls between the ages of 5 and 11).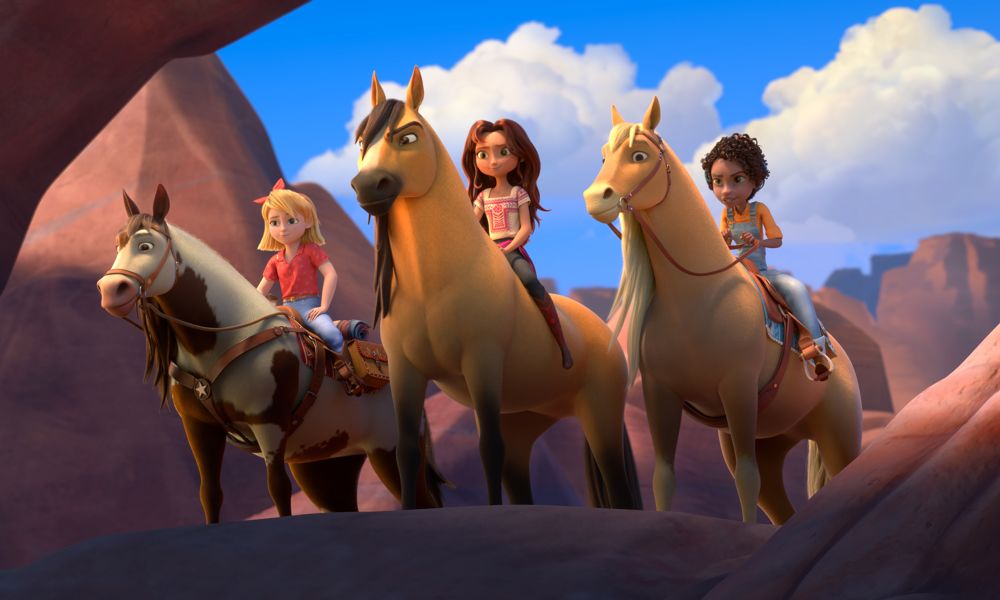 It's perhaps unfair to compare Spirit Untamed's animation with that of a Disney/Pixar film – in terms of budget and talent, there's a massive gulf – but the movie's look is entirely unremarkable. It feels, for lack of a better term, "cartoonish." Although the animators display competence (at least for the most part), there's not a single memorable image or moment in the entire 87-minute running time.
When discussing animated films, I often mention that they come in two flavors: those designed to engage the entire family and those that are so laser-focused on the children that they don't care about the poor adults who are stuck accompanying them. Spirt Untamed falls into the latter category. Kids (especially girls) may enjoy the film's color palette, its lackluster action sequences, and the plucky spirit of the three characters. Anyone old enough to know better, however, will see the movie as a bland retread of the Netflix series – a made-on-the-cheap cash grab with minimal artistic merit.
---
Spirit Untamed (United States, 2021)
Director:
Elaine Bogan, Ennio Torresan
Cast:
Isabela Merced
,
Jake Gyllenhaal
,
Marsai Martin
,
McKenna Grace
,
Julianne Moore
,
Walton Goggins
,
Eiza Gonzalez
,
Andre Braugher
Home Release Date: 2021-08-31
Screenplay:
John Fusco, Kristin Hahn, Katherine Nolfi, Aury Wallington
Cinematography:
Robert Edward Crawford
Music:
Amie Doherty
U.S. Distributor: Universal Pictures
---

Three...better movies of this genre
worse movies of this genre
Three...better movies of Isabela Merced
(There are no more better movies of Isabela Merced)
worse movies of Isabela Merced
(There are no more worst movies of Isabela Merced)
Three...better movies of Jake Gyllenhaal
worse movies of Jake Gyllenhaal
Three...better movies of Marsai Martin
(There are no more better movies of Marsai Martin)
worse movies of Marsai Martin
(There are no more worst movies of Marsai Martin)