Movies starring Dane Cook Good Luck Chuck
A film like Good Luck Chuck makes one appreciate what Judd Apatow has accomplished with his films The 40-Year-Old Virgin and Knocked Up. All three pictures belong to the "raunchy romantic comedy" genre, but Apatow has achieved something impressive... Mr. Brooks
Mr. Brooks is a curious mix of the campy and the intelligent, of high concept and low psychology. In spite of these contradictions, or perhaps because of them, it works. This is a tense and engaging thriller, the kind of movie where the audience m...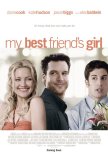 My Best Friend's Girl
Romantic comedies are fantasies. They invite us to fall in love with the main characters as they fall in love with each other. That's difficult to accomplish when viewers find themselves actively disliking those characters. How is it possible to...