Movies starring James Purefoy Feast of July
Feast of July, which arrives under the Merchant/Ivory umbrella (Ismail Merchant having served as executive producer), is much like a big screen version of a double-length Masterpiece Theater episode. By turns tragic and beautiful, but always atmos...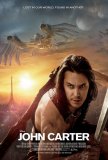 John Carter
With its derivative story elements, epic scope, and straightforward action orientation, John Carter is a throwback to a simpler time when it was enough to have a heroic protagonist face off against all manner of monsters and bad guys. The special e... Mansfield Park
Mansfield Park has always been viewed as Jane Austen's most confounding novel. Scholars are divided over its literary merit, and many Austen-philes prefer to ignore its existence altogether, seeing it as a kind of "black sheep" in the author's cat...