Movies starring Keir Gilchrist
It Follows
It Follows, as uncommon a horror film as you're likely to find in the wasteland of PG-13 mediocrity defining the genre today, takes its inspiration from a film that's 37 years old. By echoing John Carpenter's Halloween (not in terms of na...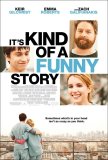 It's Kind of a Funny Story
It's rare that a story set within the confines of a mental ward/hospital/asylum cannot be said to owe a debt to Milos Forman's One Flew over the Cuckoo's Nest. It's Kind of a Funny Story is a case in point. Even though the basic narrative bears l...