Movies starring Peter Greene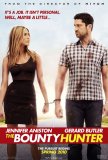 Bounty Hunter, The
Is The Bounty Hunter a romance with elements of comedy and action? Is it a comedy action film with a side dish of romance? Or is it a romantic comedy with action inserted in place of the usual "romantic complications?" Whatever the case, it hardl... Clean, Shaven
Consider how mainstream movies depict violence. Bodies are chopped up, blown apart, and torn to pieces. Blood and gore flow as freely as water. Films like Interview with the Vampire are awash in a crimson tide, and no one thinks twice about it. ... Mask, The
I never thought it could happen. Jim Carrey (star of Ace Ventura: Pet Detective) upstaged -- and not once, but twice! While it's true that The Mask is another vehicle for the rubber-featured modern-day amalgamation of Jerry Lewis and the Three St...