Movies starring Richard Kiel Happy Gilmore
When it comes to golf comedies (not a very popular genre, apparently), the film residing at the dubious pinnacle is Rodney Dangerfield's Caddyshack. Happy Gilmore, the new release featuring Saturday Night Live alum Adam Sandler, tries gamely to att...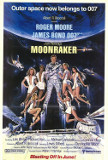 Moonraker
Moonraker is a sort of James Bond meets Star Wars. Released in 1979, the year that saw the arrival of Star Trek on the big screen, Moonraker was the latest film to latch onto the science fiction revival started by George Lucas' 1977 picture. ...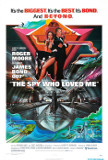 Spy Who Loved Me, The
Of Roger Moore's seven James Bond pictures, The Spy Who Loved Me stands out as the best. Stripped of the extreme silliness of The Man with the Golden Gun and packed with style, action, and wit, The Spy Who Loved Me ranks alongside the Connery...