Movies starring Rumer Willis Hostage
Hostage represents Bruce Willis' latest attempt to produce a thriller with the kind of broad appeal exhibited by his most successful big-screen endeavor, Die Hard. The largest potential drawback to enjoying this movie is getting past some of the p...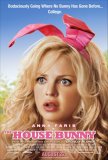 House Bunny, The
The House Bunny has a screenplay written with ten-year olds in mind about a subject that deserves an R-rating. The resulting hodgepodge of unfunny, sophomoric humor and PG-13 T&A, frosted by a sheen of appallingly nauseous "drama," makes for such ... Striptease
First of all, let's get the obvious question out of the way. Yes, Demi Moore does take off her top (on several occasions, in fact), although it takes half the running length for her to do it the first time. However, while Moore's body may be ...