Movies starring Samuel Le Bihan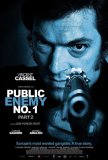 Mesrine: Public Enemy No. 1
Mesrine: Public Enemy No. 1 concludes the story begun in Mesrine: Killer Instinct. Although the two pieces can be seen as halves of a whole, it's not hard to understand why the project was bisected. Shootouts, prison escapes, and random acts of v... He Loves Me, He Loves Me Not
Note to readers: This review contains spoilers. I have taken care not to reveal all of the movie's secrets, but anyone who has not seen He Loves Me, He Loves Me Not and wishes to be surprised by every aspect of the picture would do better to read t... Brotherhood of the Wolf
In this country, French movies are mostly known for being artistic and airy (or, to put it less kindly, serious and stodgy). And, while many French directors would probably agree that this is their aim (being artistic and airy, not serious and sto...