Movies starring Sheri Moon Zombie Devil's Rejects, The
When a movie is this bad, it's hard to adequately describe its awfulness in words. The temptation exists to write something along the lines of: "Something this horrible has to be seen to be believed." Of course, that kind of advice would lead to ... Halloween
When it comes to remakes, I no longer ask "why?" but merely accept the inevitable. The reason always has more to do with greed and a lack of originality than a desire to re-create something out of affection or as an homage. To a certain extent, a ...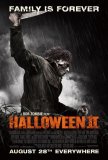 Halloween II
It may be that, through a combination of incompetence and ego, Rob Zombie has finally brought an end to Michael Myers' 31-year killing spree. The latest chapter of the venerable slasher film saga represents the tenth movie to use the title (althou...