Movies starring Tyler Mane Halloween
When it comes to remakes, I no longer ask "why?" but merely accept the inevitable. The reason always has more to do with greed and a lack of originality than a desire to re-create something out of affection or as an homage. To a certain extent, a ...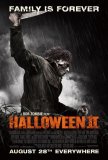 Halloween II
It may be that, through a combination of incompetence and ego, Rob Zombie has finally brought an end to Michael Myers' 31-year killing spree. The latest chapter of the venerable slasher film saga represents the tenth movie to use the title (althou... X-Men
For Marvel Enterprises, the arrival of X-Men on the big screen represents the culmination of efforts that stretch back more than 20 years. For that long, Marvel has been trying to get one of their properties - Spiderman, The Fantastic Four, X-Men,...