Movies starring Titus Welliver Gone Baby Gone
Gone Baby Gone is powerful stuff - a movie that derives its plot twists from moral conundrums rather than from narrative sleight of hand. The best mystery novels are the ones that use the genre as a stepping-off point for developing characters and...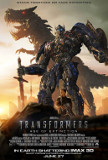 Transformers: Age of Extinction
Michael Bay has often said how he loves to "blow things up real good." Well, if that's his desire in life, there's little doubt that he tops himself in Transformers: Age of Extinction. This is as excruciating a movie as is likely to be experienced ...