Movies starring Traci Lords Blade
Vampires. Few creatures of legend speak to human terror on a more fundamental level. Ever since the silent days of movies, when F.W. Murnau chilled audiences with Nosferatu, a creepy, atmospheric adaptation of Bram Stoker's Dracula, film-goers ha...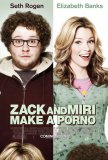 Zack and Miri Make a Porno
An interesting synergy exists between Judd Apatow and Kevin Smith. With films like Clerks, Mallrats, and Chasing Amy, Smith opened a door that, about 10 years later, Apatow walked through. Now, with Zack and Miri Make a Porno, Smith has fully and ...