Search for Andy Tennant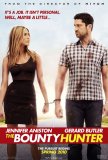 Bounty Hunter, The
Is The Bounty Hunter a romance with elements of comedy and action? Is it a comedy action film with a side dish of romance? Or is it a romantic comedy with action inserted in place of the usual "romantic complications?" Whatever the case, it hardl... Fool's Gold
Five years ago, Hollywood paired Kate Hudson and Matthew McConaughey in the romantic comedy How to Lose a Guy in 10 Days and the match rewarded the filmmakers with box office receipts exceeding $100 million. No doubt the hope was that a reunion of ... Hitch
Hitch is a pleasant, if slightly overlong, romantic comedy from two men who have forged reputations in the genre. Director Andy Tennant is no stranger to love stories, having previously helmed Fools Rush In, Ever After, and Sweet Home Alabama. And,...