Search for Bill Roe Elektra
I have never understood the appeal of Jennifer Garner as an action/adventure star. Based on my limited exposure to her work, she's better in comedic or lightly dramatic roles (such as her turn in 13 Going on 30). Nothing that happens in Elektra h...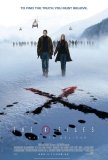 X-Files, The: I Want to Believe
One would expect that the title of the second X-Files movie, I Want to Believe, reflects the hope of fans worldwide about this production. They want to believe that, even six years after the sell-by date has expired, these characters can still be ...