Movies starring Goran Visnjic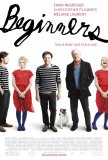 Beginners
Beginners comes as close to presenting a first person perspective as a movie can without employing distracting gimmicks. Told from the point-of-view of the protagonist, Oliver (Ewan McGregor), the narrative follows not only his activities in the pr... Elektra
I have never understood the appeal of Jennifer Garner as an action/adventure star. Based on my limited exposure to her work, she's better in comedic or lightly dramatic roles (such as her turn in 13 Going on 30). Nothing that happens in Elektra h... Girl with the Dragon Tattoo, The (2011)
The dark seeps out of the screen like living thing, evidence that The Girl with the Dragon Tattoo is more than a paycheck to director David Fincher, who has improbably affixed his own imprint on a movie that comes weighted down with possibilities a... Welcome to Sarajevo
Considering the wealth of material provided by the recent tragedy in Bosnia, it's surprising that Michael Winterbottom's Welcome to Sarajevo is the first major Western motion picture to take place in the war-torn country. It's possible to argue th...