Movies directed by Chris Wedge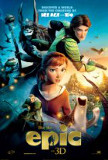 Epic
Generic and forgettable - those are the two words that immediately come to mind to describe Chris Wedge's first solo outing as an animated feature film director. (With Carlos Saldanha, he created Ice Age). What makes matters worse is that Epic isn'... Ice Age
Hats off to 20th Century Fox. Through a marketing campaign which can be considered nothing less than astonishing, the studio has managed to convert Ice Age from an adequate (but hardly superlative) example of family entertainment into one of 2002'... Robots
Robots is every bit as visually engaging as the best of the Pixar (or Dreamworks) digitally animated fare. The landscapes are stunning, the characters are intricately formed, there's plenty of break-neck action, and Robin Williams provides a helpi...