Movies directed by David Slade 30 Days of Night
It's a pleasant change of pace to get a vampire movie where the bloodsuckers are allowed to be monsters. You know what I'm talking about - no more of this brooding, tortured soul shit. The undead here are hardcore killers, ripping apart their vic... Hard Candy
Hard Candy is the kind of uncompromising independent motion picture that is likely to foster ambivalence in a significant portion of its audience. Admittedly, the film doesn't stand up well to a careful postmortem (many psychological thrillers don...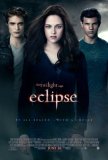 Twilight: Eclipse
Note: An argument can be made that this review contains spoilers for Eclipse. For those who have read the book, there is no spoilage. For those who have watched the trailer, there is no spoilage. For those who don't fit into either of those cate...