Movies directed by John Cameron Mitchell Hedwig and the Angry Inch
It doesn't seem all that long ago when musicals were one of Hollywood's most popular genres. Each year, studios would commit millions of dollars into lavish productions featuring some of the era's song-and-dance icons: Fred Astaire, Frank Sinatra...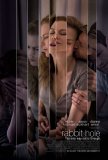 Rabbit Hole
Numerous movies about grief miss the mark by a wide margin, sliding down a slippery slope of schlocky melodrama with overacting performers failing to convince us that their tears are real. Every once in a while, however, a film gets it right. In ... Shortbus
With something as controversial as Shortbus, you can never get a sense of what you're in for based on word-of-mouth, especially when there's no consensus. Some think it's a masterpiece (or nearly so). Others think it's an abomination. Such a divisi...