Movies directed by John Ford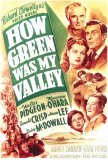 How Green Was My Valley
To the extent that How Green Was My Valley is remembered, its reputation is rooted in infamy. At the 1942 Oscars, it overcame the competition to take home the Best Picture trophy. That competition included Citizen Kane, which has become widely ac... Man Who Shot Liberty Valance, The
"When the legend becomes fact, print the legend." That single quote, uttered by newspaperman Maxwell Scott (Carlton Young), encapsulates the primary theme of John Ford's last great Western, The Man Who Shot Liberty Valance. Truth is only meanin... Quiet Man, The
John Ford is widely regarded as the best director of Westerns, many of which featured his good friend and favorite actor, John Wayne, as the lead. During a career that spanned nearly six decades (from 1917 through 1966), Ford helmed more than 100 ...