Movies directed by Stephen Daldry Billy Elliot
Taking its clue from recent British imports like Brassed Off! and The Full Monty, Billy Elliot combines whimsy, comedy, and socially-conscious drama into a crowd-pleasing whole. Although neither revolutionary in its approach or subject matter nor ...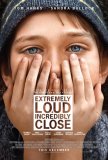 Extremely Loud and Incredibly Close
For one reason or another, there have been few quality movies made about 9/11. Maybe it's because the event is too recent and the wound too fresh. Or perhaps it's because filmmakers are keenly aware that a misstep could lead to charges of exploitat...
Reader, The
The Reader is closer to a near miss than a rousing success but, on balance, this is still worth seeing for those who enjoy complexity and moral ambiguity within the context of a melodrama. Based on the novel by Bernhard Schlink, the film asks bi...