Movies with music written by Cliff Eidelman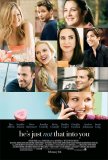 He's Just Not That Into You
He's Just Not That Into You seeks to mine the same vein of romantic comedy ore as Love, Actually - the multi-arc story in which characters cross each others' paths and interact in an attempt to show different facets of one emotion. Unfortunately, ... Sisterhood of the Traveling Pants, The
I am unquestionably not a member of the target demographic for Ken Kwapis' (He Said, She Said) The Sisterhood of the Traveling Pants, but that didn't prevent me from enjoying it. Although there's plenty of manipulation to be found in this motion p...
Star Trek VI: The Undiscovered Country
"Captain's Log, Stardate 9529.1: This is the final cruise of the Starship Enterprise under my command. This ship and her history will shortly become the care of another crew. To them and their posterity we commit our future. They will continue...