About My Father (United States, 2023)
May 26, 2023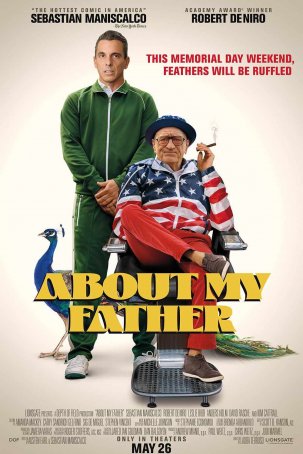 I guess seeing Robert De Niro in movies like this one is the price we pay for him once again working with Martin Scorsese. While the Scorsese films are unquestionably more creatively satisfying, they aren't budgeted at a level designed to keep the bank account healthy. To accomplish that, all De Niro has to do is fall into the comfortable role of the curmudgeon father/in-law and phone in the performance. In fairness, About My Father boasts a less-embarrassing screenplay than some of the ones De Niro has suffered through but the role certainly doesn't require an Oscar-caliber actor. This is sit-com level material and, as such, there's not much new or interesting that De Niro can bring to the proceedings.
The story is said to be a loosely autobiographical account of actor/co-writer/comedian Sebastian Maniscalco's experiences growing up under the authoritarian aegis of his Italian immigrant father, Salvo (Robert De Niro). This is apparently a common theme in Maniscalco's stand-up acts but, whatever appeal it might have in that format doesn't effectively translate. About My Father offers a few good laughs but not nearly as many as one might expect from the material. The dramatic elements, primarily focusing on the father/son relationship, are in part undermined by Maniscalco's lack of gravitas as an actor. He can deliver a punch-line but is inept at plucking the heart-strings.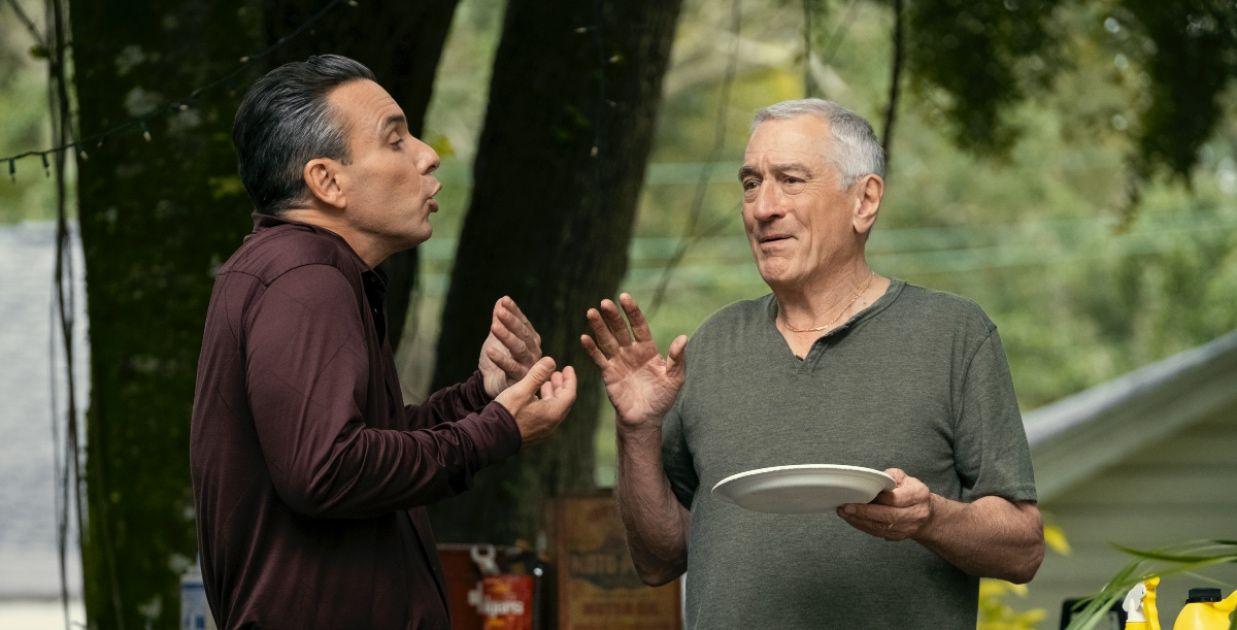 Fortysomething Sebastian has decided it's time to ask his girlfriend Ellie (Leslie Bibb) for her hand. His intention is to place a family heirloom on her finger but his cranky father has a requirement before handing over the jewelry: he needs to meet his son's future in-laws and judge their sincerity and worthiness. The thought of an oil-and-water encounter between Salvo and Ellie's uber-rich, ultra-WASPy parents, Tigger (Kim Cattrall) and Bill (David Rasche), is enough to give Sebastian agida. Nevertheless, needing the ring and fully intending to pop the question on the Fourth of July, Sebastian invites Salvo to an Independence Day party hosted by Ellie's family at an exclusive DC-area country club. Fish-out-of-water hijinks ensue as circumstances test the father/son bond.
There's an odd coincidence (?) at play here. Two of the producers, brothers Chris and Paul Weitz, made a film about two decades ago with a similar title (About a Boy). Whether intentional or not, Maniscalco's movie (directed by Laura Terruso) is trying for a similar serious/comedic tone. (The filmmakers may also be attempting to tap into a similar vein of ethnic humor as the one that brought Nia Vardalos success with My Big Fat Greek Wedding.) Had the jokes been better and had an actor with greater acting depth been cast in the lead role, that might have been achieved. As it is, About My Father comes across as generic and forgettable. It goes down smoothly enough but with so many streaming options available on the same level, viewers have the right to expect more from a theatrical release.
---
About My Father (United States, 2023)
---
Three...better movies of this genre
worse movies of this genre
Three...better movies of Sebastian Maniscalco
(There are no more better movies of Sebastian Maniscalco)
worse movies of Sebastian Maniscalco
(There are no more worst movies of Sebastian Maniscalco)
Three...better movies of Robert De Niro
worse movies of Robert De Niro
Three...better movies of Leslie Bibb
(There are no more better movies of Leslie Bibb)
worse movies of Leslie Bibb