After the Wedding (United States, 2019)
August 17, 2019
After the Wedding is a throwback of sorts – a return to the days when a common reason for creating a remake was to take a foreign language film and translate it into English. For this project, writer/director Bart Freundlich has turned to Susan Bier's 2006 Dogma-inspired indie favorite. In addition to updating the time frame and wiping away the subtitles, Freundlich makes the questionable decision to perform a gender-swap. Although this allows him to employ a higher-profile cast (including his wife, Julianne Moore), it creates some narrative hiccups he is unable to successfully resolve. Certain plot elements that made sense in the original are less logical in this one, especially when one considers the differences in bonds between mothers and children and fathers and children.
The movie opens in India, where Isabel (Michelle Williams) has established a life of self-abnegation for herself caring for impoverished children. When an opportunity arises to obtain $2 million in funding from a philanthropist, she reluctantly agrees to travel to New York, although she no longer has an appetite for "civilization" in the West. Her would-be-benefactor is businesswoman Theresa (Julianne Moore), but Isabel's initial meeting doesn't go as she had hoped. Theresa brushes her off with the excuse that she needs a few more days to think about it. She then invites the newcomer to attend the wedding of her daughter, Grace (Abby Quinn) to Jonathan (Alex Esola). With nothing to do other than sit around in her luxury hotel room, Isabel agrees. At the wedding, she discovers something unexpected: Theresa is married to her long-ago ex-lover, Oscar (Billy Crudup), and there are more buried secrets about to be unearthed.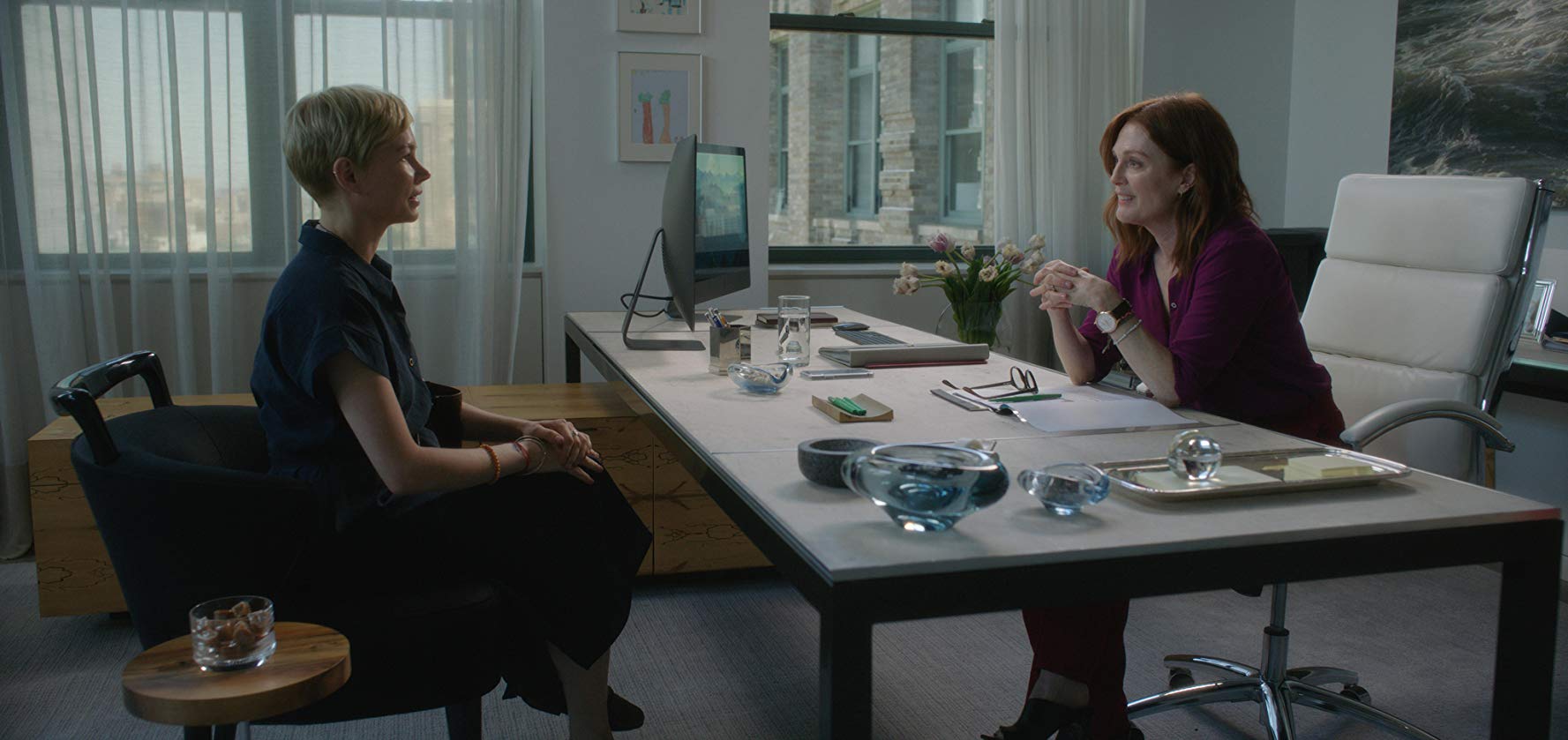 In my review of the original Danish/Swedish co-production, I wrote the following: "There are times when After the Wedding feels a little like a soap opera, but the lather never becomes too sudsy…" Unfortunately, in Freundlich's re-interpretation, those soap bubbles become voluminous. The melodrama is dense and the tone is considerably darker and less optimistic than that of the earlier motion picture. After the Wedding feels artificial, with the characters' actions seemingly orchestrated rather than organic. It's hard to generate sympathy for the movie's inhabitants when they more closely resemble constructs than people.
One thing Freundlich's movie has going for it is a strong cast. Julianne Moore brings her A-game and, in a last-act expression of fear, gives a rousing performance. Michelle Williams and Billy Crudup are suitably low-key. Williams uses body language more than her voice to express emotion. Crudup's character is underwritten, thereby limiting his effectiveness. Abby Quinn, whose most notable role to date was in Landline, is a welcome fresh face. She holds her own while sharing the screen with Moore and/or Williams.
Although the mystery elements of the film prevent dissection of various plot elements, After the Wedding is likely to lose viewers because of the increasingly preposterous turns of the narrative. The story explains away complaints associated with coincidence but viewers will need a high tolerance for directorial manipulation to appreciate Freundlich's re-interpretation of the material. After the Wedding is competently made and appealing in an exaggerated soap opera-tinged fashion but, as is often the case with remakes, the original is the stronger version and the next generation version fails to make a strong case for its raison d'être.
---
After the Wedding (United States, 2019)
Run Time: 1:50
U.S. Release Date: 2019-08-16
MPAA Rating:
"PG-13" (Profanity)
Genre:
Drama
Subtitles: none
Theatrical Aspect Ratio: 2.35:1
---

Three...better movies of this genre
worse movies of this genre
Three...better movies of Michelle Williams
worse movies of Michelle Williams
Three...better movies of Julianne Moore
worse movies of Julianne Moore
Three...better movies of Billy Crudup
worse movies of Billy Crudup