Alex Cross (United States, 2012)
October 18, 2012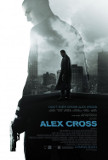 Alex Cross, loosely adapted from the novel Cross by James Patterson, has all the earmarks of something contorted and condensed to fit into the 100-minute time limit imposed on mass marketed motion pictures. Parts of the movie feel inexcusably rushed (thereby enhancing their inherent implausibility) - none more so than the incompetently directed climactic fight scene, in which director Rob Cohen goes into hand-held mode and shakes the camera as vigorously as possible.
The last time we saw Dr. Alex Cross, he was played by Morgan Freeman. That was nearly a dozen years ago in the forgettable Along Came a Spider (which was a sequel to 1997's Kiss the Girls). However, using the septuagenarian Freeman as the lead in an action-tinged thriller didn't make much sense, so the role was re-cast. Not a problem; the Bond movies do this all the time. The choice for the new Cross is Tyler Perry, who is moving outside of his comfort zone. The producers obviously hope he'll bring his fan base with him. This is a dark movie; there's little opportunity for comedy. Perry shows decent dramatic chops but his competency as an action hero is less certain.
Alex Cross is technically an adaptation of Patterson's Cross, although so much has been changed that the similarities are few and far between. If one wants to play continuity Nazi with the three Cross movies, this would be viewed as prequel/origin story/reboot. It tells the tale of how circumstances conspire to have Cross relocate to Washington D.C. and join the FBI. Cohen's pacing is uneven but the tone is consistently grim. There's also a lot of graphic violence; how this managed to acquire a PG-13 (especially when one considers that Argo went out with an R) is a question to be pondered. I'd let an 11-year old see Argo before Alex Cross. I can't recall a PG-13 film this explicit.
The film begins with about 20-minutes of setup that introduces all the characters. Dr. Alex Cross (Perry), a police detective and psychologist, is the leader of a small team of investigators consisting of himself, his best friend, Tommy (Edward Burns), and Monica (Rachel Nichols). Tommy and Monica are having an affair. Although they attempt to hide it from Cross, nothing gets past this modern-day Sherlock Holmes. Meanwhile, Cross' home life is getting complicated. His wife, Maria (Carmen Ejogo), is pregnant and he's considering switching jobs to get something with more regular hours and better pay. Enter Michael "The Butcher" Sullivan (Matthew Fox).
Sullivan is a sociopath with a love of causing pain. He works as a hired assassin and his first target is the lovely Fan Yao (Stephanie Jacobson), the COO of a powerful multinational corporation committed to urban renewal in Detroit. Cross immediately determines that Sullivan's next victims are likely to be the company's CFO, Erich Nunemacher (Werner Daehn), and the CEO, Leon Mercier (Jean Reno). However, by foiling one of Sullivan's carefully planned killings, the detectives place themselves in the hit man's cross-hairs and he is quick to strike.
Sullivan's introduction is handled in cartoonish fashion with a sequence so implausible that suspending disbelief requires a herculean effort. As villains go, however, he is suitably ghoulish. He talks a bit too much, especially near the climax, but he's creepy looking and more decisive than the average movie bad guy. Matthew Fox, who underwent a stringent training regimen to get in shape for the part, looks nothing like the guy who spent all those years on Lost. Instead, he bears a striking resemblance to Tom Noonan.
To its credit, the screenplay does a few unexpected things. For the most part, however, it's a standard order police procedural and, at least in its overall structure, it follows a predictable trajectory. The botched ending, which consists of a one-on-one fight that is impossible to follow due to awful camerawork and poor lighting, significantly detracts from the viewer's overall enjoyment. Perhaps it was done this way because neither Perry nor Fox could be convincing in traditionally filmed combat but, with the options of CGI and/or body doubles, that's not a compelling reason. Cohen's resume (which includes The Fast and the Furious and xXx) argues that he's a better action director than this; the laziness is inexcusable. The denouement is easily decoded and suitably cheesy.
Alex Cross is undoubtedly an attempt to re-introduce a character with franchise potential. Patterson's books are immensely popular, but this is a genre that works better in print, where 350 pages affords an opportunity for better developed character relationships and a more cohesive narrative. There's nothing in Alex Cross that argues another installment is warranted, but much will depend on whether Tyler Perry's audience crosses over and continues to follow him in this new, very different role.
---
Alex Cross (United States, 2012)
---
Three...better movies of this genre
worse movies of this genre
Three...better movies of Tyler Perry
(There are no more better movies of Tyler Perry)
worse movies of Tyler Perry
(There are no more worst movies of Tyler Perry)
Three...better movies of Matthew Fox
(There are no more better movies of Matthew Fox)
worse movies of Matthew Fox
(There are no more worst movies of Matthew Fox)
Three...better movies of Edward Burns
(There are no more better movies of Edward Burns)
worse movies of Edward Burns