Movies starring Matthew Fox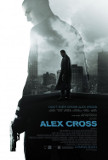 Alex Cross
Alex Cross, loosely adapted from the novel Cross by James Patterson, has all the earmarks of something contorted and condensed to fit into the 100-minute time limit imposed on mass marketed motion pictures. Parts of the movie feel inexcusably rushe... Speed Racer
There's no doubt that the Wachowskis' vision of Speed Racer is big, wild, and overripe with garish colors. It's what I'd imagine it might be like trapped inside a video game or a pinball machine. It's a kaleidoscope gone mad. Yet this kind of vis... Vantage Point
At first glance, Vantage Point looks like it might be inspired by Rashomon - different points-of-view of an incident leading to some greater revelation about the nature of truth. However, while the decision to reveal the story like a puzzle throug... We Are Marshall
We Are Marshall is precisely what one expects from a true sports story: it's uplifting and inspiring. Although the film does not ascend to the pinnacle of its genre (arguably occupied by Hoosiers), it's not too far down the mountain and the added ...