Blow the Man Down (United States, 2020)
March 20, 2020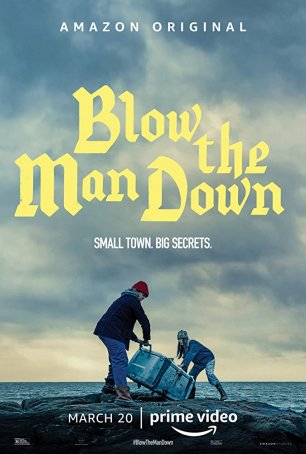 Blow the Man Down is a grounded mystery that relies on old-fashioned movie elements like atmosphere, character development, and narrative arc without needing crutches like fast editing, frenetic action sequences, and visual clutter. Although there are some structural and pacing issues, the film as a whole works by doing David Lynch's favorite trick: finding the rot underlying the seemingly placid exterior of small town America.

Easter Cove, Maine is a rugged northern New England fishing village where the folks are hardy and the weather is rough. The town is unofficially ruled by a small group of four women whose innocent features belie the power they wield. One of those four, Mary Margaret Connolly, has recently died, so the remaining three – Susie Gallagher (June Squibb), Doreen Burke (Marceline Hugot), and Gail Maguire (Annette O'Toole) – continue without her. Their first goal is to shut down brothel owner Enid Nora Devlin (Margo Martindale), whose business had been protected by Mary Margaret and who won't go gently into the stormy Maine night.

Meanwhile, Mary Margaret's daughters, Priscilla (Sophie Lowe) and Mary Beth (Morgan Saylor), are finding it hard to make ends meet. Faced with mounting debts and the reality of losing the house, they try to cope as best they can. For Mary Beth, that means going out, getting drunk, and heading home with Gorski (Ebon Moss-Bachrach), a guy she meets at a bar. When she gets to his shack, she has sobered up enough to have second thoughts. Finding a gun in his glove compartment and what looks like blood in the trunk convinces her that sleeping with him might not be the wisest choice. When she runs, he follows, but it's not clear whether he's trying to explain or eliminate a witness. Rather than ask questions, Mary Beth opts for the decisive action of running him through with a harpoon. Faced with a dead body and a possible murder charge, she returns to her sister and pleads for help. The ambiguity of her actions (whether or not it was a necessary homicide) is indicative of the film's unwillingness to spell out things for the viewer.

That's only the setup. There are more bodies and the seemingly straightforward starting point turns out to be an entrance into a dark and winding rabbit hole. As any mystery-lover knows, stories of this sort are never just about the "whodunnit?" aspects. They are enriched by the characters and their relationships. Indeed, in Blow the Man Down, there aren't many questions about the identities of the killers. It's more about the reasons behind their actions and the reactions of others. Missteps include a few too many extraneous characters. For example, Officer Justin Brennan (Will Brittain), the dogged young cop investigating one of the killings, feels half-finished, as if there was more to his personality and purpose at one point but those elements got lost along the way.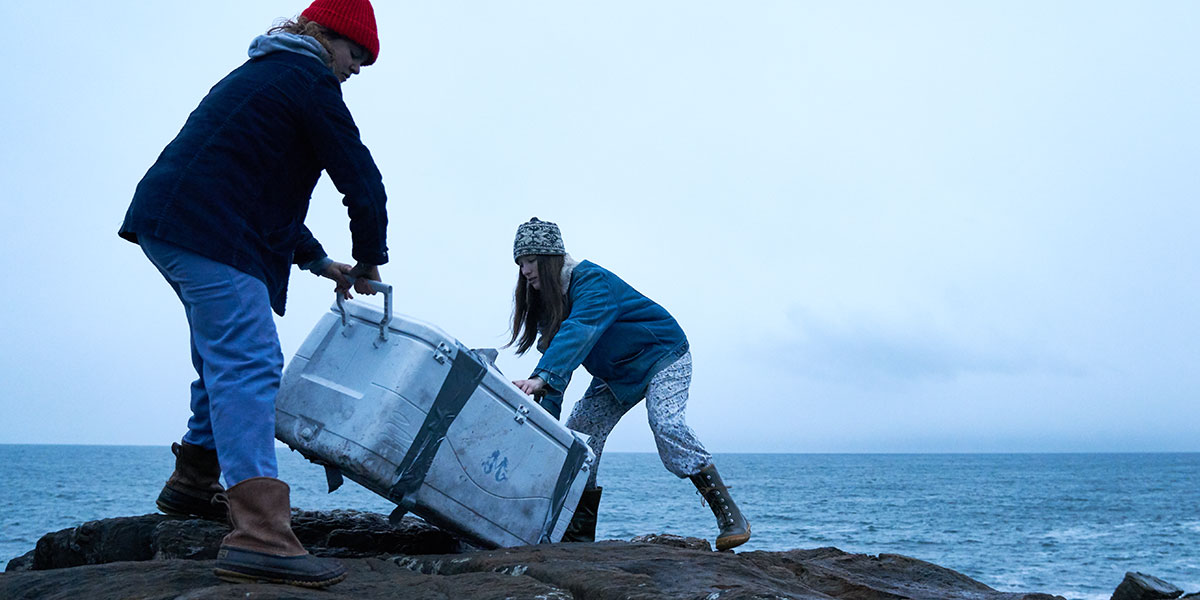 Atmosphere is one of Blow the Man Down's strengths. It's often said that every Woody Allen movie from the 1970s and 1980s features New York as one of the characters. Here, the lonely Maine coastline is as vivid as any of the humans inhabiting Bridget Savage Cole and Danielle Krudy's debut feature. And it's not only the camerawork. To enhance things, the filmmakers employ a group of fishermen to sing a cappella renditions of mariners' tunes (including the title one). This serves two functions: to amp up the local "color" and serve as a makeshift Greek chorus, with their song choices obliquely commenting on the narrative.

Most of the actors are unfamiliar faces. Sophie Lowe (whose lengthy filmography is comprised primarily of TV series, shorts, and indie films no one has seen) and Morgan Saylor (with fewer credits but a slightly higher profile) are both excellent. One wishes they had been accorded the same amount of screen time during the film's second half as during its first half. Veteran actresses June Squibb and Annette O'Toole have supporting parts. And Margo Martindale (if you don't know the name, you'll certainly know the face) fleshes out a character that easily could have been two-dimensional.

One doesn't approach a movie like Blow the Man Down with expectations that it will deliver the same kind of meal as Knives Out, which inhabits the same genre but exists on a different level. This is more about human nature and the oddities and darkness that can exist in isolated communities that seem to have been neglected or forgotten by the rest of the modern-day world. It's a place of sea shanties and lighthouses (although none of the latter are shown), of fishing boats and harpoons, and of dead bodies washing ashore. There's some humor, to be sure, but this isn't a comedy. Nor is it strictly a thriller or a drama. But, regardless of how it's classified, it's well worth a look.
---
Blow the Man Down (United States, 2020)
Director:
Bridget Savage Cole, Danielle Krudy
Cast:
Sophie Lowe
,
Morgan Saylor
,
Ebon Moss-Bachrach
,
Margo Martindale
,
June Squibb
,
Marceline Hugot
,
Annette O'Toole
,
Will Brittain
,
Gayle Rankin
Screenplay:
Bridget Savage Cole, Danielle Krudy
Cinematography:
Todd Banhazl
Music:
Jordan Dykstra, Brian McOmber
U.S. Distributor: Amazon Studios
---
Three...better movies of this genre
worse movies of this genre
(There are no more better movies of this genre)
Three...better movies of Sophie Lowe
(There are no more better movies of Sophie Lowe)
worse movies of Sophie Lowe
(There are no more worst movies of Sophie Lowe)
Three...better movies of Morgan Saylor
(There are no more better movies of Morgan Saylor)
worse movies of Morgan Saylor
(There are no more worst movies of Morgan Saylor)
Three...better movies of Ebon Moss-Bachrach
(There are no more better movies of Ebon Moss-Bachrach)
worse movies of Ebon Moss-Bachrach
(There are no more worst movies of Ebon Moss-Bachrach)