Bodies Bodies Bodies (United States, 2022)
August 12, 2022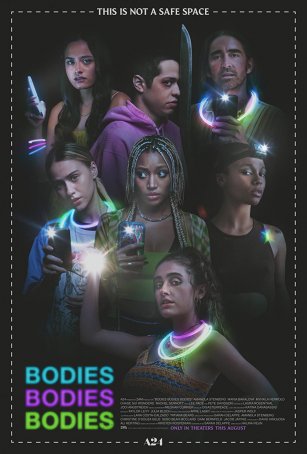 It's Agatha Christie crossed with Euphoria. As unlikely a combination as that might seem to be, Bodies Bodies Bodies mostly works as both a slasher murder mystery and a drug/alcohol-fueled Gen Z soap opera. Ultimately, the movie is more interesting for the shifting power dynamics and relationships among the dwindling group of survivors than for the whodunnit? elements. Nevertheless, although the resolution feels contrived (a complaint one could level at more than 50% of the murder mysteries out there), it's presented with a wink.
Christie had a soft spot for isolated-location mysteries (as exemplified by And Then There Were None), where a limited number of characters could be confined, thereby limiting suspects and allowing the detective (and reader) to sift through the red herrings to find the true culprit.  Although there's no Hercule Poirot in evidence (or any police presence whatsoever) in Bodies Bodies Bodies, the basic framework is in place. Seven people gather for a hurricane party in a remote manor only to discover that there appears to be a murderer among them. But who is it? One of the two outsiders/newcomers? Or one of the five "old friends" whose relationship dynamics aren't as friendly as they initially appear to be?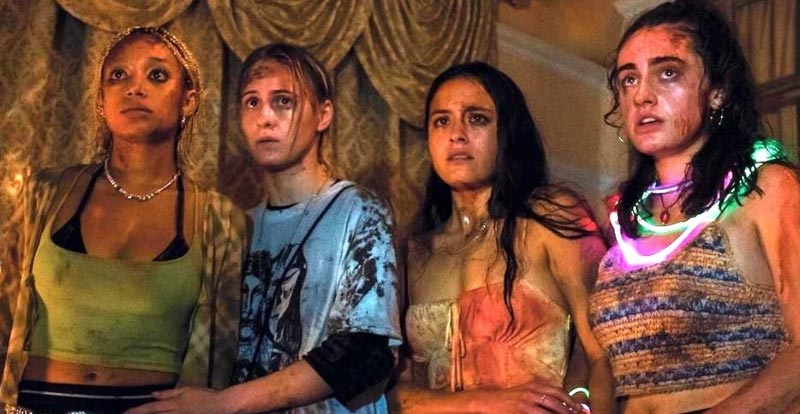 Bodies Bodies Bodies, from Dutch actress-turned-director Halina Reijn, often has its tongue in its cheek. The movie is filmed mostly in the dark with flashlights providing the illumination (the hurricane causes a blackout) – the reliance on the strobe-like lighting can be frustrating but it helps with atmosphere. Most of the events transpire inside the sprawling house with only a couple of scenes outside in the wind and rain.
The (mostly young) cast is comprised of names that will be more familiar to younger viewers than older ones. Amandla Stenberg, who plays the big-hearted Sophie, also has an executive producer credit. Her lover, Bee, is portrayed by Bulgarian actress Maria Bakalova, who will forever be known as "Borat's Daughter." Pete Davidson, arguably the highest-profile actor, is David, the owner of the house and the instigator of various mini-dramas. 43-year old Lee Pace (veterinarian Greg) is the oldest party-goer. Rachel Sennott (Alice), Chase Sui Wonders (Emma), and Myha'la Herrold (Jordan) round out the ensemble.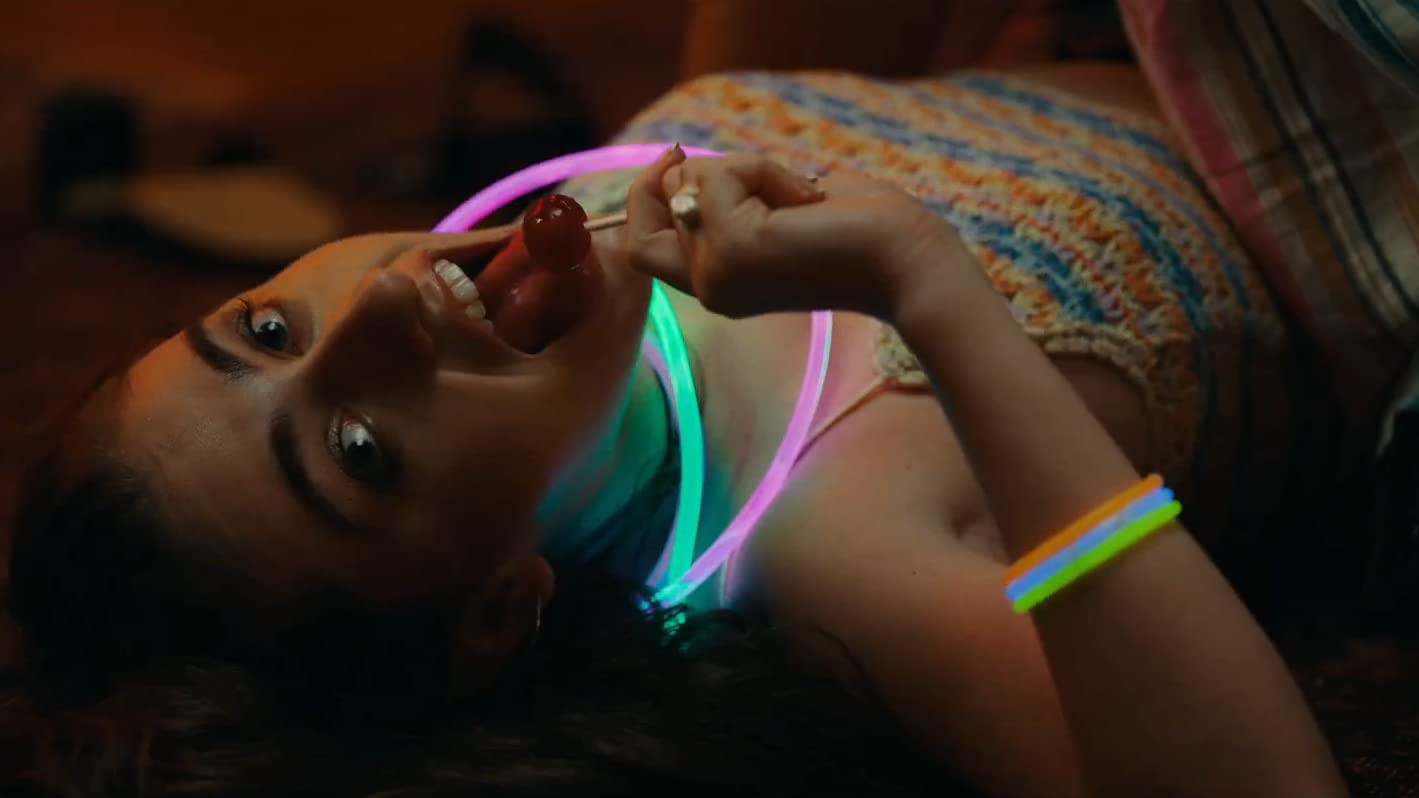 The central scene takes place early in the second half with the survivors coming together and each making a case for why one of the others is the killer. It's paranoia in high gear and recalls (in a vague fashion) an aspect of John Carpenter's The Thing. Facades are stripped away and we get to see these individuals for who they really are. The close-ups are unrelenting as each character transforms in front of the camera's gaze. There are still more numbers to add to the body count but, on each occasion, there's no mystery about who's doing the killing. In fact, when it comes down to it, most of the deaths happen on screen with the perpetrator's identity unquestioned. That (and the lack of any supernatural element) makes Bodies Bodies Bodies different from a generic self-aware horror/thriller/slasher flick.
Somewhere, buried no more deeply than the bodies, is a message about the shallowness of friendship in the social media age, where hanging out with someone is less about casual conversation than one-upsmanship, biting put-downs, and games in which people play dead (until they really are dead). We don't know whether to like these characters or not because every time we think we "know" them, the screenplay tosses in a wrench. In terms of the balance between narrative, mystery, and razor-sharp dialogue, I was reminded of Knives Out. Very different films in some ways but not that different in their ability to engage, entertain, and not overstay their welcomes.
---
Bodies Bodies Bodies (United States, 2022)
---

Three...better movies of this genre
worse movies of this genre
Three...better movies of Amandla Stenberg
(There are no more better movies of Amandla Stenberg)
worse movies of Amandla Stenberg
Three...better movies of Maria Bakalova
(There are no more better movies of Maria Bakalova)
worse movies of Maria Bakalova
(There are no more worst movies of Maria Bakalova)
Three...better movies of Rachel Sennott
(There are no more better movies of Rachel Sennott)
worse movies of Rachel Sennott
(There are no more worst movies of Rachel Sennott)