Boy Erased (United States, 2018)
November 08, 2018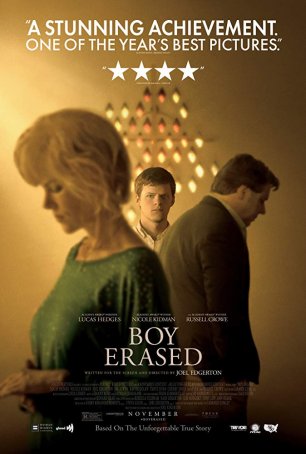 "Conversion Therapy." It sounds benign, perhaps even welcoming. The truth, as exposed in the articles and memoirs written by Garrard Conley, is far different. The intention of this process, which has been vociferously denounced by nearly every respected psychologist and psychiatrist as being ineffective and damaging, is to "convert" someone with homosexual or bisexual tendencies into a heterosexual. Most often perpetrated on underage children, conversion therapy applies techniques that verge on what one might expect from an "enhanced interrogation," including physical and mental abuse. By rejecting a simple black-and-white view of the motivations behind conversion therapy (if not necessarily the process itself), Boy Erased offers the dramatically compelling story of one man who accepts the emotional scars and emerges from the other side stronger and more self-assured (both in terms of accepting his sexuality and as a person).
Jared Eamons (Lucas Hedges) is the son of Arkansas Baptist preacher Marshall Eamons (Russell Crowe) and his devout, devoted wife, Nancy (Nicole Kidman). Throughout high school, he believes himself to be an "ordinary" heterosexual and attributes his reluctance to engage in sexual activity with his girlfriend, Chloe (Madelyn Cline), as a desire to remain chaste. Two events in college involving fellow male students – one consensual and one non-consensual – change his perspective. When he admits to his parents that he may be gay, his father consults church elders and the decision is made to enroll Jared in a day clinic for conversion therapy. At first, unaware of what this entails, Jared is on-board with it and his initial impressions of the place and the man who runs it, Victor Sykes (Joel Edgerton), are positive. Over time, however, he becomes disturbed and frightened by the methods used to achieve this conversion and, when physical intimidation is mixed with psychological bullying, he enlists his mother's help in "escaping."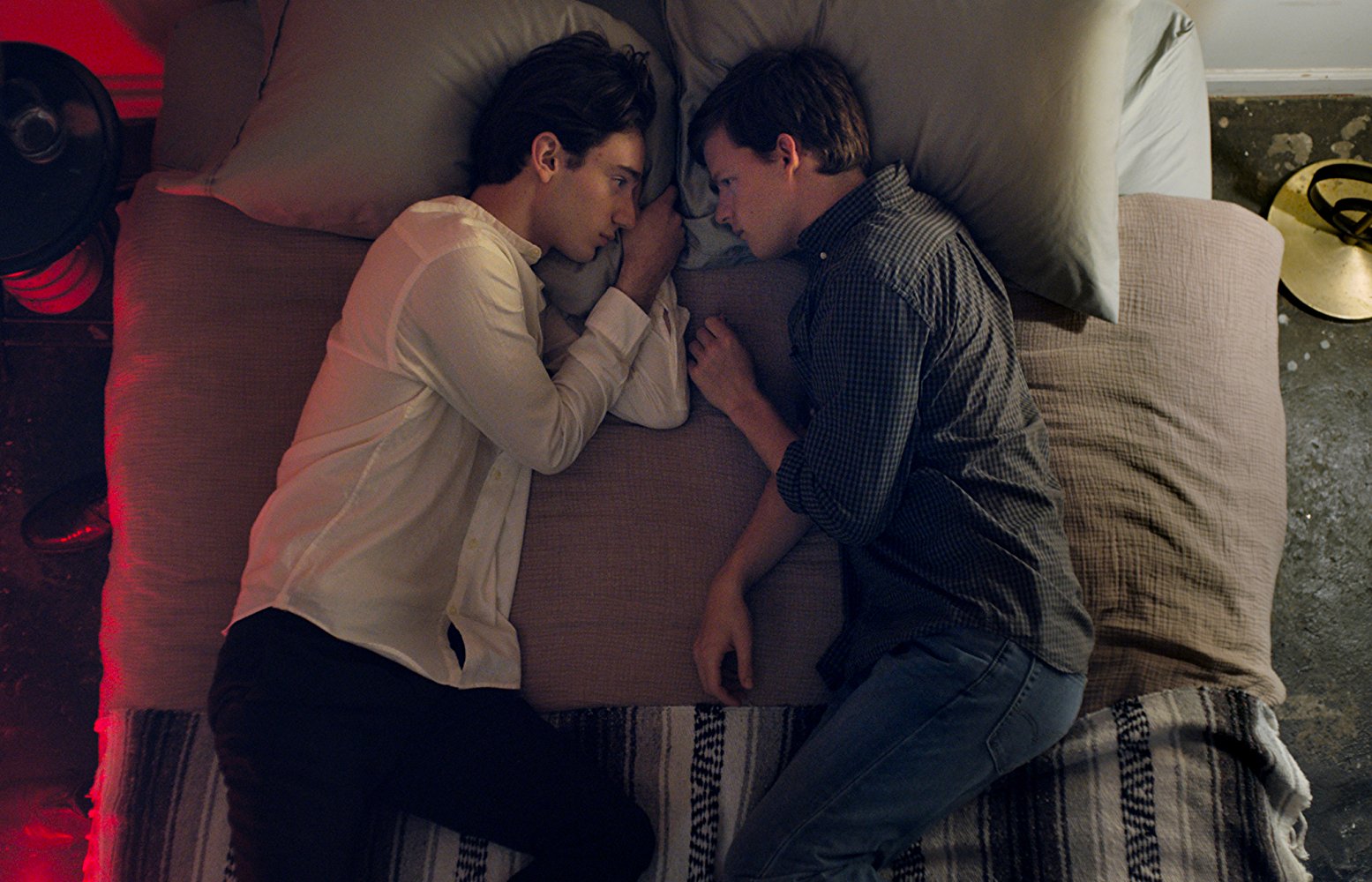 Like this year's The Miseducation of Cameron Post, Boy Erased shines a light on a practice that has been aggressive and ongoing for decades. Conversion Therapy was more widely used in the 1980s, 1990s, and 2000s than it is today but it is by no means a defunct industry. Laws have made it more difficult to kidnap and detain individuals against their will (even minors) but many participants are desirous of the process because the homophobia of some fundamentalist religions have made them fearful of the consequences of being gay.
Boy Erased offers a perceptive treatment of religious (in this case, Southern White Baptist) attitudes toward sexuality, showing how all aspects, not just sexual orientation, are placed into a "taboo" category that retards open discussion. There is a weight of guilt associated with any sex-related "sin" and, for adolescents with a belief in the truth and legitimacy of their religion, a violation of a sacred rule can be a source of torment. Rates of suicide are higher among deeply religious young homosexuals than in the general population because of the difficulty of reconciling innate feelings and inclinations with something they are told is sinful and despised by God.
The absurdity of Conversion Therapy is illustrated in its central tenet: choice. According to what Jared is taught, being gay is a "choice," not unlike being a football player. One isn't born a football player – one chooses to become one. It's the same thing, Sykes argues, with homosexuality, although he is willing to admit that heredity may play a part. He believes that if one's parents and grandparents frequently committed certain sins, it might result in an environment conducive to the choice of homosexuality. One obvious question isn't addressed: Why would anyone choose to be in a minority when a smoother life's path could be had via heterosexuality? If it was a matter of free will with no biological component, why would anyone choose to be gay? This makes no sense yet it is at the core of Conversion Therapy.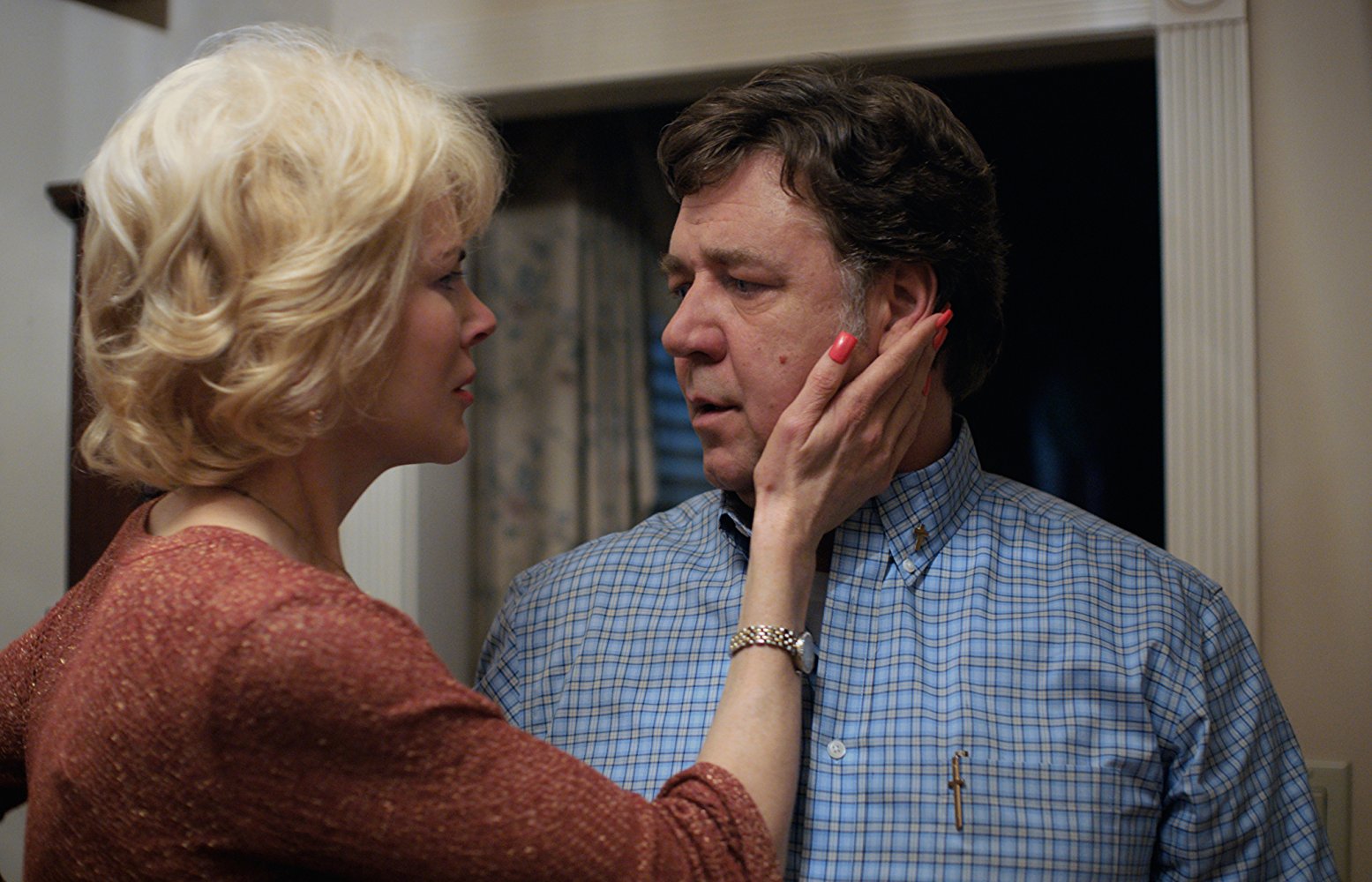 Although Boy Erased is presented from Jared's perspective, we are afforded glimpses of how his struggles with his sexual identity impact his parents. His mother, although initially horrified by his admission, discerns her son's suffering and comes to his defense. It's more difficult for the stern Marshall, who is not only sincere in his belief that homosexuality is an abomination in the eyes of God, but because it tarnishes his image a pillar of righteousness in the community. Eventually, he is forced to confront what for him is an almost impossible choice.
Reports about what goes on behind the closed doors of Conversion Therapy camps have been in the press for years and the film's vivid presentation engages the viewer on a visceral level. The actors, especially an uncharacteristically low-key Russell Crowe, are effective in bringing the personalities to life and director Joel Edgerton (who adapted the source material and also acts) avoids the kind of extreme melodrama that could unbalance a project like this. Although Boy Erased depicts a series of injustices, its ultimate message is one of the hope and optimism that can accompany acceptance.
---
Boy Erased (United States, 2018)
---

Three...better movies of this genre
worse movies of this genre
Three...better movies of Lucas Hedges
worse movies of Lucas Hedges
(There are no more worst movies of Lucas Hedges)
Three...better movies of Nicole Kidman
worse movies of Nicole Kidman
Three...better movies of Russell Crowe
worse movies of Russell Crowe