Captain Underpants (United States, 2017)
June 01, 2017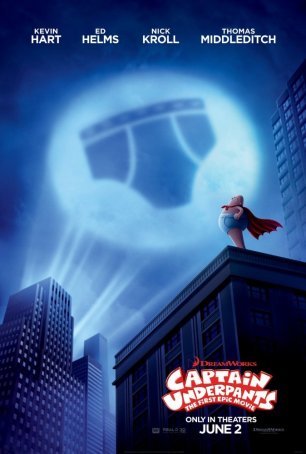 Captain Underpants (or, to use the full, far-too-long title, Captain Underpants: The First Epic Movie) gets the summer's animated roster off to a low-key start. The first of four high profile big-screen cartoons to grace theaters over the next few months (the others being Cars 3, Despicable Me 3, and The Emoji Movie), this one is being released with little fanfare and opposite Wonder Woman. As a result, while Captain Underpants may draw strongly from the male under-10 demographic, it's hard to see it reaching much beyond that considering the stiff competition. Although there's plenty of room for sequels, a tepid box office response may make this a one-and-done deal.
The movie is fresh, fun, and breezy. It's smartly written with the plenty of jokes aimed at the core audience and enough double entendres, asides, and pop references for older viewers. Although not as clever as what we've come to expect from top-of-the-line Pixar, this is better than generic animated fare, at least insofar as the narrative is concerned. Unfortunately, the animation is a cut below the norm (more on that later). The hyperactive tone developed by director David Soren and his team keeps the movie zipping along but the momentum flags before the end credits arrive. Even at a svelte 85 minutes, Captain Underpants feels too long, as if it would work better as a half-hour TV series. The episodic nature of the production, which contributes to this, is the result of the script cobbling together several of Dav Pilkey's source books.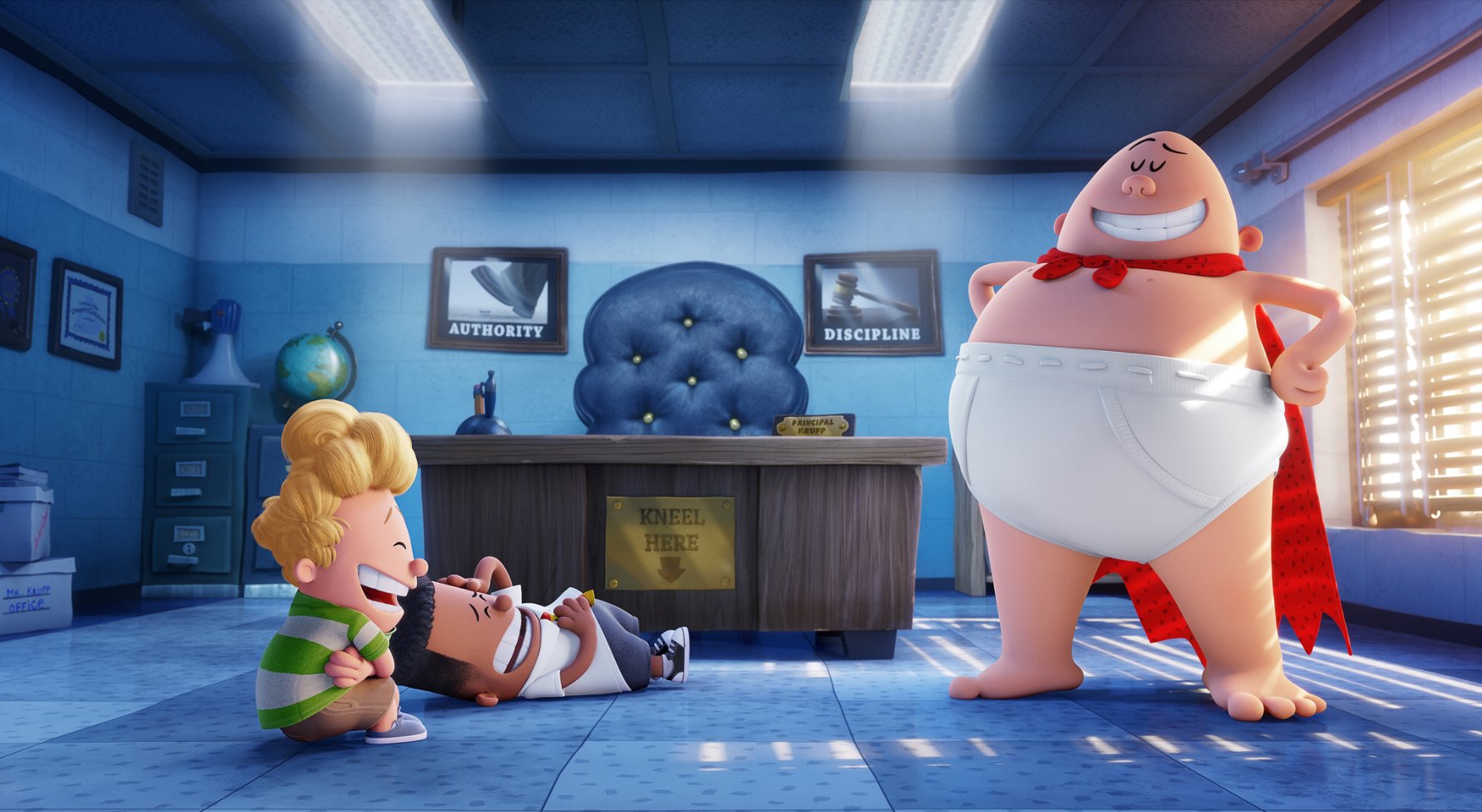 What happens when elementary school kids find the perfect revenge against their principal? Best friends George (voice of Kevin Hart) and Harold (Thomas Middleditch) are about to find out. Principal Krupp (Ed Helms) has his eye on the kids and when, with the help of tattletale and technical whiz Melvin (Jordan Peele), he uncovers evidence of their pranks, he decides to move them to different classrooms. Fearing that such a violent upheaval may mean an end to their friendship (even though they live next door and spend their non-school time together in a treehouse), they take drastic action. Using a plastic ring from a cereal box, they attempt to hypnotize Principal Krupp… and are shocked when it works. George and Harold trick their adult nemesis into believing that he is the fabled superhero Captain Underpants, a gloriously inept, self-absorbed do-gooder whose secret identity is that of a school principal. However, even though Captain Underpants isn't a real superhero, the story has a real supervillain: Professor Poopypants (Nick Kroll), the new science teacher, whose name has made him the butt of jokes for his entire life. His goal is to rid the world of laughter and, armed with his latest nefarious invention, he has the means to do it – starting with the children in George and Harold's school.
Captain Underpants can almost be seen as a children's version of Deadpool. It has many of the same goals with respect to satirizing the genre. Although Captain Underpants isn't as clever as The Incredibles, comparisons are inevitable and warranted.  (Pilkey's first Captain Underpants novel was published in 1997, seven years before The Incredibles reached screens.) The decision to make a Captain Underpants movie now is another example of how ubiquitous superheroes have become across the spectrum of pop culture.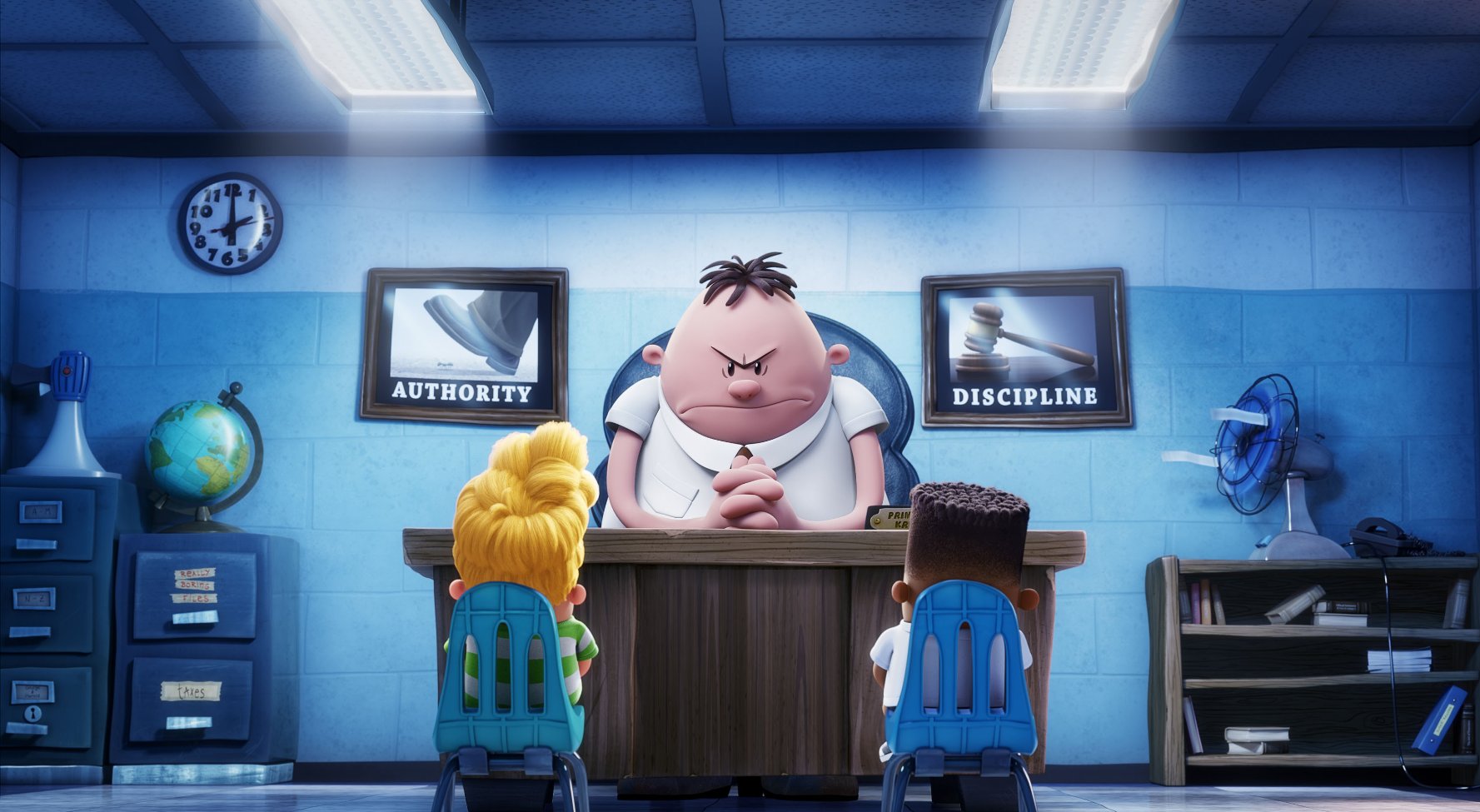 In an era when animated films vie with each other to see which one can be more eye-popping, Captain Underpants opts out of the sweepstakes. With a visual approach similar to the one used in the recent Peanuts Movie, the filmmakers choose simple, cartoonish characters and static backgrounds. (There are also instances in a comic book-within-the-story, where hand-drawn images are used.) Although a stylistic choice, it looks outdated and a little on the cheap side. Lacking the rich depth and background detail of Disney & Pixar's features, Captain Underpants sometimes appears more like it belongs on TV than in a theater.
The voice acting is effective. The "big name" in the cast, Kevin Hart, is restrained – there's no off-color humor, vocal exaggerations, or obvious improvising. He's believable as an ordinary kid in an extraordinary situation. Ed Helms, as Mr. Krupp/Captain Underpants, is given an opportunity to be more flamboyant and Nick Kroll's Professor Poopypants is never expected to be anything less than over-the-top.
Captain Underpants is solid family fun and represents a rare superhero movie that parents can be comfortable taking younger children to. It's infused with enough wit and is sufficiently fast-paced that older viewers won't be squirming in their seats praying for the fast arrival of the end credits. (And, as in seemingly all superhero movies, there is a mid-credits scene.) Even for those of us growing tired of the endless assembly line of comic book movies, Captain Underpants changes things up enough to make it enjoyable.
---
Captain Underpants (United States, 2017)
---

Three...better movies of this genre
worse movies of this genre
Three...better movies of Kevin Hart
worse movies of Kevin Hart
Three...better movies of Thomas Middleditch
(There are no more better movies of Thomas Middleditch)
worse movies of Thomas Middleditch
(There are no more worst movies of Thomas Middleditch)
Three...better movies of Ed Helms
worse movies of Ed Helms